Gallardo induces key Cabrera groundout in 5th
With runner in scoring position, righty retires Tigers slugger to end threat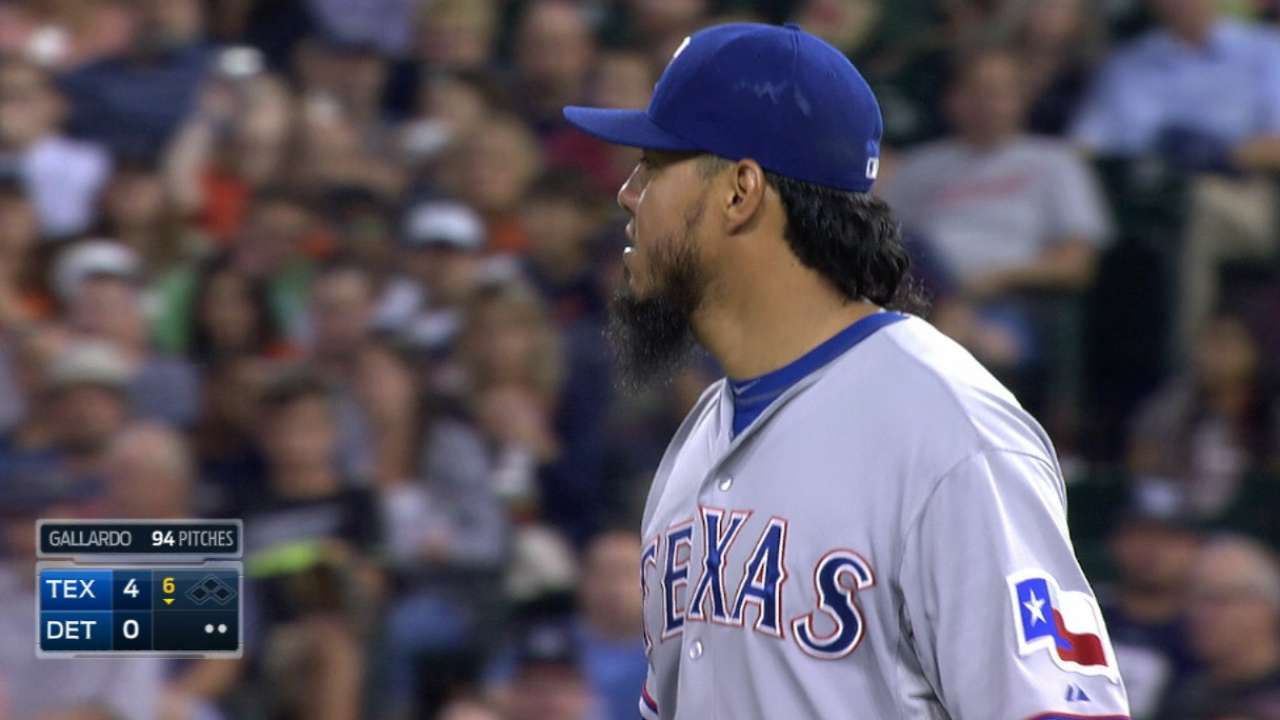 DETROIT -- Tigers first baseman Miguel Cabrera didn't look mortal during a five-at-bat stretch between Friday and Saturday, when he went 5-for-5 with four doubles.
So when the 10-time All-Star stepped to the plate to face Rangers starter Yovani Gallardo with a runner in scoring position in the fifth inning, it made sense that the 39,082 fans at Comerica Park expected Cabrera to produce at least one run.
Instead, Gallardo induced an inning-ending groundout, perhaps the biggest moment over the right-hander's six-plus innings of shutout baseball as Texas held on for a 5-3 victory on Saturday night.
"Crucial," Rangers manager Jeff Banister said of Cabrera's empty-handed plate appearance in the fifth. "He'd been on every at-bat. It seemed like everything we were throwing up there, he was patient, waiting to put the barrel on it. He wasn't missing it.
"I think, more than anything else, it was a situation where we were able to contain the guys around him in those other at-bats so we didn't have to give in to him when he had runners on base."
Gallardo and the Rangers held Tyler Collins, the No. 2 hitter, to an 0-for-5 night. That meant Cabrera's only plate appearance Saturday with a runner on base was in the fifth, and Banister said that allowed Gallardo to approach the matchup differently.
In the first and third innings, Gallardo had attacked Cabrera with his slider and inside fastballs. In the fifth, the right-hander got a swinging strike on an inside slider and later followed with a pair of heaters low and away.
Cabrera connected on a 92-mph offering, but third baseman Adrian Beltre fielded the ball cleanly and threw across the diamond to Mike Napoli, ending the threat.
"It was throw him a slider, and he gets a base hit; throw him a fastball away, and he gets a double," Gallardo said. "It was one of those things. We all know what kind of hitter he is.
"Just being aggressive. I think the main thing is, I was aggressive in the zone and I was able to get that ground ball to third."
Tigers put at least one runner on base in each of Gallardo's six innings and ended his night with a leadoff single in the seventh, but the righty avoided damage by producing ground-ball outs -- perhaps none bigger than the one hit by Cabrera.
"I think [the breaking ball] is a big key for him," Banister said of Gallardo. "That gets these hitters off his fastball, and he was able to pound the outside of the strike zone. … Just a fine job putting up the six zeros for us."
Alejandro Zúñiga is an associate reporter for MLB.com. Follow him on Twitter @ByAZuniga. This story was not subject to the approval of Major League Baseball or its clubs.