Wolf rebounds to salvage solid return
On 39th birthday, veteran lefty pitches seven innings in first outing since June 2014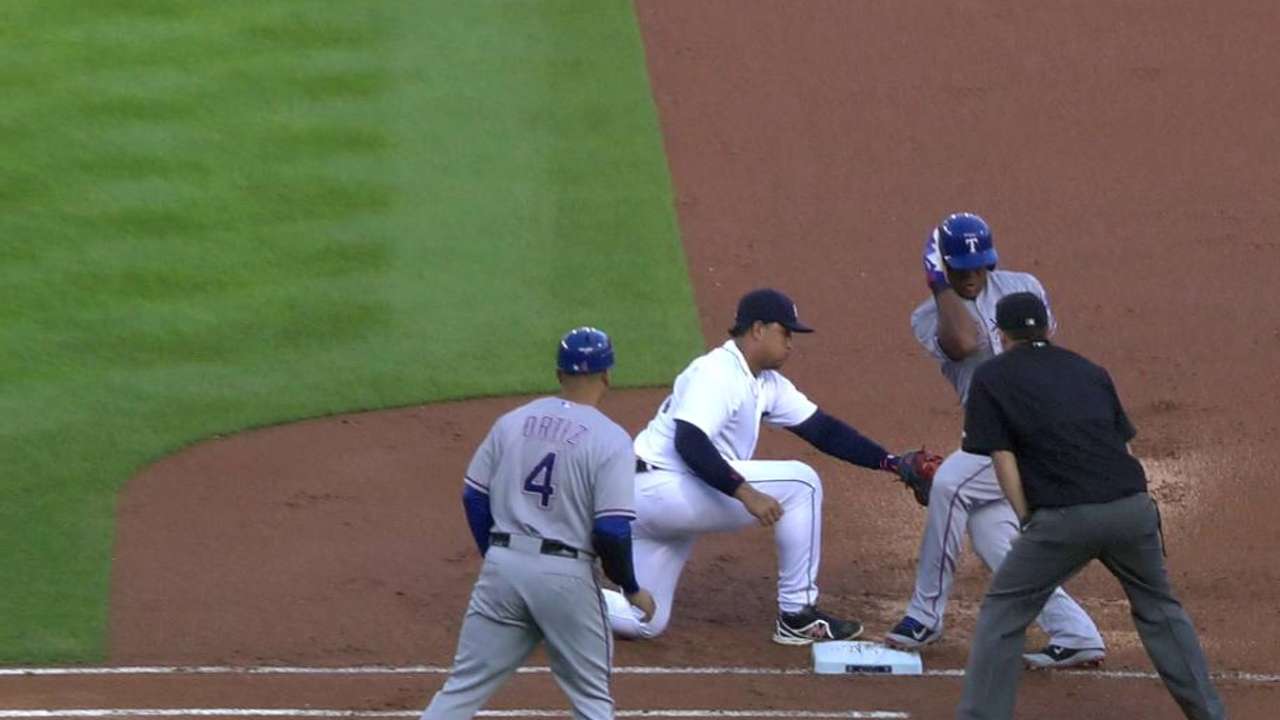 DETROIT -- Randy Wolf turned 39 years old on Saturday. In some ways, he felt like he had the butterflies of a 21-year-old rookie as he took the mound, his first steps on the bump in a Major League ballpark since June 2014.
"I may be 29 years old," he said with a wry smile, "but I'm glad I was nervous. Because if I wasn't nervous, then I would realize that I need to retire."
He's not fooling anybody on the age. He's still capable of fooling hitters at the plate.
In seven innings pitched, a five-batter stretch of the third was enough to doom Wolf to defeat in his Tigers debut Saturday night in a 5-3 loss to the Rangers. It was an odd defining stretch, since all five hits were singles.
"With the exception of I think two hits up to that point, they were all ground balls," said Brad Ausmus, Wolf's former catcher and current manager. "They were just finding places to go."
Wolf was a little tougher on himself than that.
"I had a couple opportunities where I could've put a couple guys away, and got them back in the count where they could put a ball in play, and they just happened to be hits," Wolf said. "You learn from that and move on, and when you get ahead in the count, instead of trying to put a guy away, just concentrate on making a better pitch."
He gave up hits to eight of the first 14 batters he faced, but all of them were singles. He retired 14 of his final 15 batters from there, but the exception was an Adrian Beltre single off the left-field fence, by far the hardest hit off Wolf all night.
The early stretch is the kind that would drive a younger pitcher crazy. In his case, Wolf says, it's where his experience is his best teammate.
"You move on from there and you try to make the next pitch, try to get a ground ball if it's a double-play situation, just execute the pitch that [catcher James McCann] puts down," Wolf said. "And then after that inning is over, you know it's a disappointing inning, but you have to get over it really fast. And from that point on, I just wanted to be really more efficient and go as deep in the game as I possibly can. The last thing I want to do is go four or five innings and make the bullpen pitch the rest of the game."
Asked if the 25-year-old version of himself could've done that, he said, "I'm pretty sure I wouldn't have gotten out of that third inning. I probably would've walked a couple guys. For me [now], I'd rather give up hits than walk guys."
And in the end, as important as results are, this is the kind of outing the Tigers need, win or lose. They didn't bring in a veteran starter to get knocked out early on days he didn't have it; they could've gone even younger in their rotation for that.
"I totally understand the psychology of the game," Wolf said. "If I come in and I don't get out of the first inning, given my age and all that stuff, it's like he's all washed up."
It's one game, but Saturday suggests he's not. He'll make his next turn Thursday here against the Angels.
Jason Beck is a reporter for MLB.com. Read Beck's Blog, follow him on Twitter @beckjason and listen to his podcast. This story was not subject to the approval of Major League Baseball or its clubs.