Salmon, Chance, Witt join Angels Hall of Fame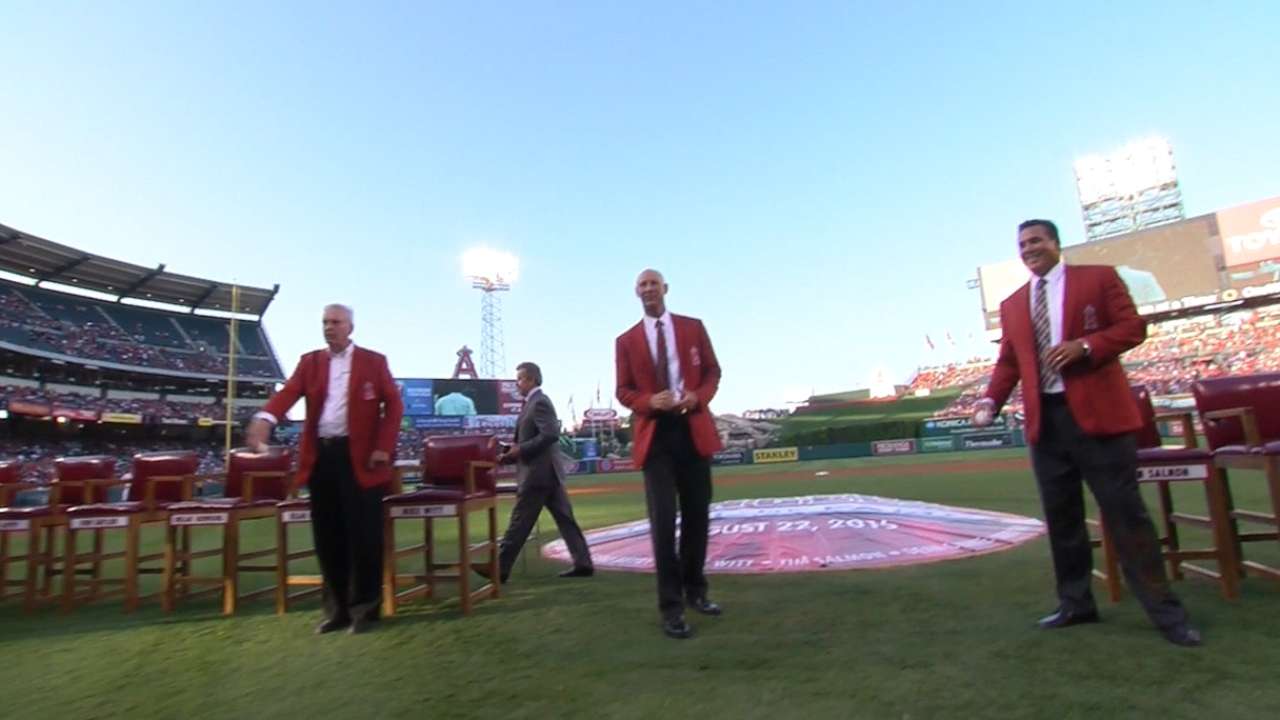 ANAHEIM -- Tim Salmon, Dean Chance and Mike Witt were inducted into the Angels Hall of Fame in a pregame ceremony on Saturday.
Joined by team owner Arte Moreno and fellow members of the Angels Hall of Fame, the three newest inductees took the field to loud ovations before the Angels' evening tilt against the Blue Jays.
Salmon, Chance and Witt joined Gene Autry, Don Baylor, Rod Carew, Brian Downing, Chuck Finley, Jim Fregosi, Bobby Grich, Bobby Knoop, Jimmie Reese, Nolan Ryan and the 2002 World Series championship team in the Angels Hall of Fame ranks.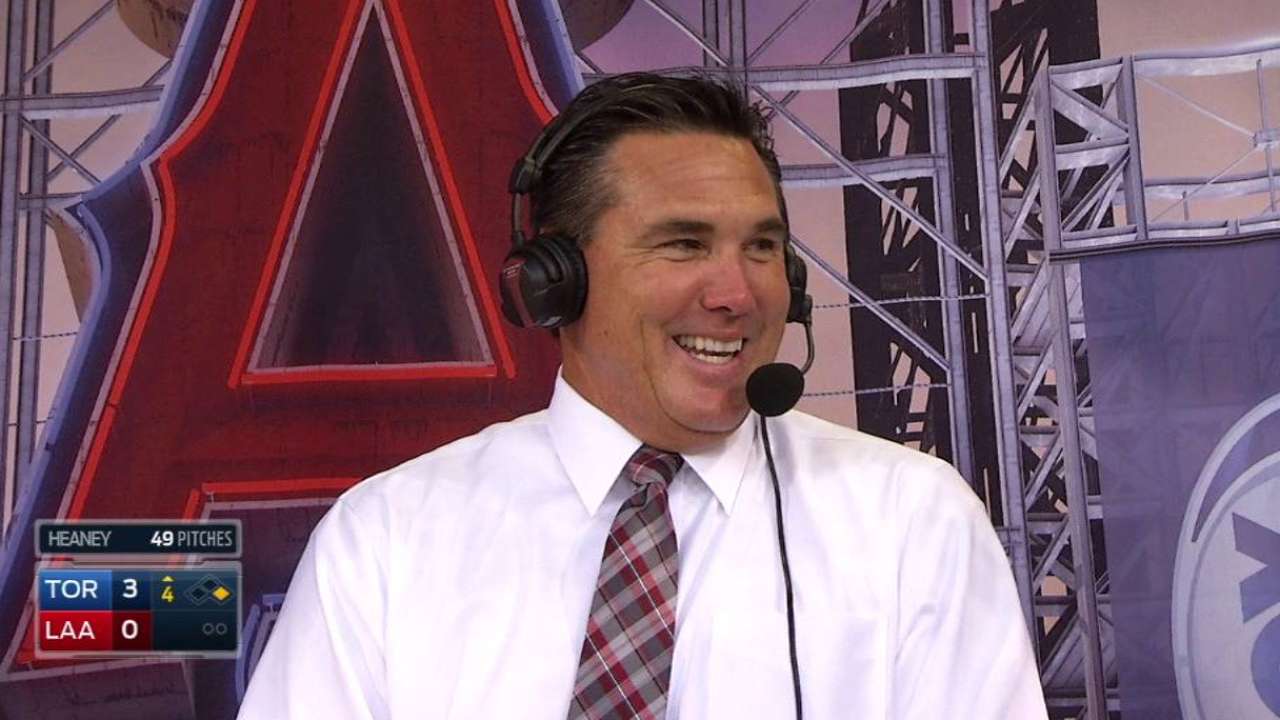 Always a fan favorite, Salmon spent his entire 14-year Major League career in Anaheim. Salmon is the franchise leader in home runs with 299, and he was the 1993 American League Rookie of the Year and a key member of the 2002 World Series champions, batting .346 with a pair of homers in the Fall Classic.
"It's still one of those deals I'm trying to process," Salmon said. "When you think of all the players who have put on an Angel uniform and played, and then you look at the ones they've highlighted as the greatest of all time -- I look around at those guys, and those were the guys I was looking up to as a young player. And to be in that same category, I know my numbers justify it, but it just seems weird because I've always elevated those guys to a different level."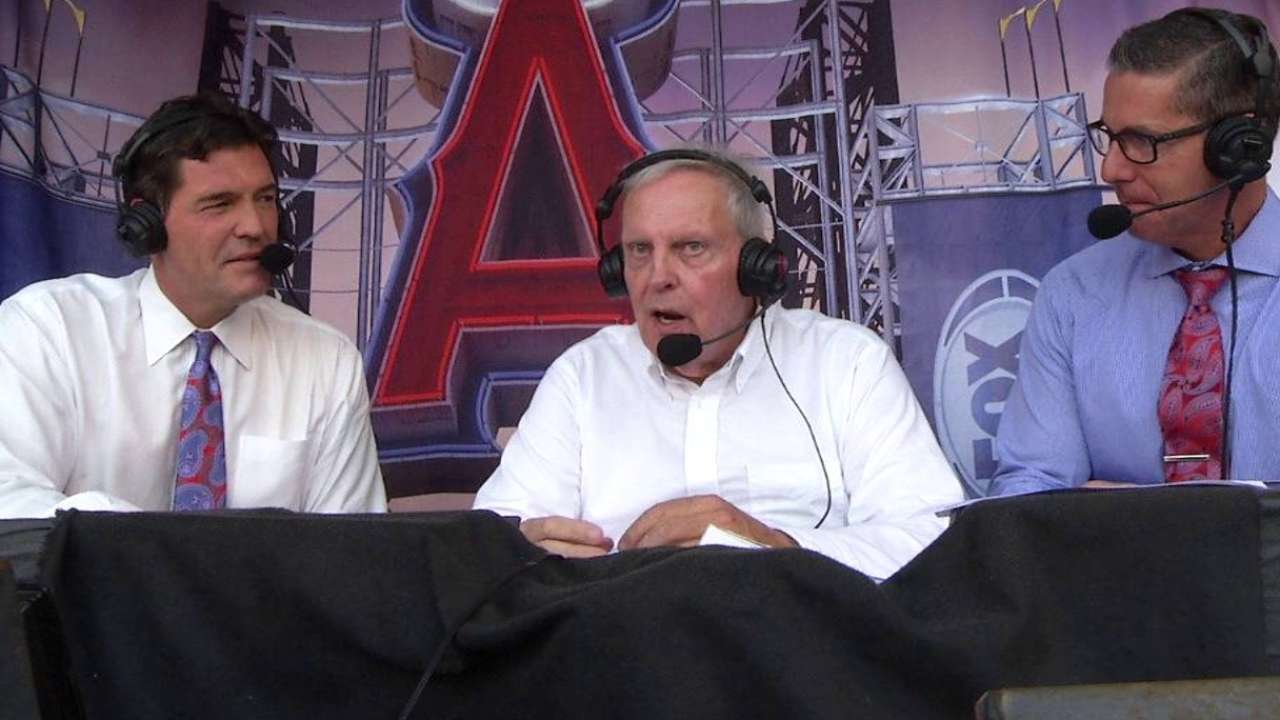 Chance, a two-time All-Star, won the 1964 AL Cy Young Award as a 23-year-old after leading the league with 20 wins, a 1.65 ERA, 15 complete games, 11 shutouts and 278 1/3 innings pitched. He pitched for the Angels from 1961-64.
Chance remembered a play when three Angels Hall of Famers -- himself, Knoop and Fregosi -- combined to cap his Cy Young-winning season.
"The 20th win, Bobby Knoop, they had runners on first and third and one out, he made the greatest defensive play I've ever seen an infielder make," Chance said. "Jimmie Hall hit a shot back through the middle, and he went clear to his right, threw his glove and slapped the ball back to Fregosi, and we got a double play."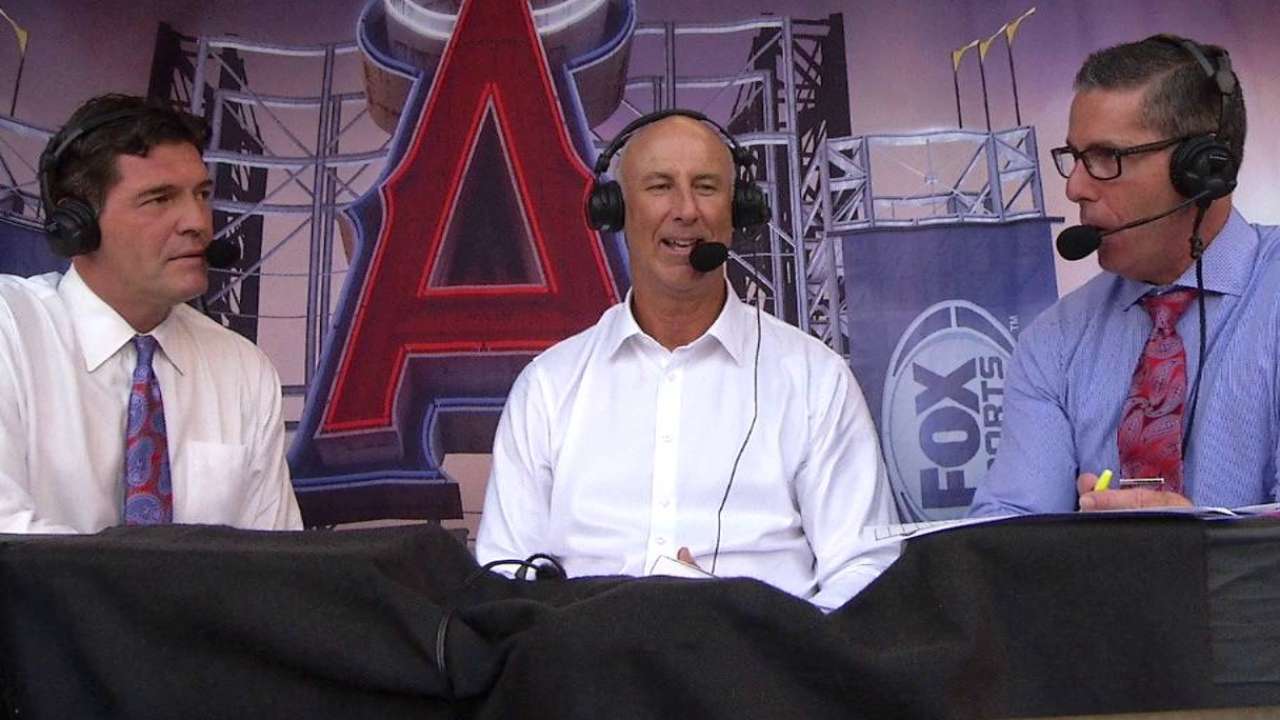 Witt was an Angel from 1981-90, an All-Star in '86 and '87, and pitched for the Angels' playoff teams in '82 and '86. Witt won 109 games with the team, and he threw the 11th perfect game in Major League history on Sept. 30, 1984 -- the last day of the season -- against the Rangers.
"I had done this before, where I'd finished the season, but this was the first year I was about to win 15 games -- it was like a breakout year for me. So in my mind, I really wanted this," Witt said. "I'm happy for how it turned out for my teammates as well as myself, because it was a special day."
David Adler is an associate reporter for MLB.com. Follow him on Twitter @_dadler. This story was not subject to the approval of Major League Baseball or its clubs.