Mets bat around before making an out
Club scores eight runs in third inning to knock out Rockies starter Rusin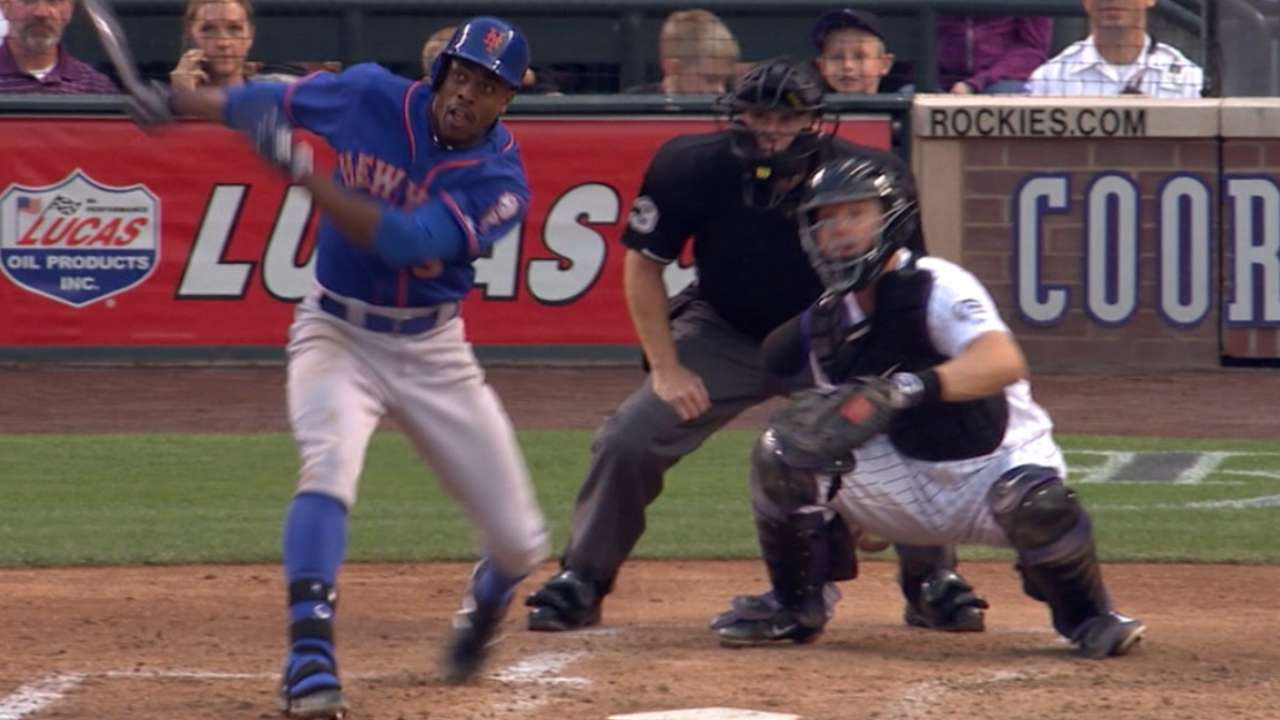 DENVER -- Of all Mets, Juan Uribe understands the powder keg that Coors Field can be. The former Rockie knows that batting around here is hardly unusual, so he didn't raise an eyebrow when his leadoff homer sparked an eight-run rally in the third inning Saturday night, resulting in a second trip to the plate.
What was remarkable was simply that both of Uribe's at-bats occurred before the Rockies retired a batter. The Mets batted around before making an out in the third inning of their second consecutive 14-9 victory, plating seven runs before Uribe finally ended the streak with -- naturally -- a run-scoring double play.
"I'm not surprised -- it's in Colorado," Uribe said. "It's never a surprise here."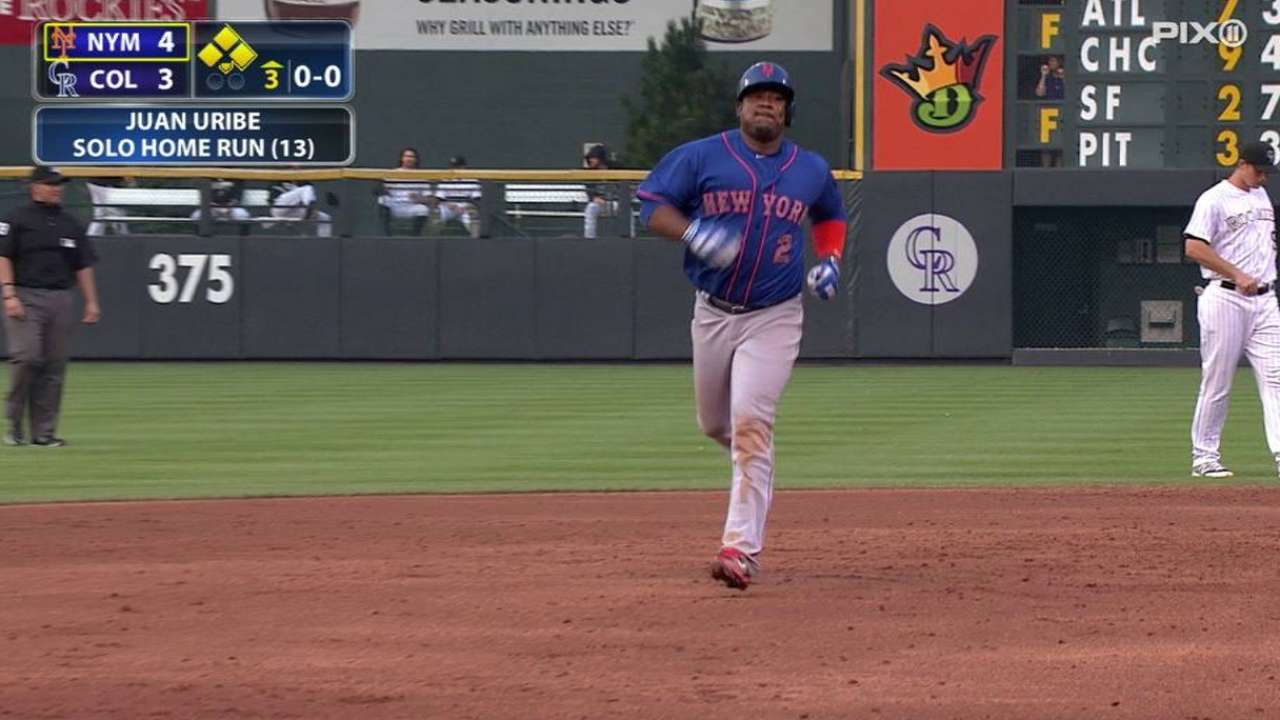 Leading off the top of the third in a 3-3 game, Uribe homered off Rockies starter Chris Rusin, who then allowed consecutive hits to Michael Cuddyer, Wilmer Flores and Travis d'Arnaud. After walking Ruben Tejada, Rusin gave up a two-run single to pitcher Jon Niese, an RBI hit to Juan Lagares and a two-run double to Curtis Granderson, at which point Rockies manager Walt Weiss removed him.
Yoenis Cespedes followed with a single off Justin Miller before Uribe hit into his double play to close the books on Rusin. At that point, the Mets led, 11-3.
"I loved it," Niese said. "I loved that I was a part of it."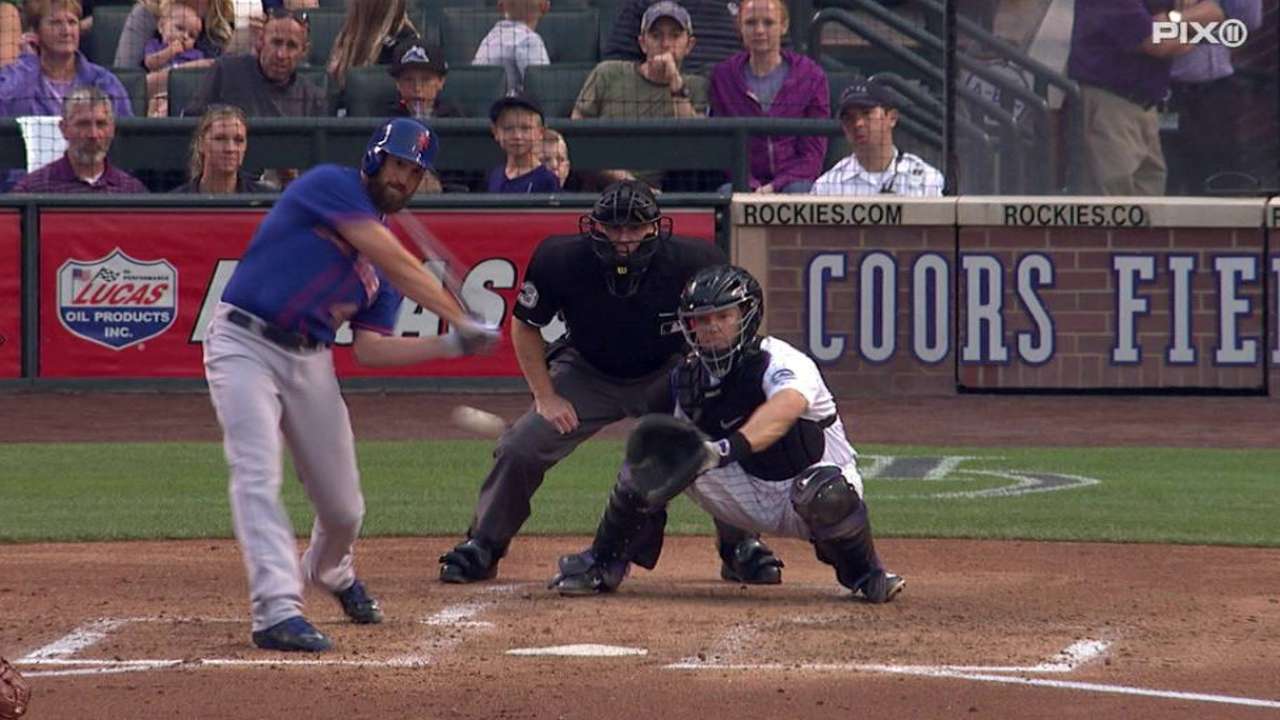 There was plenty more offense to come in a 14-9 game that the Mets, who turned to their setup man and closer in the eighth and ninth innings, did not exactly win with ease. Yet they have managed to play two consecutive slugfests at Coors Field and survive both of them, a testament to how much they've changed since acquiring hitters Kelly Johnson, Uribe and Cespedes prior to last month's non-waiver Trade Deadline.
Over their first 97 games, the Mets ranked last in the National League in runs scored, runs per game and slugging percentage. In 25 games since, beginning the day that Johnson and Uribe arrived, they've led the circuit in those categories as well as doubles and home runs.
In Denver, the Mets scored 14 or more runs in consecutive games for the first time since 2011, racking up the second-most extra-base hits (18) in consecutive games in franchise history. They matched their season high on Saturday with 21 hits, nine of them doubles.
Cespedes, Uribe and Johnson have all helped, though their arrivals have coincided with hot streaks from plenty of others, including Lagares (3-for-6 on Saturday with two RBIs and two runs scored), Granderson (3-for-5, two RBIs, two runs), d'Arnaud (2-for-5, two RBIs, two runs) and Flores (3-for-5, one RBI, two runs).
"It tells you that with the additions we've made, that guys in the lineup have now relaxed," manager Terry Collins said. "You've got guys in the middle of the lineup who have done it for years. They've produced runs."
Saturday's final oddity was the score itself: 14-9 for the second straight night, making the Mets -- according to ESPN Stats & Info -- the first team in Major League history to beat the same club 14-9 in consecutive games. Collins admitted that Colorado's own offensive prowess has put a strain on setup man Tyler Clippard and closer Jeurys Familia, who have each pitched in games that initially seemed to be blowouts.
Asked about his late-inning strategy for Sunday's series finale, Collins quipped: "Let's just hope we're up 14-9."
Anthony DiComo is a reporter for MLB.com. Follow him on Twitter @AnthonyDiComo and Facebook, and listen to his podcast. This story was not subject to the approval of Major League Baseball or its clubs.