Leake returns with strong six innings vs. Bucs
In first start off DL, new Giants pitcher lifted after 77 pitches for scoring chance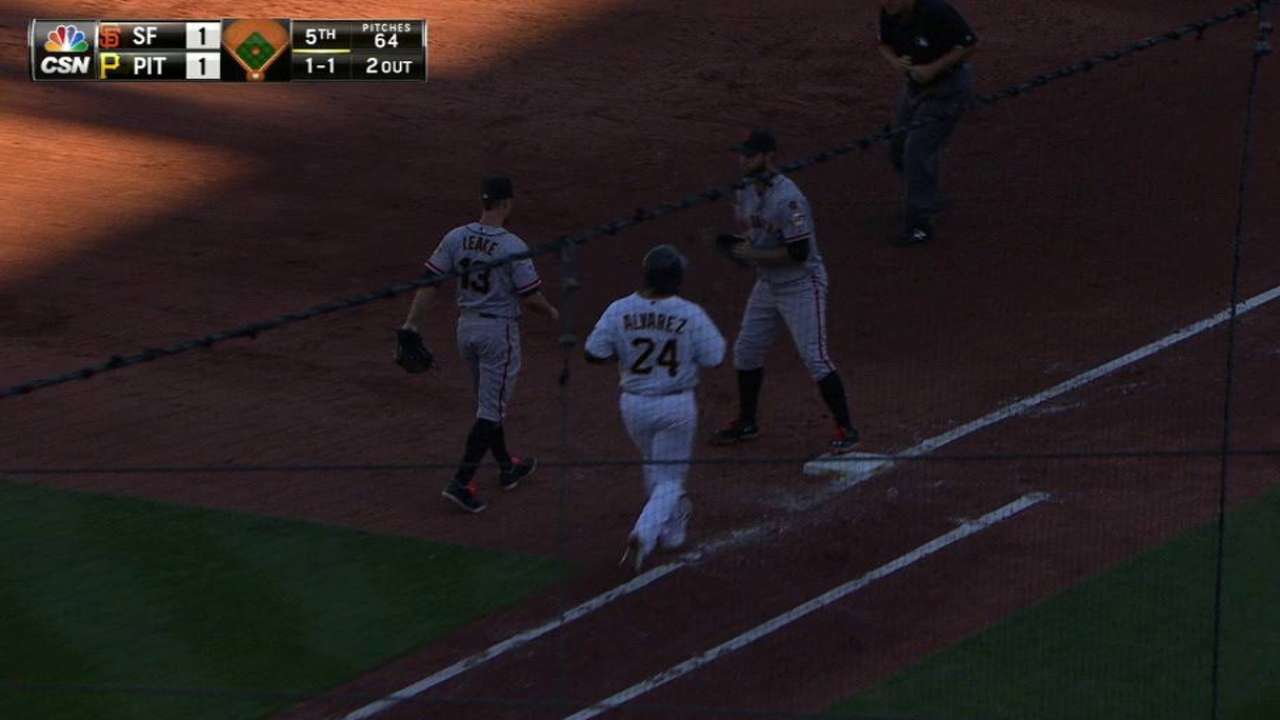 PITTSBURGH -- Giants right-hander Mike Leake wasn't surprised he was pinch-hit for, even with a one-hitter going.
In Leake's first start since returning from the 15-day disabled list, he tamed the Pirates' bats, but fatigue and circumstance forced him out of the game. He turned a tied ballgame over to the bullpen, which wasn't preserved in a 3-2 loss to the Pirates on Saturday at PNC Park.
Leake, who recovered from a left hamstring strain and was activated Saturday, was electric. He was perfect in his first three innings and carried a no-hitter through four.
Aside from allowing a solo home run to Jung Ho Kang, Leake couldn't have been better. He finished with six strikeouts and one walk.
"What a job he did for us in his first start back," Giants manager Bruce Bochy said. "He gave us what we were hoping for."
Which is why Bochy's decision to pinch-hit for him in the top of the seventh seemed questionable at the time.
In a tied game with one out and a runner on third, Kelby Tomlinson took Leake's at-bat and lined out to Pirates second baseman Neil Walker. Nori Aoki grounded out in the next at-bat to end the threat.
At the time, it was a more than understandable decision. The other side of the coin? Leake had only 77 pitches to his name.
Of course, there's the issue of a pitcher in his first outing since leaving the DL.
"He was done," Bochy said of Leake's arm. "It had been awhile since he last pitched."
Leake said he could have gone another inning, and they weren't confining him to a pitch count. But he told the coaching staff he was almost out of juice.
"It was just a feel," Leake said. "It was kind of a combo. We had a situation where they tried to get the guy in at third. My arm was not used to taking a couple weeks off."
Shortly after San Francisco's opportunity fell by the wayside, reliever Hunter Strickland yielded Kang's second homer of the game in the bottom half of the inning.
The Giants knotted it at 2, but Starling Marte hit a game-winning homer off George Kontos in the bottom of the ninth.
It was Leake's second start with the Giants since being acquired July 31. He has allowed just three earned runs in 12 1/3 innings.
And while Leake said his control "wasn't completely there" Saturday, a one-hitter is nothing to scoff at.
John McGonigal is an associate reporter for MLB.com. This story was not subject to the approval of Major League Baseball or its clubs.