White Sox eager to keep offense clicking
Third win in a row boosts club's confidence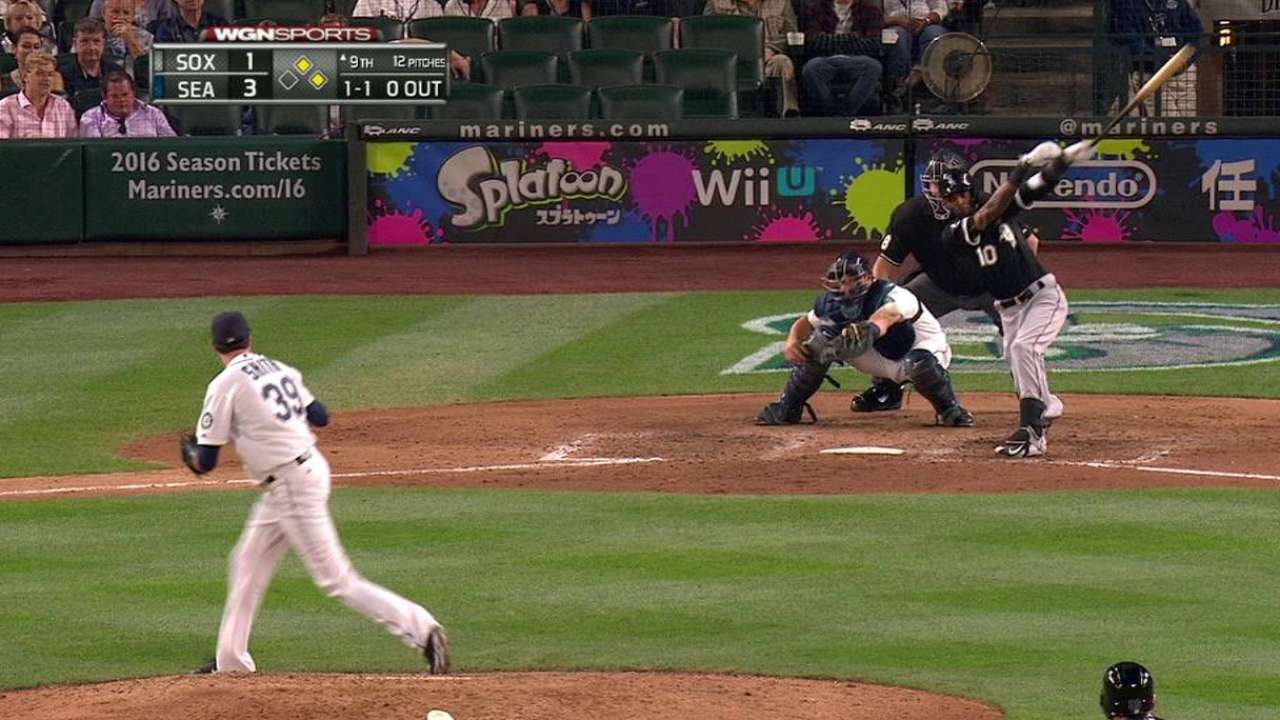 SEATTLE -- Entering Saturday's 6-3 victory over the Mariners, the White Sox offense had been clicking.
Chicago posted 11 runs against the Mariners on Friday night, giving the club 19 runs between Thursday and Friday. In the seven games prior to Thursday night's 8-2 win over the Angels, the White Sox scored just 18 runs.
Why the jump in offensive production? The White Sox weren't able to pinpoint just one thing, in part because their scoring efforts Thursday and Friday were so different.
In Anaheim, it was a five-run fifth inning that put Chicago over the top. On Friday at Safeco Field, the White Sox had some of their best at-bats in pressure situations, scoring seven of their 11 runs with two outs.
For the first seven innings of Saturday night's extra-inning win, the departure from that high offensive output was easier to pinpoint: Vidal Nuno's left arm, which held the White Sox to just one run -- a Trayce Thompson homer in the first -- in 6 2/3 innings.
"He gets guys to swing at bad pitches and he gets guys to take really close pitches, so he's a really good pitcher and fortunately enough, we got to their bullpen and scored some runs," Thompson said. "He's a good player, a good thrower for sure."
Thursday and Friday accounted for two of Chicago's most prolific games at the plate in weeks and the success wasn't because of the long ball, with just two of those 19 runs scoring via home run. Instead, they managed to put runners on base and a couple crooked numbers followed.
Thompson's home run accounted for Chicago's only offense over the first eight innings, before a porous Seattle bullpen buckled for five runs in the ninth and 10th. It wasn't the outpouring of Thursday and Friday, but Chicago's Saturday production was enough to win the White Sox their third straight.
"Crazier stuff has happened," said White Sox manager Robin Ventura. "Guys are still scrapping and getting after it and that's what you want. You want believers in there and right now they're believing they can go out and win games.
Worth noting
• With 14 strikeouts against the Mariners on Friday night, White Sox ace Chris Sale brought his season total to a Major League-leading 222 strikeouts and put himself on pace to become the first big league pitcher to record 300 strikeouts in a season since Randy Johnson and Curt Schilling in 2002.
• Right-handed relief pitcher Daniel Webb, who started his Minor League rehab assignment with Triple-A Charlotte on Friday, faced just three batters in a perfect inning out of the bullpen against Triple-A Indianapolis in the first half of a double-header on Friday night. Webb, who was placed on the disabled list Aug. 5 with a strained back, threw just 11 pitches, seven for strikes.
Andrew Erickson is an associate reporter for MLB.com. This story was not subject to the approval of Major League Baseball or its clubs.