MLB.com Columnist
Lyle Spencer
Donaldson, Trout bond through competition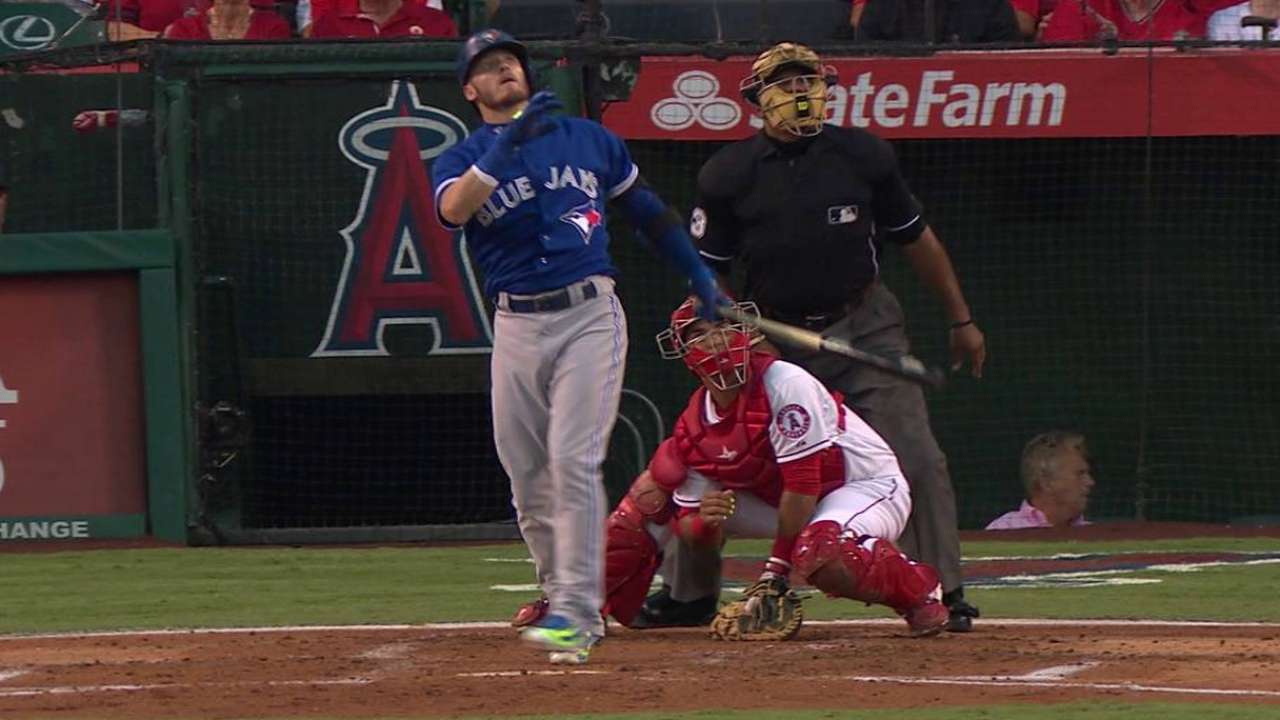 ANAHEIM -- They have developed a bond of mutual appreciation as former American League West rivals and All-Star Game teammates, but it's unlikely Josh Donaldson and Mike Trout ever will be buddies. These guys are simply too old school for that to happen.
Before launching his 34th home run in a 15-3 win over the Angels -- a three-run shot in the third inning against lefty Andrew Heaney -- and delivering six RBIs with four hits, Donaldson on Saturday night addressed his rivalry with Trout.
"At the end of the day, we're out there competing against each other," said Donaldson, the Blue Jays' superb third baseman. "I want to beat him and his team, and he wants to beat me and my team. When you're competing like that, you can get that mutual respect. But you know that guy's doing everything he can to beat you.
"We've talked a little bit in the All-Star Games we've played together in, and we saw a lot of each other playing in the same division. It wasn't like a huge connection, but what it did was give me huge respect for him and his game."
The fiery Donaldson and easygoing, smiling Trout appear on the surface to be personal studies in contrast. But Donaldson believes he and the Angels' superstar center fielder share a common competitive gene.
"I've always been very passionate about the game and my competition," Donaldson said. "Sometimes that brings out the emotional side of me, my intensity.
"You can definitely tell when they're playing well; he gets pumped. But I've seen it a couple of times when his strong competitive nature comes out. It's a long season, so you have to know how to control it."
If Donaldson is trying to claim what Trout earned last year -- the AL Most Valuable Player Award -- you won't find him on any campaign trails. He's all about attacking today's game with total focus, which is what Trout admires about him as much as his bat, glove, arm and instincts.
"Josh is a great player," Trout said. "He plays the game the right way. I had a ton of respect for him when he was in Oakland, and I feel the same way now."
Donaldson's huge Saturday night lifted his MLB-high RBI total to 100. Trout, having gone deep 33 times, has 25 fewer RBIs with 30 fewer at-bats with runners in scoring position. Donaldson is hitting .375 in those situations, Trout .347.
While he had some dangerous hitters around him with the A's -- Yoenis Cespedes, Brandon Moss, Josh Reddick, Stephen Vogt -- Donaldson is quick to point out he's in a dream situation in Toronto. He's batting second, between Troy Tulowitzki and Jose Bautista, with Edwin Encarnacion cleaning up. There is no more formidable top four in the Majors.
"I've never been super aggressive early in counts," Donaldson said. "But I've had to change my approach a little hitting in front of Bautista, Eddie, Russell [Martin], guys like that.
"We had some guys in Oakland who could hit, but at the same time, they didn't have the respect these guys have. They're attacking me with more strikes, so I have to be ready."
Earlier in his career, Donaldson said, "Family members and friends would get on me for not swinging at good first-pitch strikes. I used to feel like I needed to see a pitch or two to get comfortable. I've learned that if I get something I can drive on the first pitch, I'm going after it. It's not easy hitting behind in the count at this level."
On those rare occasions when Trout goes into a brief funk, it's usually a product of falling behind 0-1, 0-2 and 1-2 in counts.
"Some guys just hate to make outs on the first pitch," Donaldson said. "But there are a lot of guys hitting .350 or better on first pitches [put in play]."
Donaldson this season is hitting .407 on 54 first pitches he puts in play, with seven homers, 17 RBIs. In 2012, his first full season, he was 10-for-30 (.333) with one homer, six RBIs. Donaldson is a .387 career hitter with a .732 slugging percentage on 235 first pitches.
Trout is 2-for-19 this season on first pitches. His .118 batting average and .176 slugging mark explain why he has become reluctant to unload. Over Trout's career, however, he is hitting .306 and slugging .500 on 108 first pitches.
Digging a hole is not a good idea, even for Trout. He is a .459 hitter, slugging .855, on 2-1 pitches. On 1-2 deliveries, those numbers shrink to .202 and .345.
Donaldson's numbers reflect a similar disparity: .345/.612 on 2-1 counts, .193/.279 when it gets to 1-2.
Unless they meet in postseason play, Donaldson and Trout will get together for the final time in 2015 in Sunday's series finale. If they're not seen laughing together, it's not because they don't like or value each other.
This is serious business for a couple of old-school ballplayers of the highest order.
Lyle Spencer is a columnist for MLB.com. This story was not subject to the approval of Major League Baseball or its clubs.