Injuries, overuse take toll on relievers
Mariners shake up bullpen after Saturday's loss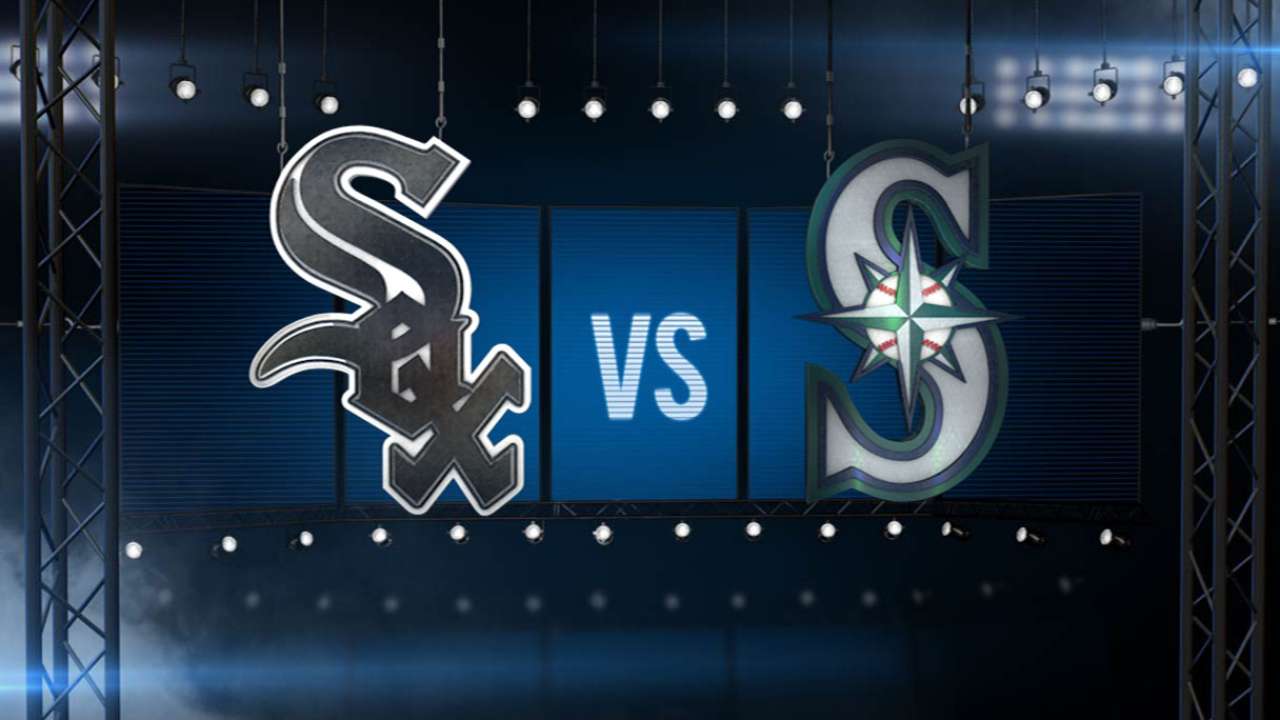 SEATTLE -- With veterans Charlie Furbush and Joe Beimel both on the disabled list, Mark Lowe traded to Toronto on July 31 and previous stalwarts like Fernando Rodney and Danny Farquhar sent packing after Saturday's 6-3, 10-inning loss to the White Sox, Lloyd McClendon doesn't have a lot of answers in his Mariners bullpen.
As a result, a relief group that had the lowest ERA in the Majors last year at 2.59 has dropped to 27th among the 30 teams this year with a 4.46 mark after giving up five runs in the final two frames in Saturday's loss.
The Mariners are now going with three rookie left-handers: Edgar Olmos, Rob Rasmussen and Rule 5 Draft pick David Rollins, though they'll get reinforcements with the recall of Roenis Elias on Sunday.
On the right side, Rodney (5.68 ERA) was designated for assignment and Farquhar (5.75) optioned back to Tacoma, leaving the chores there at the moment to Tom Wilhelmsen (4.03), rookie closer Carson Smith (3.16) and Logan Kensing, who'll also be added Sunday.
"It's tough," McClendon said of the departure of Rodney and Farquhar. "You're connected to players and you want them to do good. It's very unfortunate when you have to tell them you're making a career change. That's never easy because you spend a lot of time with these players and you care for them. But the fact is we're just not getting it done. That's our 18th blown save and 22nd loss in the opponent's final at-bat and that takes a toll on a team."
Beimel was shut down this week because of shoulder fatigue, a situation exacerbated by Furbush's continued absence with a biceps injury that now is being evaluated as torn rotator cuff. Vidal Nuno, another lefty, moved into the rotation to fill the traded J.A. Happ's spot and the club previously dealt 2014 contributors Dominic Leone, Brandon Maurer and Yoervis Medina to add offensive help. The combination has been lethal.
"We've got a lot of injuries in our bullpen. We know that," McClendon said. "And we've got some young kids down there that are probably overexposed a little bit. They're doing the best they can. Unfortunately we have to put them in some tough situations and they just haven't pitched very well."
Smith, who replaced Rodney as the closer in early June, has the lowest ERA in the bullpen, but he's had tough times as well in his new role and has a 5.76 ERA in 21 games in July and August and blew his fourth save in Sunday's loss.
"He's been shaky and I told you this was going to happen," said McClendon, who hesitated to put the 25-year-old into Rodney's spot earlier in the year. "When you lose your closer the way we lost our closer and he hasn't performed up to his capabilities, then other guys get overexposed.
"And Carson Smith has been overexposed. Particularly from a physical standpoint. And it's been challenging at times from a mental standpoint. Is he getting better? Yes. Was he ready for this role? No, he was not ready for this role. I told you that three or four months ago. It hasn't changed. He's still not ready. He's getting better."
McClendon said Smith ideally would still be a setup man who could be used in matchup situations primarily against right-handers. He's held righties to a .152 average as opposed to .247 for lefties.
"When you have a lockdown closer, everybody else drops down to their spots where they're supposed to be," he said. "Carson Smith did a nice job in the setup role. But why? Because you can take that guy and put him in situations where he can be successful. When you're the closer, there aren't any matchups. You face them all. That's just the way it is."
Greg Johns is a reporter for MLB.com. Follow him on Twitter @GregJohnsMLB, read his Mariners Musings blog, and listen to his podcast. This story was not subject to the approval of Major League Baseball or its clubs.