Seeking 'another level,' Kang hits two homers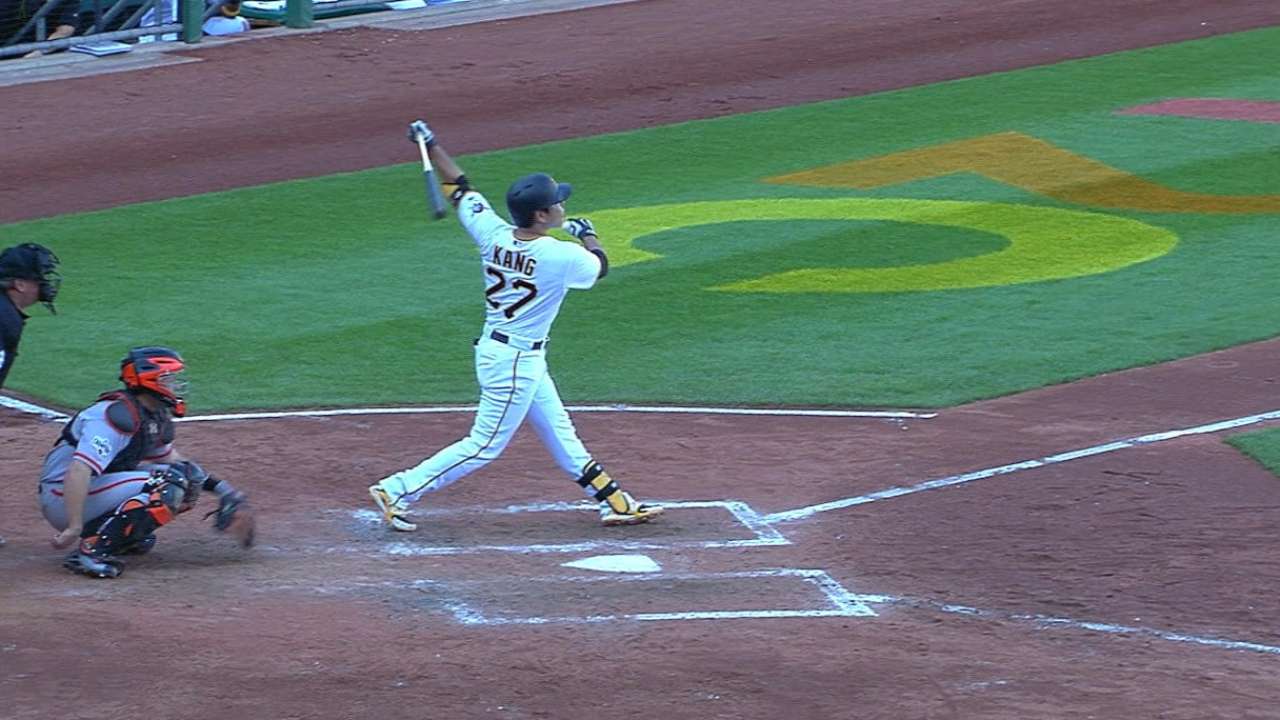 PITTSBURGH -- Early on this season, Pirates manager Clint Hurdle presented Jung Ho Kang with a number of lineup cards, each to commemorate a Major League "first" -- first at-bat, home run, homer at home, hit-by-pitch and so on.
Kang would seem entitled to Hurdle's sheet from the Pirates' 3-2 win over the Giants at PNC Park, a memento of his first multi-homer game in the big leagues. But that might not be necessary anymore.
"He's gotten past that. He knocked down so many different things early, and it became a little bit of a novelty," Hurdle said. "Now, he's in the midst of the game and the season."
And it's become a remarkable rookie season for Kang, who clubbed his 11th and 12th home runs over the center-field wall Saturday.
His first home run, off Giants starter Mike Leake, tied the game in the fifth inning. His second solo shot came off Giants reliever Hunter Strickland and gave the Pirates a 2-1 lead, which they quickly relinquished to set up Starling Marte's walk-off homer.
"This is so much fun to be a part of," Kang said through interpreter H.K. Kim.
Kang has been a major part of the Pirates' success, especially in the second half. Overall this year, Kang is now hitting .290/.363/.464 with 45 RBIs. He entered the day ranked third among the Pirates in wins above replacement -- barely behind Andrew McCutchen and Marte.
"I'm going to do my best to take it to another level," Kang said. "I don't know which one, but working hard to get to another level."
The Pirates are approaching an interesting crossroads with their roster. Within the next few days, they will have four left-side infielders -- Kang, the versatile Josh Harrison, third baseman Aramis Ramirez and shortstop Jordy Mercer -- but only two spots to use them.
Kang has certainly made a case to play every day, whether he's at shortstop or third base or bouncing back and forth between the two. He has also given Hurdle an intriguing option in the cleanup spot Kang occupied Saturday.
The Pirates have hit 10 home runs this season out of the No. 4 spot, and Kang is responsible for three of them. Kang may not be receiving Hurdle's lineup cards on a nearly nightly basis anymore, but he could find himself on them quite a bit down the stretch.
"There'll probably present some opportunities for him to [hit cleanup]. We've done it in the past," Hurdle said. "So in absence of Ramirez, I think he would definitely be a guy we'd need to look to."
Adam Berry is a reporter for MLB.com. Follow him on Twitter at @adamdberry. This story was not subject to the approval of Major League Baseball or its clubs.