Doolittle activated after lengthy shoulder rehab
'The arm just feels so much better,' A's lefty says
OAKLAND -- The A's celebrated the much-anticipated return of Sean Doolittle on Saturday, activating the lefty from the disabled list after his second lengthy rehab of the season.
Doolittle, who has nursed two separate shoulder injuries this year, including a strain that put him back on the DL in May, returns following an encouraging rehab assignment with Triple-A Nashville.
The lefty struck out the side three times in five relief innings, demonstrating the type of velocity -- he frequently hit 93 mph -- that was lacking the first time he came back from the DL, when he topped out at 90 mph.
"It's a big difference," Doolittle said. "It gives me more confidence in attacking. The arm just feels so much better from the standpoint of being able to let it go without having any reservations of if it's going to hurt or how it's going to feel. It's back to where it needs to be. It's back to normal essentially."
A's manager Bob Melvin had yet to decide when Doolittle would close again but did say, "As long as he's healthy and feels good, he'll be back in there at some point."
"We'll talk about it, and whether it's put him right in there or give him a lesser role to start, we'll see," he said before Saturday's 5-4 loss in which the Rays rallied for two runs in the ninth inning. "We want to get him through the rest of the season healthy and pitching effectively."
After spending the majority of 2014 as the team's closer, saving 22 games in his first All-Star campaign, Doolittle deemed it his goal to regain that title. But that's not his focus.
"The most important thing is to stay healthy and pitch well and finish out the season strong so I can have a normal offseason instead of rehabbing the whole time," he said.
Doolittle, 28, has been rehabbing since January, first with a strained left rotator cuff that sidelined him for five months. He pitched in one game May 27 against Detroit, tossing a scoreless sixth inning, before being shut down again with a shoulder strain.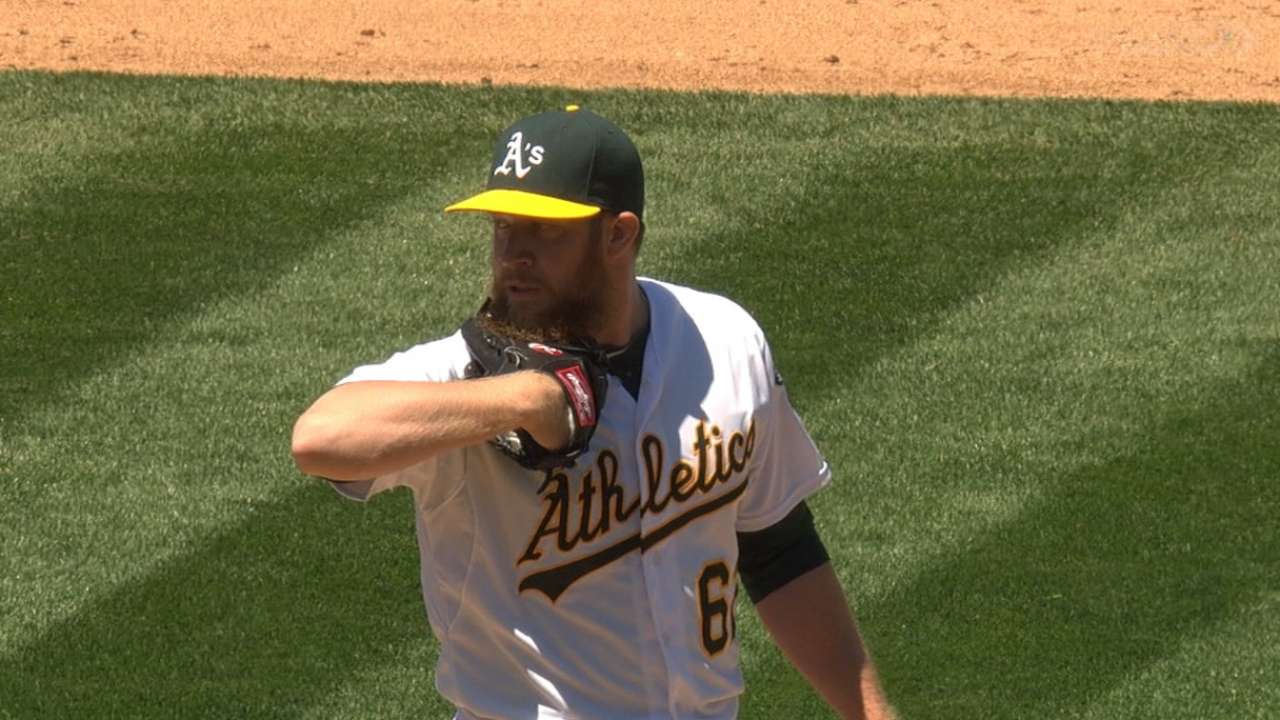 Having experienced the process twice, Doolittle said the second time through had him feeling "that much more ready, that much more prepared."
"It's a lot different," he said. "I had a lot more success on the rehab assignment, both on the field and process-wise, as far as how I've been recovering and how I've felt mechanically.
"I've essentially been working nonstop since January, and I've waited a long time and have worked really hard to get back to where I feel right now. It feels really good, and I feel very fortunate that I was able to get back this year because there were some times when it was kinda dark and I wasn't sure what the rest of the season was going to hold."
To make room for Doolittle on the active roster, the A's optioned right-hander Dan Otero to Nashville. First baseman Ike Davis, who will have season-ending hip surgery next week, was transferred to the 60-day DL to clear space on the 40-man roster.
Jane Lee is a reporter for MLB.com. Read her blog, Major Lee-ague, and follow her on Twitter @JaneMLB. This story was not subject to the approval of Major League Baseball or its clubs.