Wallace settling into pinch-hit role for Padres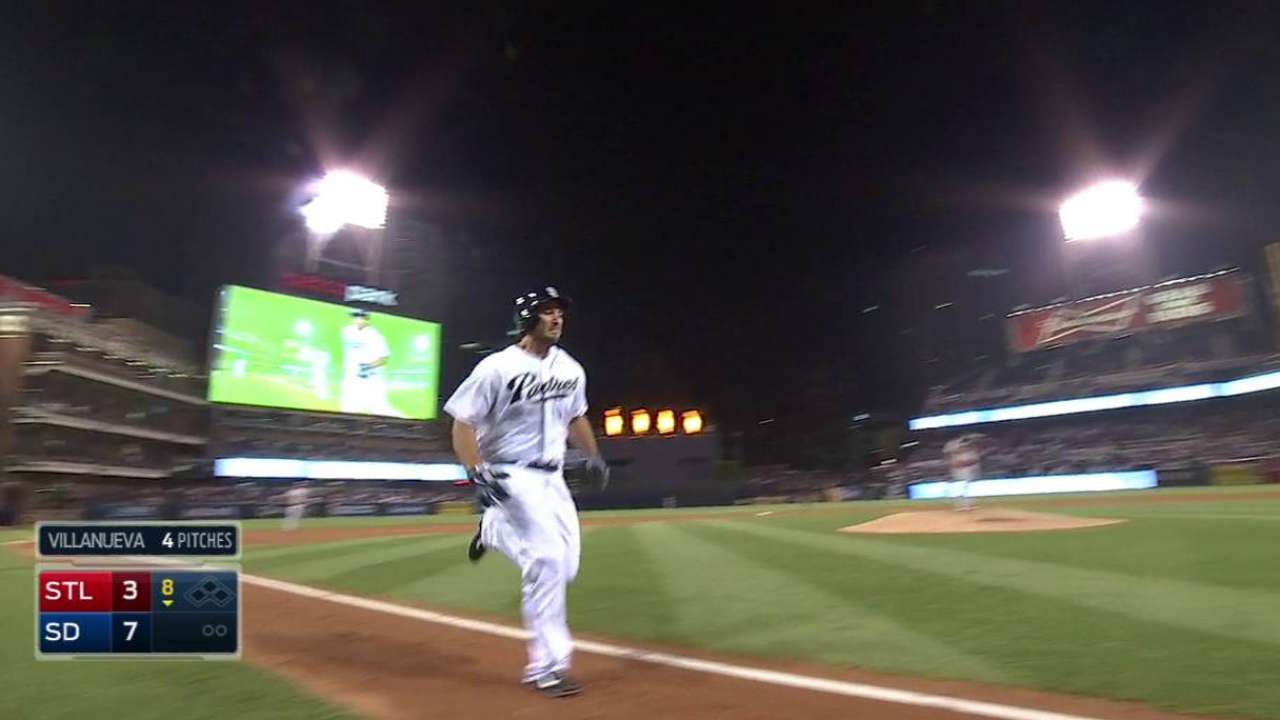 SAN DIEGO -- Brett Wallace's blast was more of a bomb, but one gets the idea.
"He's our offensive bullet,'' Padres interim manager Pat Murphy said.
Wallace's moon shot in Friday's 9-3 win over the Cardinals did land. But first, the pinch-hit homer went 431 feet -- as measured by Statcast™ -- and landed in the right-field seats.
Before Wallace went orbit, Alexia Amarista doubled. So Wallace was attempting to advance Amarista rather than rattle the rafters.
"I was just trying to work the right side of the field and get him over,'' Wallace said on Saturday. "Anything more than that was icing on the cake.''
Wallace was the big cheese in 2008 as the Cardinals' first-round Draft pick, 13th overall. The following year, he was the key piece pointed toward Oakland when the A's sent Matt Holliday to St. Louis.
So that made Wallace's high-arching shot an appropriate gateway to the Padres' fourth straight victory.
He counts Jon Jay and Pete Kozma as buddies; Yadier Molina as a mentor.
"It was an added bonus for me,'' he said of his second pinch-hit homer of the season coming vs. St. Louis.
Wallace's production never matched his pedigree as he bounced from the Cardinals to the A's to the Blue Jays to the Astros to the Orioles and again to Toronto.
Last year was spent in the Minors, and he signed in December as a Minor League free agent, and when asked to explain his career trek, his knees buckled.
"That's a great question,'' said Wallace, a corner infielder. "It's hard to look back, because you try to look forward all the time.''
A peak at Wallace now shows someone in the cage, during the game. Since being summoned from Triple-A El Paso on June 19, Wallace has settled in as a pinch-hitter. He's hit .296 (8-for-27) with those two home runs.
"I think Brett has done a great job of handling it,'' said Murphy, who was Wallace's coach for three seasons when Murphy was the head coach at Arizona State.
It's as challenging between the ears as it is between the chalk lines.
"It's definitely tougher mentally,'' Murphy said. "But physically it's tough, because you don't see a pitch in three days and you're asked to go up in a key situation.''
Wallace has unlocked a new role by thinking along with Murphy. The scoreboard might say the fourth inning, but Wallace is looking ahead, playing what-if and when.
"It shows the other side of the game a little bit more,'' Wallace said. "You have to start to understand it, what moves they might make, what that would mean for me, and who I would face and what situation I might be in.''
He's in the Majors and considering last year, that's a major accomplishment.
"It's been a blast,'' Murphy said.
Jay Paris is a contributor to MLB.com. This story was not subject to the approval of Major League Baseball or its clubs.