Trammell gets old number back for weekend
Kinsler supports decision to allow fill-in first-base coach to also wear No. 3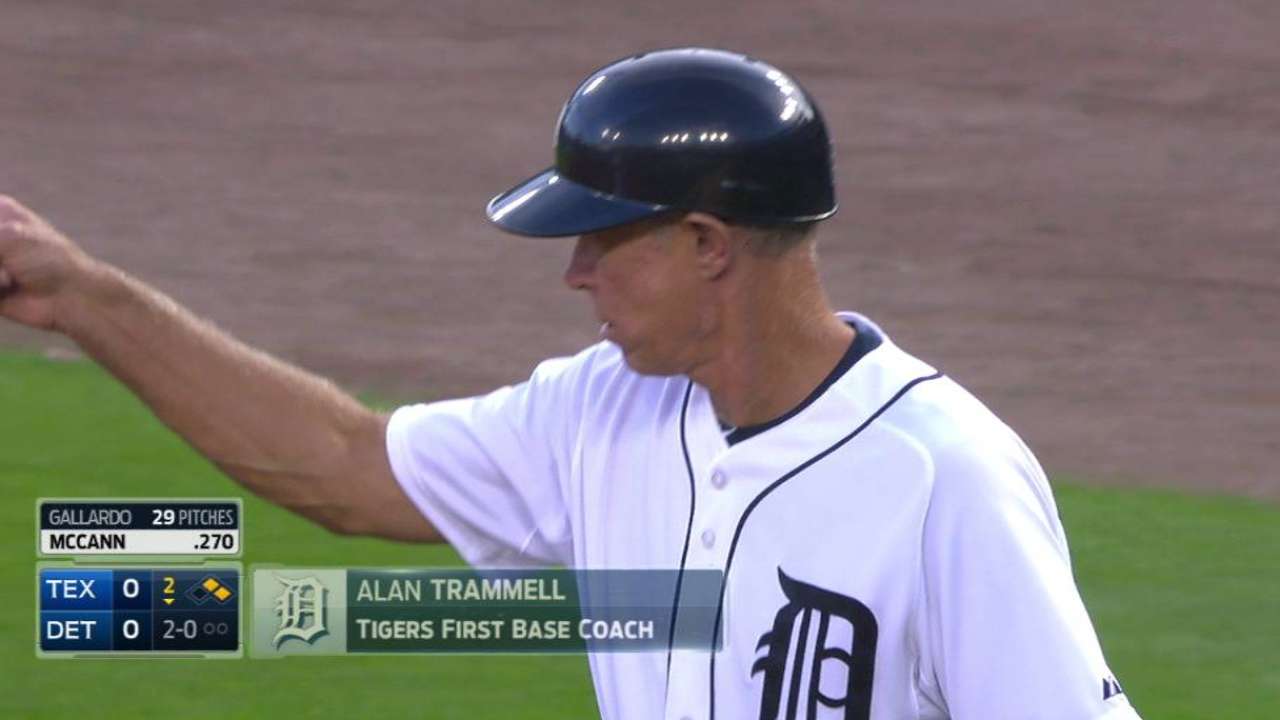 DETROIT -- A pair of threes sounds like something from a card hand or a basketball game. For this weekend, it also accurately describes the Tigers roster, thanks to the team giving Alan Trammell his old number back for the weekend.
Trammell is filling in as first-base coach for the second time this season, making a cameo appearance for the weekend series against the Rangers while third-base coach Dave Clark is attending his daughter's wedding. Trammell also filled in last month while Omar Vizquel returned home to Venezuela following the death of his father.
During that last stint, which came in the middle of a road trip, Trammell wore number four, while second baseman Ian Kinsler wore number three as always. It was an odd look that didn't sit well with a vocal segment of fans who believe Trammell's number should be retired, along with those of Willie Horton and Tigers Hall of Famers.
So when Trammell was called back into duty at home, longtime Tigers clubhouse manager Jim Schmakel -- with the support of Kinsler -- decided Trammell should get his number back.
"It was the right thing to do," Schmakel said.
The problem is that it's not particularly easy to do. No two uniformed personnel are supposed to wear the same number, but under the current collective bargaining agreement, a player must give eight months' notice before changing jersey numbers unless he's willing to buy up stockpiled jerseys with his old numbers. None of that is going to happen for a guest coaching assignment.
So while Trammell donned his old number, Kinsler kept his, meaning two Tigers wearing number three. As of Saturday afternoon, the Tigers had not heard from Major League Baseball with any objections, so they're going ahead.
Jason Beck is a reporter for MLB.com. Read Beck's Blog, follow him on Twitter @beckjason and listen to his podcast. This story was not subject to the approval of Major League Baseball or its clubs.