Fan hit by foul ball released from hospital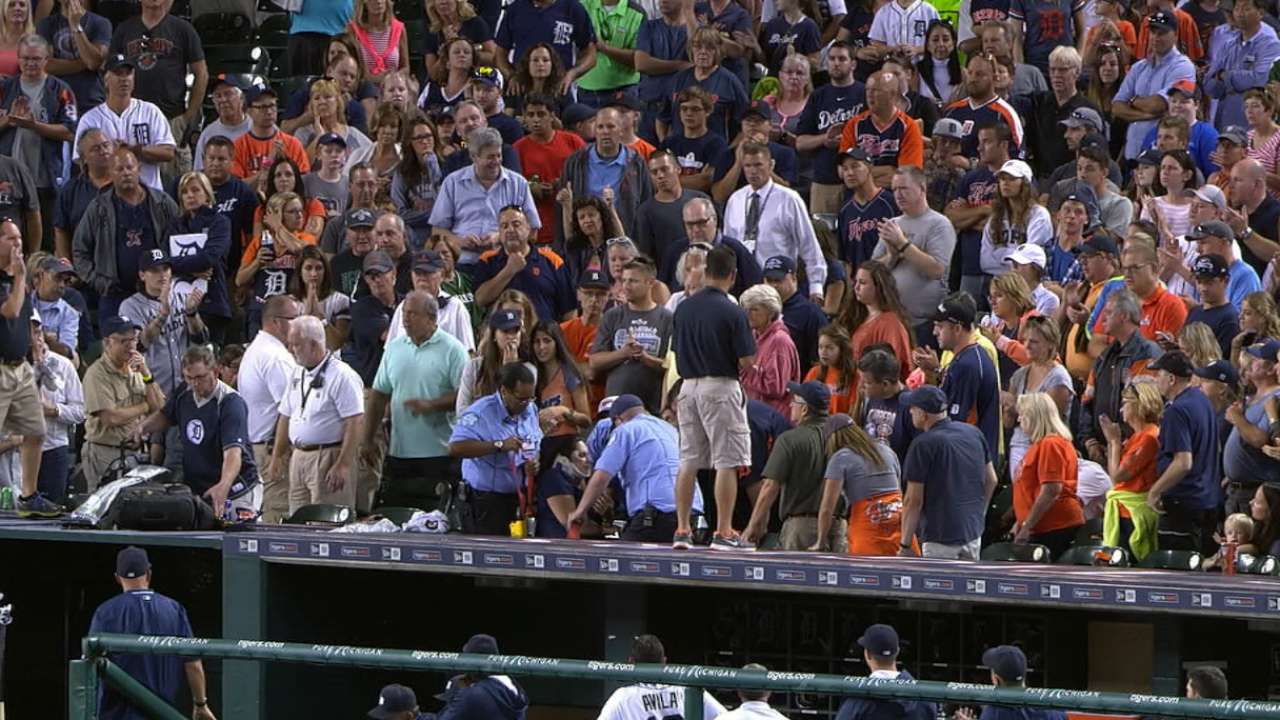 DETROIT -- The fan hit by a foul ball during Friday night's Tigers-Rangers game has been released from the hospital, according to a Tigers spokesperson, though her condition was unknown as of Saturday afternoon.
The fan, struck on the right side of her head by an Anthony Gose line drive as she sat just behind the Tigers' dugout along the third-base stands, was released from DMC Detroit Receiving Hospital early Saturday morning. A team spokesperson said the club has reached out to her.
The news was a relief to Gose, who heard about her release later Saturday morning. He didn't see the impact, but he followed the events as EMTs and stadium security quickly attended to her.
"You could hear it," Gose said. "The ball had already hit her, and I could see the ball kind of bounce off, but I heard it. And that's how I knew. And then she was sitting there, and I thought, 'OK, maybe she's all right, maybe it just kind of glanced off her,' but you knew by the sound of it. They put her on the ground and I was like, 'Oh, God.'"
He wasn't the only one. J.D. Martinez said he was among those in the Tigers dugout who heard the ball hit her, then heard her ask if she was bleeding before going to the ground. Play stopped for about seven minutes as players and coaches watched paramedics attend to the woman.
Like many of his teammates, Gose is in favor of extending the nets from behind home plate to behind the dugouts, specifically for balls like that.
"Even if you're paying attention, you can't react that fast," Gose said. "We can't react that fast in the dugout and we're paying attention to the game. You're sitting there and you can't react fast enough in the dugout. Guys are just getting out of the way. A fan who's never seen anything moving that fast at them in their life? No chance."
Tigers general manager Al Avila said it's being discussed at the club and league levels.
"I know it's something that is in heavy conversation of what to do," Avila said. "Do you put up netting, not put up netting? If you do put up netting, how do you do it? It's something right now that is being looked at seriously."
Jason Beck is a reporter for MLB.com. Read Beck's Blog, follow him on Twitter @beckjason and listen to his podcast. This story was not subject to the approval of Major League Baseball or its clubs.