Reds unveil bronze statue to honor Perez
Fans, franchise legends attend ceremony at Great American Ball Park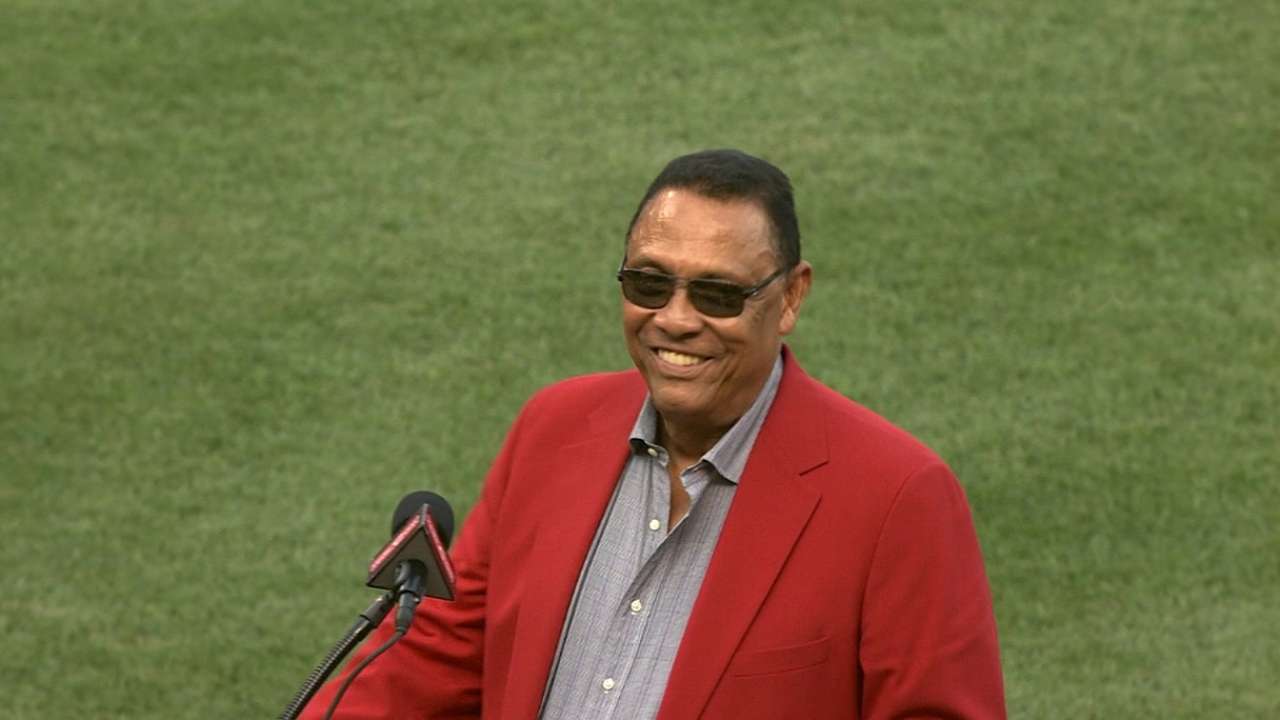 CINCINNATI -- Tony Perez started to speak, stopped, then apologized.
"I guess you're supposed to be emotional on a day like this," Perez said.
Saturday was indeed a special and emotional day for Perez and his family, as thousands of fans gathered outside of Great American Ball Park for the unveiling of a bronze statue in the likeness of the Hall of Fame slugger.
The pose artist Tom Tsuchiya chose was one that demonstrated Perez's power -- his home run in Game 7 of the 1975 World Series against Boston. What more than a dozen former teammates remembered, however, were his acts of clubhouse leadership, friendship, and sense of humor.
Johnny Bench recalled second baseman Joe Morgan being particularly unhappy with his performance early one season. Bench said Perez looked over at Morgan and said, "Joe, you better stop that. You're going to step on that lip."
Morgan said he was once charged with three errors during the first three innings of a game in San Diego. After a bathroom break between innings, Morgan came out to find his glove taped to a garbage can with a note that read, "Take this out there with you." Morgan said he is pretty sure Perez wrote the note.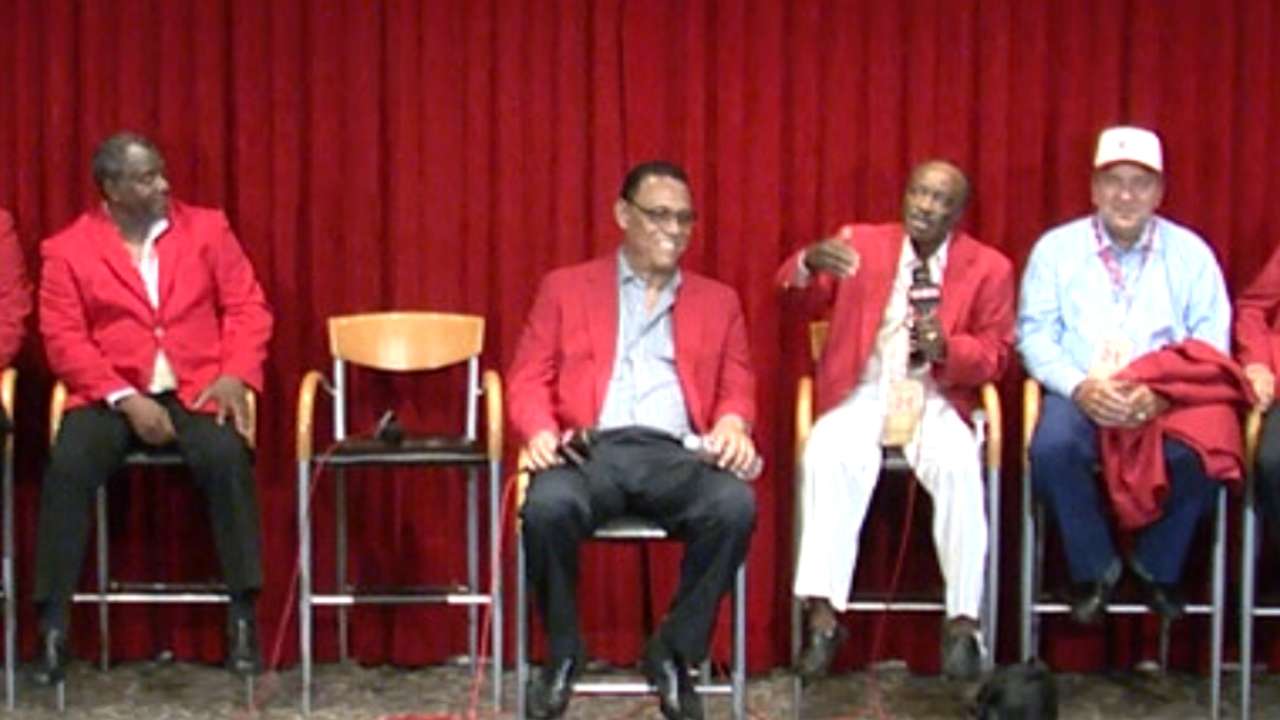 Perez said Saturday was meaningful for many reasons, including the presence of his sister, who came to Cincinnati from Cuba for the ceremony.
"I am so glad she is able to share with me something she's never seen before and see the way people love me in Cincinnati," Perez said. "[Today] was beautiful. I feel great that people are still talking about the Big Red Machine."
Former players who attended the ceremony included Bench, Jack Billingham, Leo Cardenas, Dave Concepcion, Pat Darcy, Andre Dawson, Dan Dreissen, Rawly Eastwick, Doug Flynn, George Foster, Cesar Geronimo, Ken Griffey Sr., Don Gullett, Tommy Helms, Lee May, Morgan, and Dave Parker.
Tsuchiya, a Cincinnati area artist, also created the other bronze images of Reds greats that stand outside the ballpark, including Joe Nuxhall, Ernie Lombardi, Ted Kluszewski, Frank Robinson, Bench and Morgan. The Perez statue weighs more than 500 pounds and required 10 months to build.
Perez, 73, a native of Cuba, helped lead the Reds to a pair of World Series titles. He was elected to the National Baseball Hall of Fame in 2000.
The seven-time National League All-Star (and Most Valuable Player Award winner of the 1967 All-Star Game) played 23 years in the big leagues, 16 with Cincinnati. He batted a career .279 with 379 home runs and 1,652 RBIs.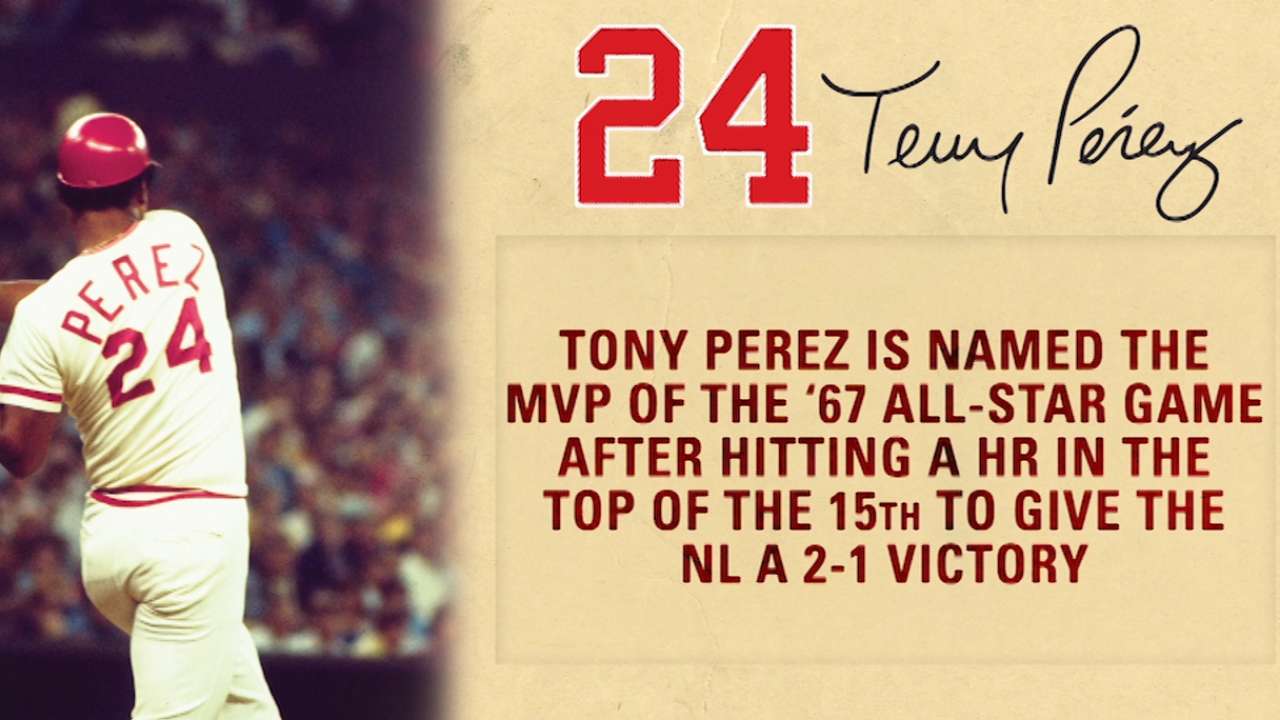 As skillful as Perez was, however, it was his character and personality that endeared him to Cincinnati fans. He refused to criticize the organization after he was traded to Montreal in 1976 and, 17 years later, after he was fired as Reds manager.
Reds owner Bob Castellini congratulated Perez on "being revered for representing all that is good about the game."
Perez is currently a special assistant to Marlins president David Samson.
The Reds also honored Perez during a postgame ceremony Friday and a pregame ceremony Saturday prior to his throwing out the ceremonial first pitch to Bench. The first 30,000 fans through the gates Saturday received a statue replica.
Andy Call is a contributor to MLB.com. This story was not subject to the approval of Major League Baseball or its clubs.