Play Ball teaches children about baseball, life
Initiative raising awareness of and interest in game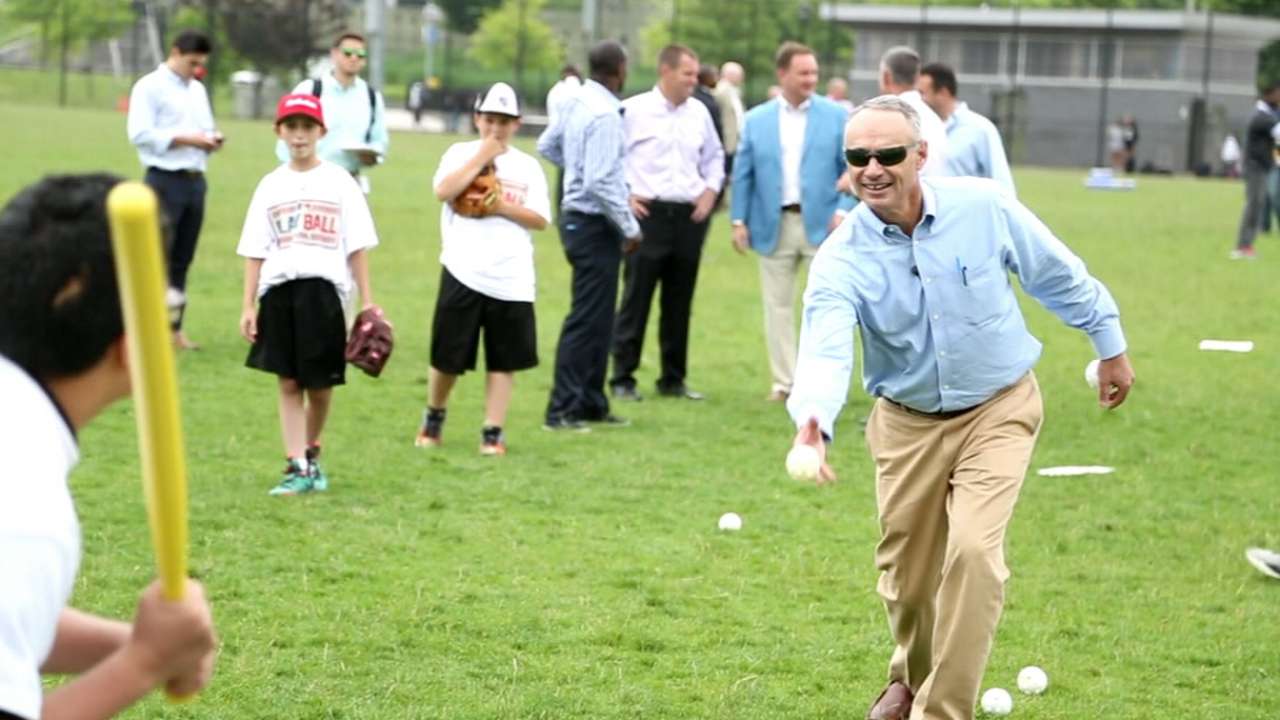 WASHINGTON -- Seven-year-old Antonio, like so many other children from Washington, has always preferred football to baseball. For that reason alone, he was a perfect participant in Saturday's Play Ball initiative, a joint effort between the U.S. Conference of Mayors and Major League Baseball.
For four hours at King Greenleaf Recreational Center -- less than a mile from Nationals Park -- boys and girls ages 4 to 14 participated in a host of activities, some baseball-related (throwing at a target, running the bases) and some not (negotiating a obstacle course).
D.C. Mayor Muriel Bowser was scheduled to attend the event, but was called away by another obligation. Gerard Hall, youth baseball/softball coordinator for the Department of Public Recreation, ran the event, and knew what Bowser would have seen if she was able to attend.
"She would get to see that we are starting to get a lot more interest in baseball," Hall said. "When she's out and about and she passes a baseball field and actually sees kids playing, she'd say, 'All right. That's what this is all about.'"
The Nationals donated shirts, hats and tickets, all of which were given away and used as prizes at the various events and the trivia booth.
Antonio, wearing a red Nationals cap with a white "Curly W," said he'd never been to a Nationals game, though he considered himself a fan "because they win all the time." His first trip around the bases in the timed baserunning event wasn't very good, a result of sandals instead of sneakers, and a lack of fundamentals. After some quick coaching and a change in footwear, his time improved by several seconds.
For Hall, who knows all about the challenges of trying to grow baseball in a football city, it was a successful day.
"One, they had fun," Hall said, listing what he hopes the children take away from the event. "Two, they learned something while they were here. And three, they say, 'I want to try more baseball.' I can't ask for anything else."
Jacob Emert is an associate reporter for MLB.com. This story was not subject to the approval of Major League Baseball or its clubs.