Marte's leap steals home run from Giants
Pirates outfielder denies Crawford, brother of pitcher Cole's fiancee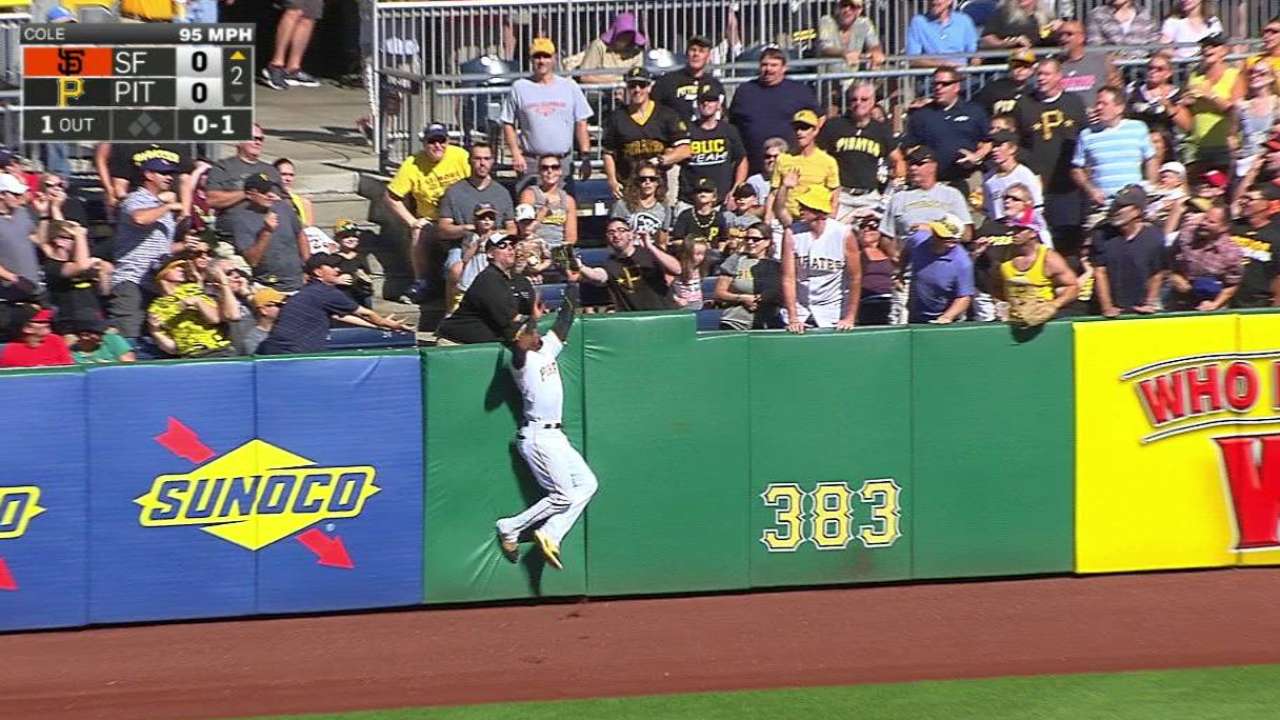 PITTSBURGH -- Starling Marte may have come up with an early wedding present for Gerrit Cole's upcoming marriage to Amy Crawford: robbing the Pirates pitcher's future brother-in-law of a home run.
The Giants' Brandon Crawford hit a towering fly ball to left field in the second inning of Saturday's game at PNC Park -- towering enough for Marte to drift back and make a leaping catch at the 383-foot sign. Seven innings later, Marte went over that wall considerably to the right of that sign for the walk-off homer that gave the Bucs a 3-2 win over the Giants.
While all the Pirates celebrated the win, Cole also celebrated Marte's piracy.
"That was a good one to rob," Cole said, grinning. "He picked a good one."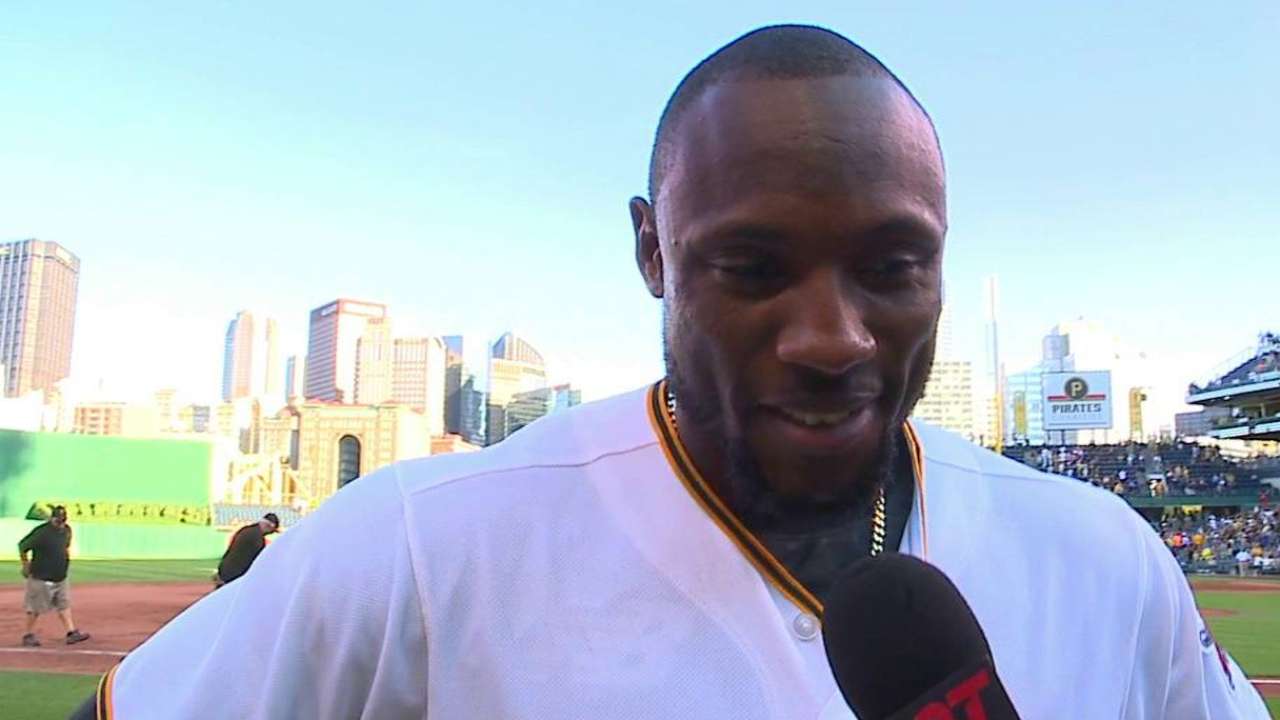 Cole, riffing on a familiar Pirates theme by introducing their We Are (Almost) Family era, was asked whether the robbery might come up at the wedding, perhaps as he's being toasted by fellow UCLA alumnus Crawford.
"I ... I ... I ... it will probably come up a few more times," Cole stammered, in his mind obviously going over several scenarios and enjoying them all.
The catch was as routine as it was significant in what would become a one-run victory.
Marte jumped a couple of feet above the 7-foot-high wall to glove the ball and snatch it away from the waiting outstretched arms of fans.
Or perhaps Marte just made it look routine because he had been practicing for that moment.
"I've worked hard this year to make a play like that," he said. "I'm getting better at it every day. Sometimes when a ball is hit like that, you have to try to catch it on the run. The way he hit it gave me a chance to make a catch like that, so I say, 'Thank you.'"
"He's an exciting player," manager Clint Hurdle said of Marte, who is openly chasing a National League Gold Glove for fielding excellence.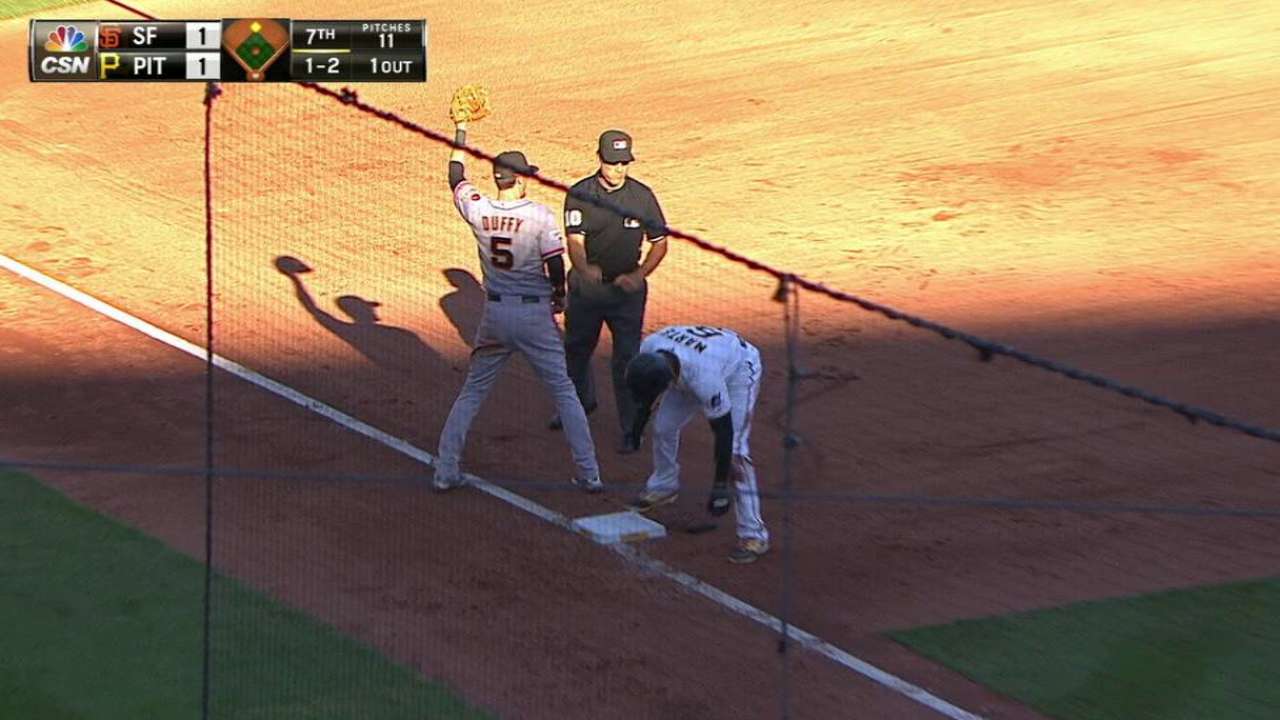 Hurdle had in mind Marte's catch, his decisive homer, as well as a seventh-inning blunder -- he had taken off on a steal attempt of third with the ball still in pitcher Hunter Strickland's hand -- that took him off base an instant before Jung Ho Kang's second home run of the day.
Hey, two out of three ain't bad.
Tom Singer is a reporter for MLB.com and writes an MLBlog Change for a Nickel. He can also be found on Twitter @Tom_Singer and on his podcast. This story was not subject to the approval of Major League Baseball or its clubs.