Vizcaino looking like new pitcher out of 'pen
Right-hander has cut down on walks while maintaining electric fastball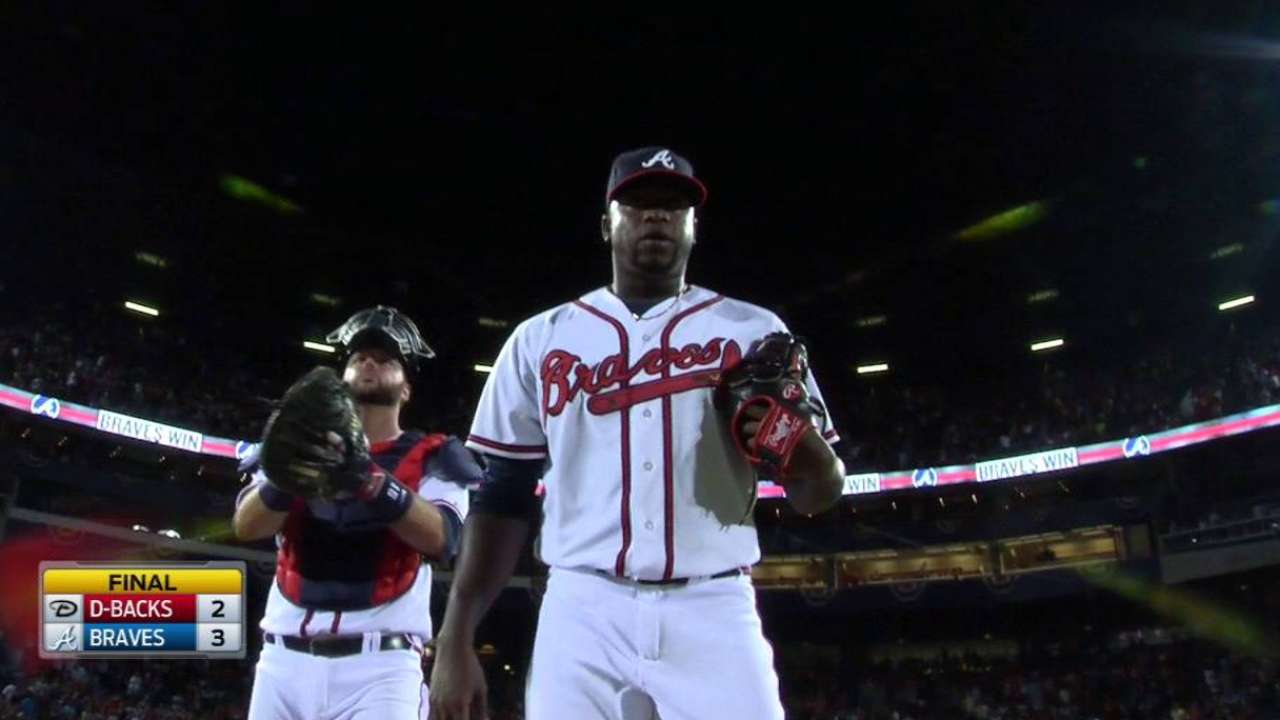 CHICAGO -- Arodys Vizcaino exited Spring Training wearing the embarrassment of a performance-enhancing drug suspension and having the reputation of being a hard-throwing reliever whose impressive radar gun readings were tarnished by his high walk totals.
Five months later, Vizcaino finds himself in a much different position. The 24-year-old right-hander returned to the Major Leagues in July and found himself as the Braves closer when Jim Johnson was traded to the Dodgers on July 30. He has converted each of his three save opportunities and, more importantly, shown an ability to throw strikes on a more consistent basis.
Vizcaino has matured and provided indication that he is no longer attempting to overpower batters with every pitch. In the process, he has lessened his walk ratios and also experienced an increase in velocity.
When Vizcaino made his Major League debut with the 2011 Braves, his average fastball velocity was 95.8 mph. That number dropped to 95.2 when he joined the Cubs' bullpen late last season. He missed all of 2012 and 2013 while recovering from Tommy John surgery.
Vizcaino's average fastball velocity this year has been 96.9 mph and he has issued just six walks in 16 2/3 innings. While that ratio might not seem startling, it certainly shows he has improved his command since issuing nine walks in 17 1/3 innings for the 2011 Braves and three walks in five innings with the Cubs last year.
The Braves traded Vizcaino to the Cubs during the 2012 season and re-acquired him in November in exchange for Tommy La Stella.
Before Vizcaino was handed his suspension in March, he had already been optioned to Triple-A Gwinnett primarily because he had issued eight walks in just eight Grapefruit League innings.
While his improved command could simply be a product of distancing himself from the Tommy John surgery, Braves pitching coach Roger McDowell credits the improvement to the natural development of a young pitcher.
"He has matured and gained a better idea of how to pitch," McDowell said. "He has learned you can be more effective when you throw strikes at 96-98 mph than when you try to throw 100 mph with every pitch."
Mark Bowman is a reporter for MLB.com. This story was not subject to the approval of Major League Baseball or its clubs.