Francona tossed after 'neighborhood play' goes against Tribe
Questionable call stalls Cleveland rally in loss to Yankees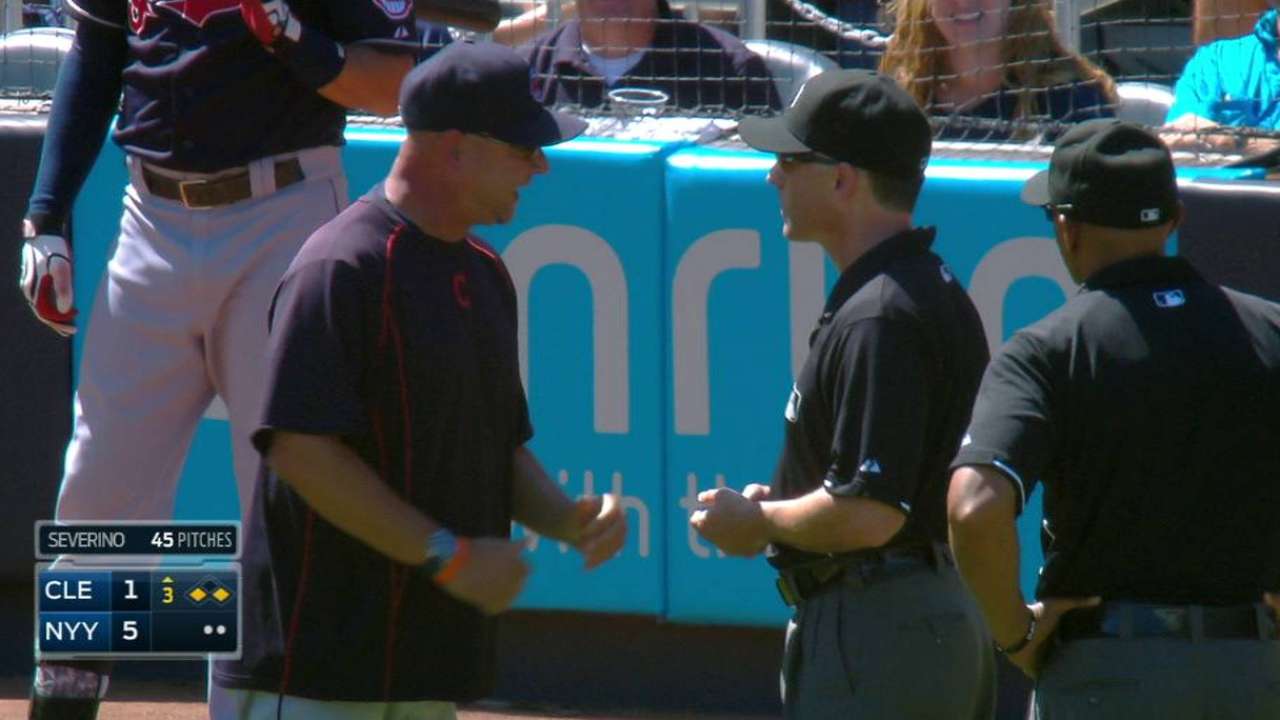 NEW YORK -- Indians manager Terry Francona did not think he was asking for too much. Without the ability to challenge the "neighborhood play" that came up in the third inning on Saturday, Francona hoped the umpires on hand at Yankee Stadium would at least use a crew-chief review to ensure everything went by the book.
"Just get it right," Francona said. "That's what we have replay for."
In the wake of a 6-2 loss to the Yankees, the events of that third inning -- instant-replay review not included -- loomed large for Cleveland. An out call at second by umpire Dan Iassogna, who later ejected Francona from the contest after a heated on-field exchange, changed the complexion of the inning and made the Tribe's uphill climb a little steeper after a rough start by Danny Salazar.
Salazar coughed up five runs (four earned) in the first two innings, putting Cleveland in a 5-1 hole heading into the third. After Jason Kipnis drew a one-out walk and Francisco Lindor followed with a single to begin the third inning, the Indians looked to have the makings of a rally going.
A debatable call, combined with a subdued offense the rest of the way, put an end to that prospect.
"I don't want to say that's why we lost the game," Lindor said of the questionable ruling in the third inning, "because it wasn't that one play. But it probably could've helped us."
With one out and the two baserunners aboard in the third, Cleveland's Michael Brantley sent a pitch from Yankees starter Luis Severino sharply through the infield and into the glove of first baseman Greg Bird. The rookie turned and uncorked a relay to shortstop Didi Gregorius in the hopes of turning an inning-ending double play. The end result was a fielder's choice groundout: Lindor out at second and Brantley safe at first.
There was a little more to this play, though.
Bird's throw sailed high and to the right of second base, forcing Gregorius to jump off the base before making the catch. At that moment, Lindor was a little more than halfway to second base, and the Indians shortstop slid into second well after Gregorius had relayed the ball back to first base. If the umpires agreed that Gregorius was off the base before the catch, Cleveland would have the bases loaded with one out, while trailing by four runs with cleanup hitter Carlos Santana due to hit.
Replays showed errant throw taking Gregorius off 2B as he made catch. Lindor not near him yet. pic.twitter.com/axBjTqCoVU

- Jordan Bastian (@MLBastian) August 22, 2015
"Whenever you can have bases loaded with one out," Lindor said, "instead of first and third with two outs, it changes the game. It changes the inning. It changes the momentum."
That is what prompted Francona, following bench coach Brad Mills' discussion with Cleveland's replay coordinator, to head onto the field to discuss the situation with home-plate umpire Lance Barrett. After a quick chat, Barrett discussed things with Iassogna, who then met with the entire crew briefly in the infield. They ultimately opted not to consult instant replay via a crew-chief review, and Iassogna headed back to an angered Francona with an explanation.
Francona did not like the reasoning he was given.
"He was trying to make three points," Francona said, "and I thought all three were incorrect. He said the first one was that it has to be a throw that takes him away and he said it was a very good throw. I didn't agree there. He was set up on the inside of the bag and the ball goes to the outside. He said he has to be off the bag. He said he was on the bag. I've got him 0-for-2. Then he said if the runner makes him deviate, that's the third one. The runner wasn't close to the bag.
"I thought it was an atrocious explanation and it continued to be worsened. I think he was more concerned about asking me if I was going to get thrown out. I wanted him to go check it, because we needed to have bases loaded with Carlos coming up."
Instead, Francona was tossed from the game after vehemently voicing his displeasure.
Then, Santana struck out to end the inning.
"The reason I thought they had replay was because you want to get it right," Francona said. "Carlos could've hit into a double play. We'll never know. I just thought that his explanation was terribly incorrect."
Jordan Bastian is a reporter for MLB.com. Read his blog, Major League Bastian, follow him on Twitter @MLBastian and listen to his podcast. This story was not subject to the approval of Major League Baseball or its clubs.