Severino earns 1st win as Yankees top Tribe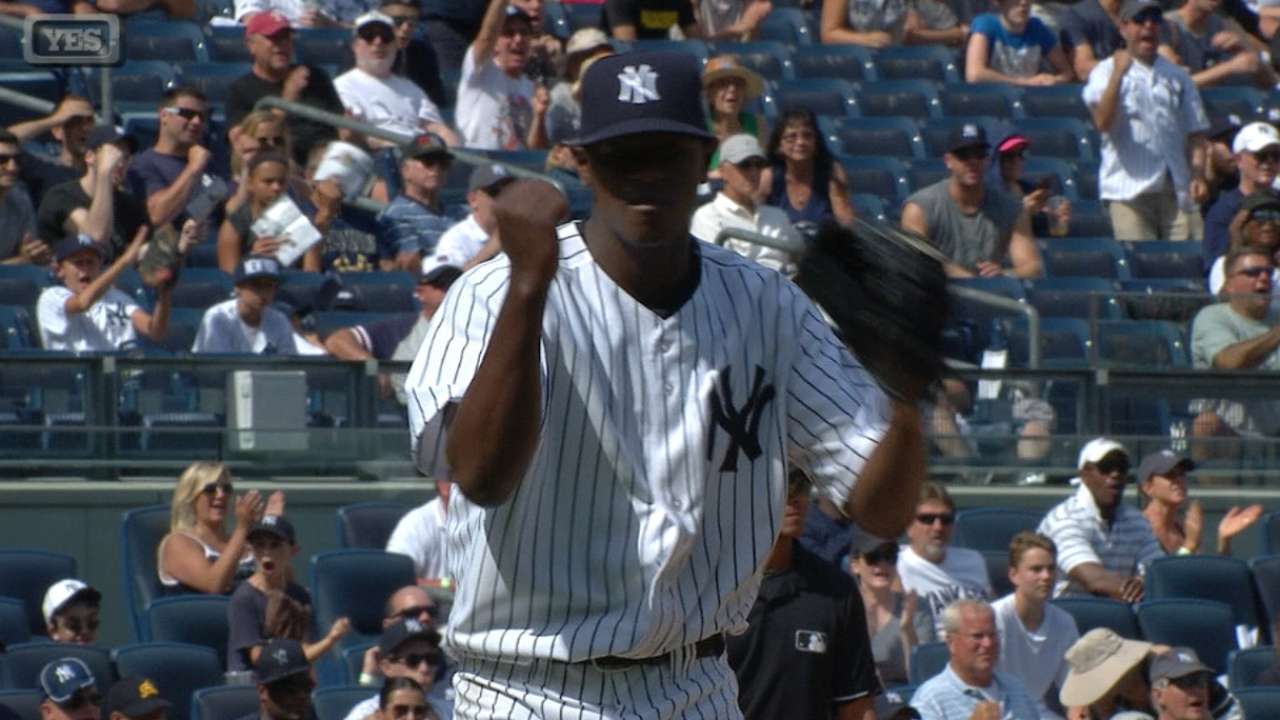 NEW YORK -- The Yankees broke out against Indians starter Danny Salazar early and often on Saturday in a 6-2 victory over the Indians at Yankee Stadium, the first Major League win for prized prospect Luis Severino.
The Yankees pounced on Salazar with a three-run first inning on home runs by Brett Gardner and Brian McCann. Salazar, who allowed eight hits and five runs (four earned) over 4 2/3 innings, entered Saturday with a 1.45 ERA in his previous seven starts, holding opponents to a .147 average in that span. It snapped a streak of seven consecutive starts throwing at least six innings for the Indians' right-hander.
"I didn't have my best today," Salazar said. "Early in the game, I was leaving too many pitches up in the zone. I let my team down."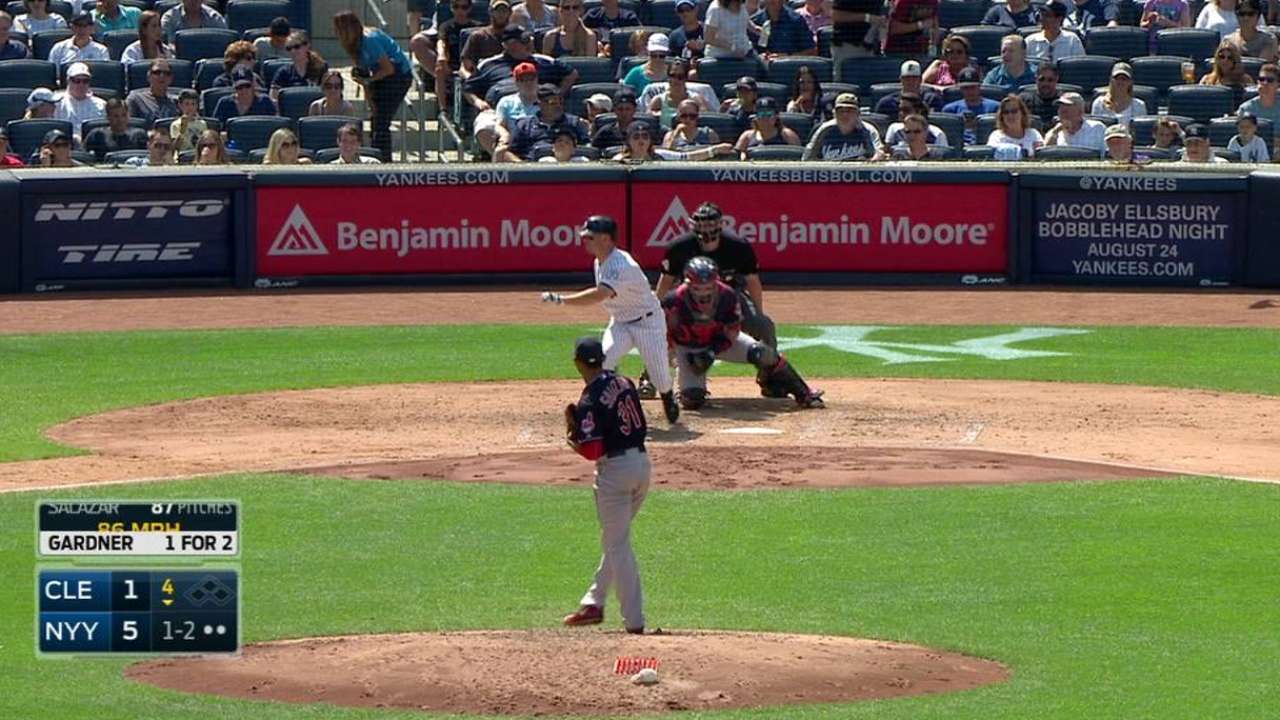 Jacoby Ellsbury, Carlos Beltran and John Ryan Murphy each drove in a run for the Yankees, who got a hit from every player in the starting lineup.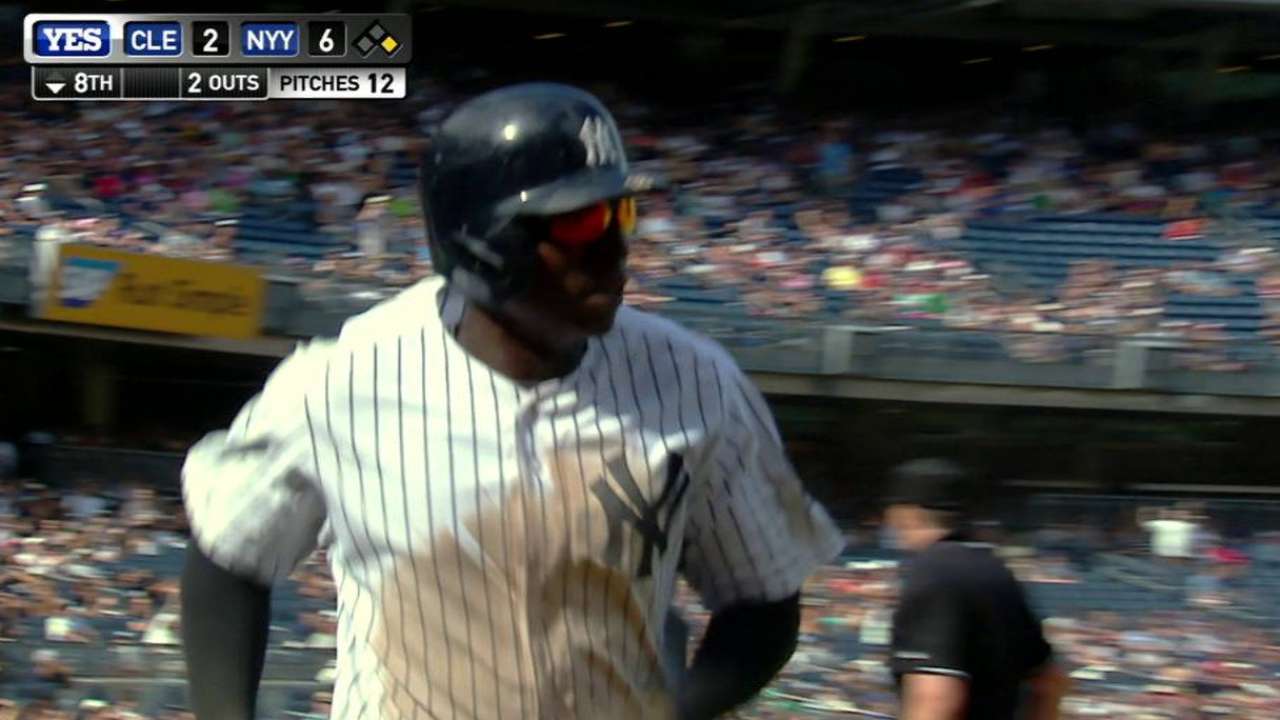 Severino, 21, the Yankees' No. 1 prospect, threw six innings of three-hit, one-run ball and struck out six.
"I think since I met him in Spring Training, I saw something different in him, and that is his presence. He's just a guy that, he walks around the clubhouse, but he doesn't walk around with his head down like he's afraid," Beltran said. "He's up for the challenge. In Spring Training, I said, 'This guy's going to be good,' because sometimes you have to be like that."
MOMENTS THAT MATTERED
Trading blows: Eight pitches into the afternoon, the Indians had their first run, courtesy of a solo homer into the right-field seats by Francisco Lindor. The Yankees countered in the home half of the first inning with a pair of blasts. Gardner ripped a low liner (43.89 feet off the ground, according to Statcast™) to the first row down the right-field line for a two-run shot, and McCann added a no-doubter to right-center, giving New York a swift 3-1 lead.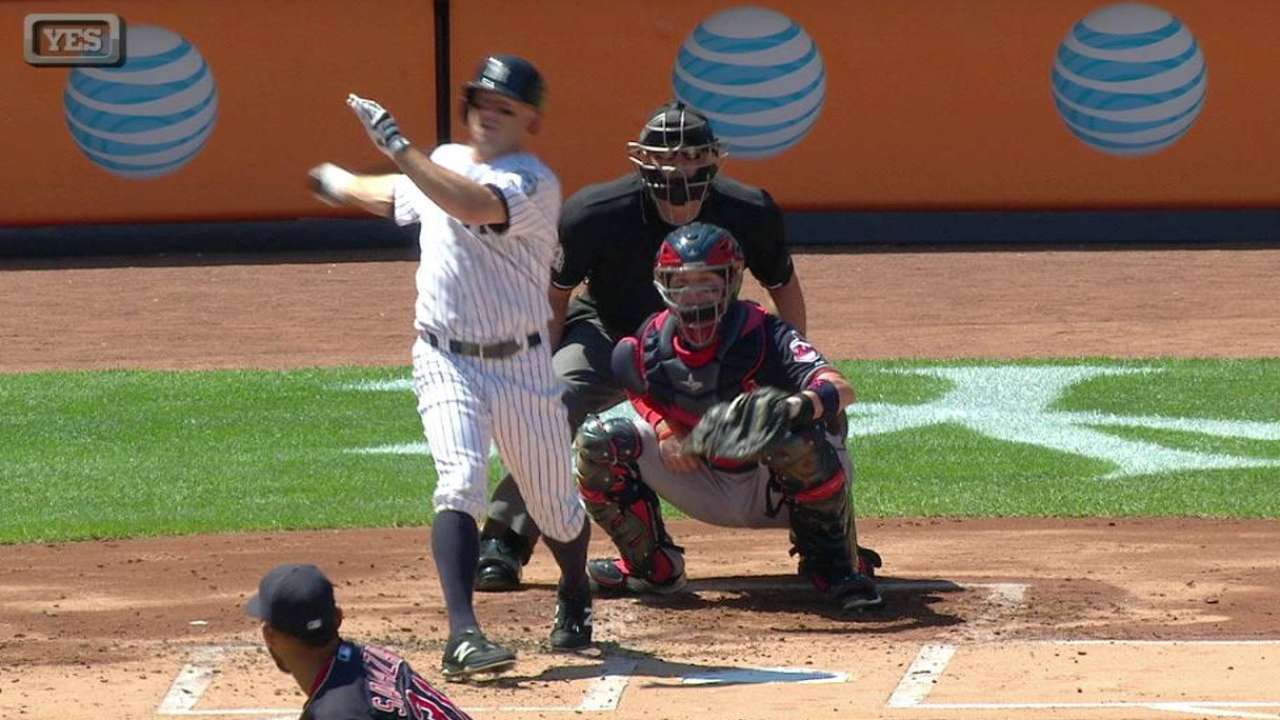 Night and Day: In Friday night's 7-3 loss to the Indians, the Yanks had just one extra-base hit and struck out 13 times, 11 of which came against Carlos Carrasco. The script was flipped Saturday against Salazar. Gardner and McCann's first-inning homers were their 12th and 22nd long balls of the season, respectively.
"I thought we jumped on some fastballs on [Salazar] early today and we didn't miss it," Yanks manager Joe Girardi said. "He's got a very good split as well, but we didn't miss the fastballs early in the game."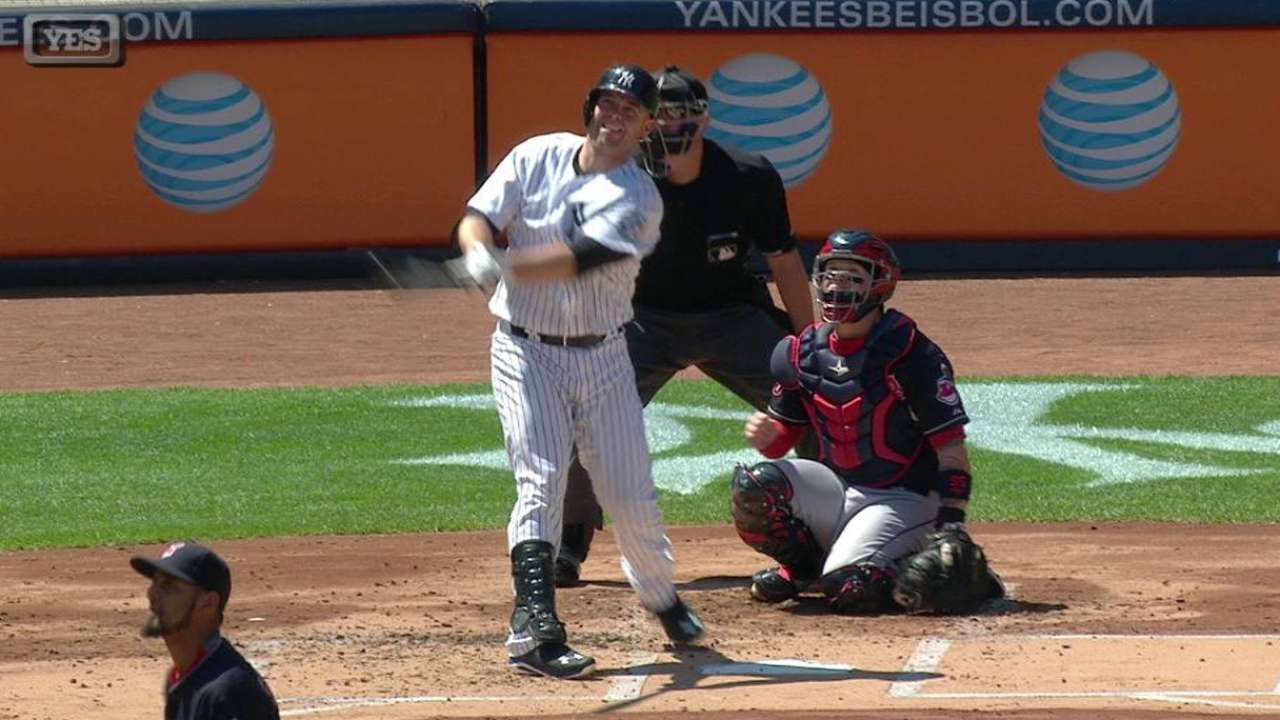 Rally killer: The Indians had the makings of a promising push in the sixth, when Severino walked Lonnie Chisenhall and Abraham Almonte with two outs. Cleveland's Roberto Perez worked to a 2-2 count before pulling a ball to shortstop Didi Gregorius, who was knocked down by the momentum. The shortstop recovered in time to make a throw to second for the out while seated in the infield dirt.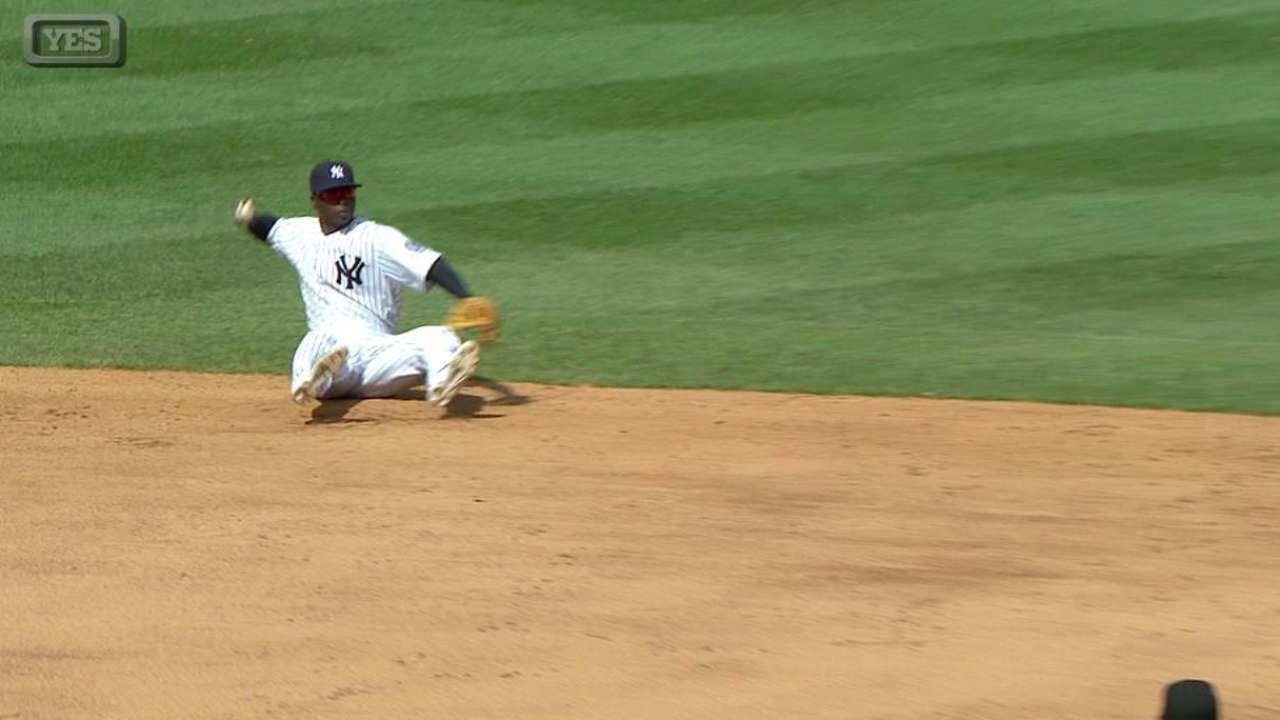 Lucky bounce: In the eighth, Lindor sliced a pitch from Yankees reliever Dellin Betances down the third-base line, where the ball struck the bag, causing it to sail high into the air before falling into left field. Lindor hustled to second on the play for a unique double and later scored on a base hit by Chisenhall. Lindor ended the day a triple shy of a cycle.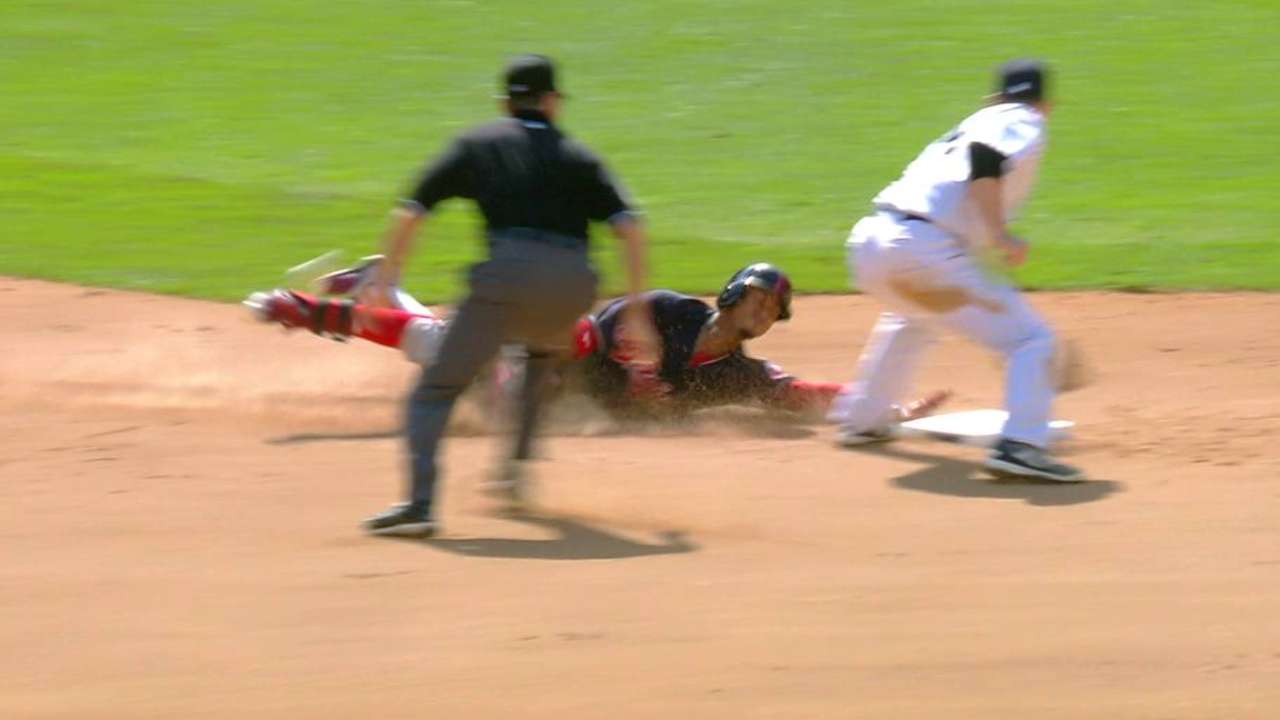 QUOTABLE
"Yeah, it is kind of fitting. Two guys that have a lot of power. The difference is Jorgie was a switch-hitter and Brian is strictly left-handed, but on a day that you're honoring a catcher, both of our catchers had a good day. Murph had a hit and an RBI, Brian had a home run and an RBI, so that's kinda neat to see." -- Girardi, on McCann hitting a homer on Jorge Posada Day. More >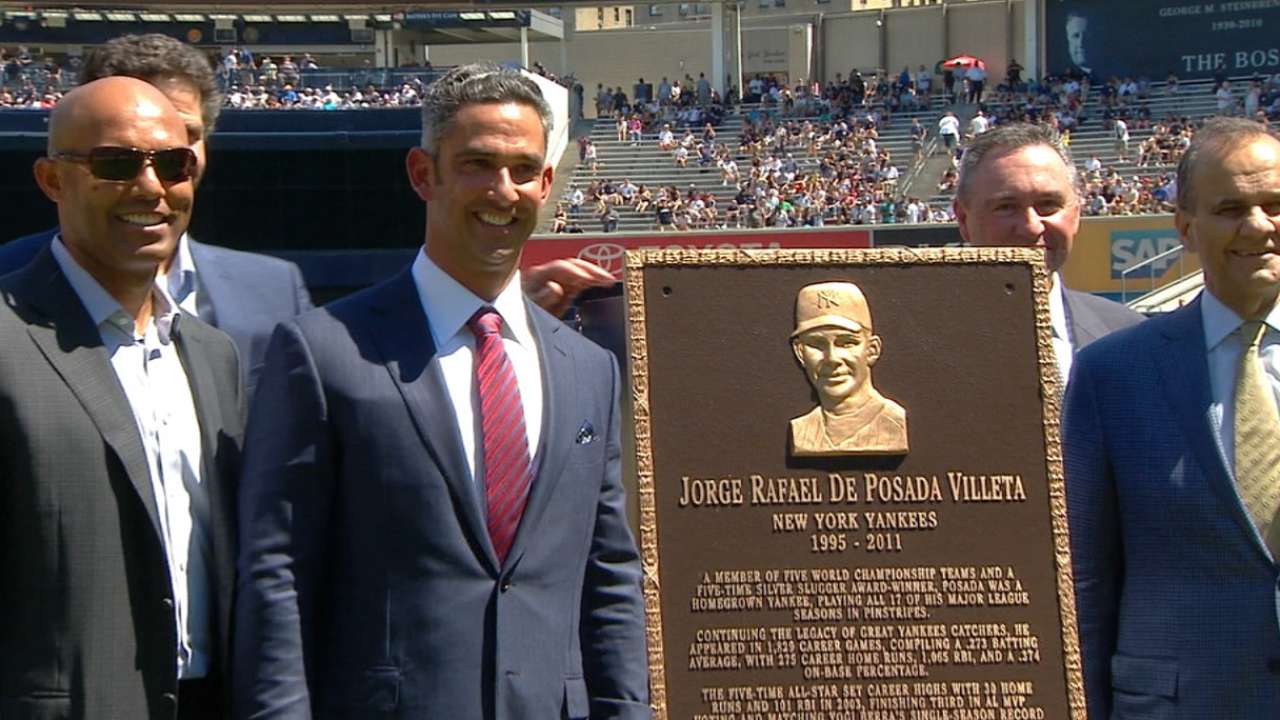 SOUND SMART WITH YOUR FRIENDS
Before Saturday, the Yankees entered the game with 99 first-inning runs this season. It was the most runs by any team in any inning all season long and the most opening runs by a Yankee team since 2012, when they scored 118. On Saturday, the Yanks pounced early again with three first-inning runs.
FRANCONA EJECTED
With runners on the corners and one out in the third inning, Michael Brantley chopped into a 3-6 fielder's choice. On the play, though, the throw from Yankees first baseman Greg Bird appeared to force Gregorius off the bag at second before he caught the ball. Indians manager Terry Francona took the field and talked things over with the umpires, hoping for a crew-chief review, but the crew opted against going to instant replay. That decision got Francona fired up, leading to an argument and his third ejection of the season.
"[Second-base umpire Dan Iassogna] was trying to make three points," Francona said. "I thought all three were incorrect. He said the first one was that it has to be a throw that takes him away and he said it was a very good throw. I didn't agree there. He was set up on the inside of the bag and the ball goes to the outside.
"He said he has to be off the bag. He said he was on the bag. I've got him 0-for-2. Then, he said if the runner makes him deviate, that's the third one. The runner wasn't close to the bag. I thought it was an atrocious explanation. … Just get it right. That's what we have replay for." More >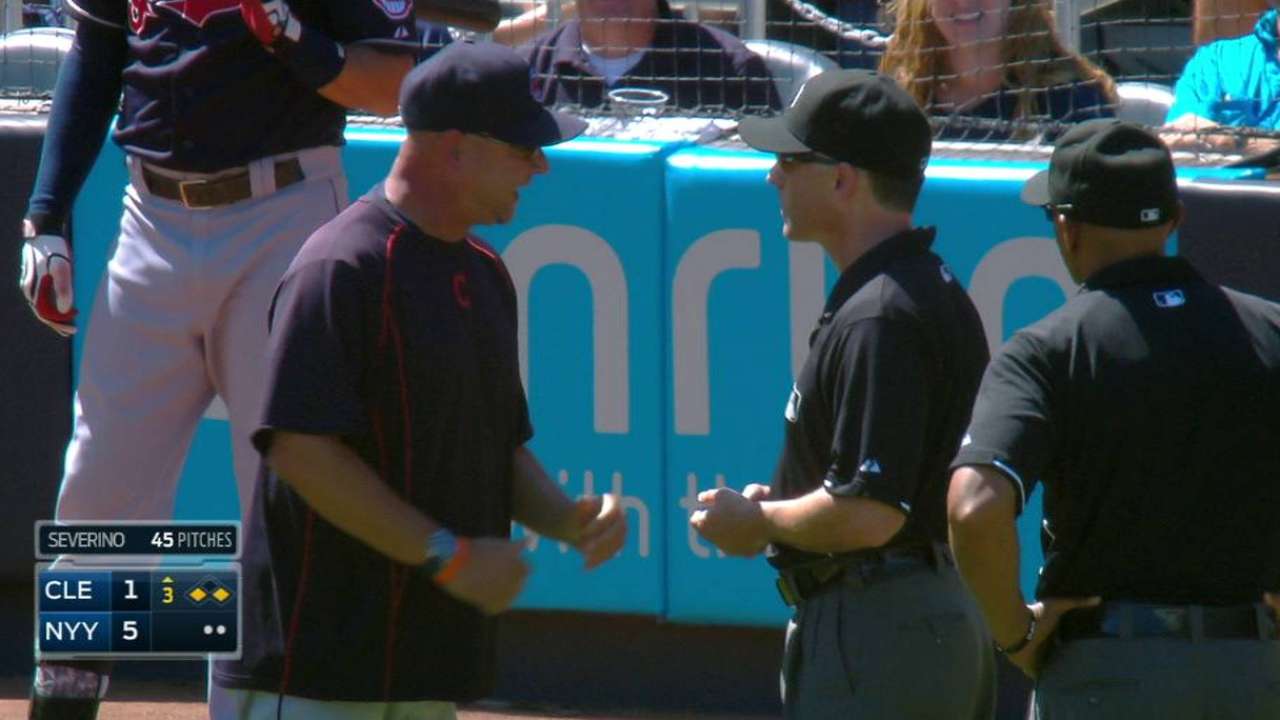 WHAT'S NEXT
Indians: Right-hander Trevor Bauer (9-10, 4.62 ERA) will take the ball for the Tribe in the finale of a four-game set against the Yankees at 1:05 p.m. ET on Sunday at Yankee Stadium. Bauer will be aiming to get back on track after posting an 11.91 ERA in his past three outings for Cleveland. After turning in a 2.94 ERA in his first 11 starts this season, the young righty had turned in a 6.25 ERA over his last 13 outings.
Yankees: CC Sabathia (4-9, 5.24) will take on his former club, looking for his fifth win of the season. Against the Indians, Sabathia is 4-2 with a 2.95 ERA in eight career starts. In his last outing, the lefty got the no decision against the Twins. He pitched 6 2/3 innings, giving up five hits and four runs.
Watch every out-of-market regular season game live on MLB.TV.
Grace Raynor is an associate reporter for MLB.com. Jordan Bastian is a reporter for MLB.com. Read his blog, Major League Bastian, follow him on Twitter @MLBastian and listen to his podcast. This story was not subject to the approval of Major League Baseball or its clubs.