Posada immortalized with retirement of No. 20
Five-time All-Star hit 275 HRs, played for 5 World Series-winning teams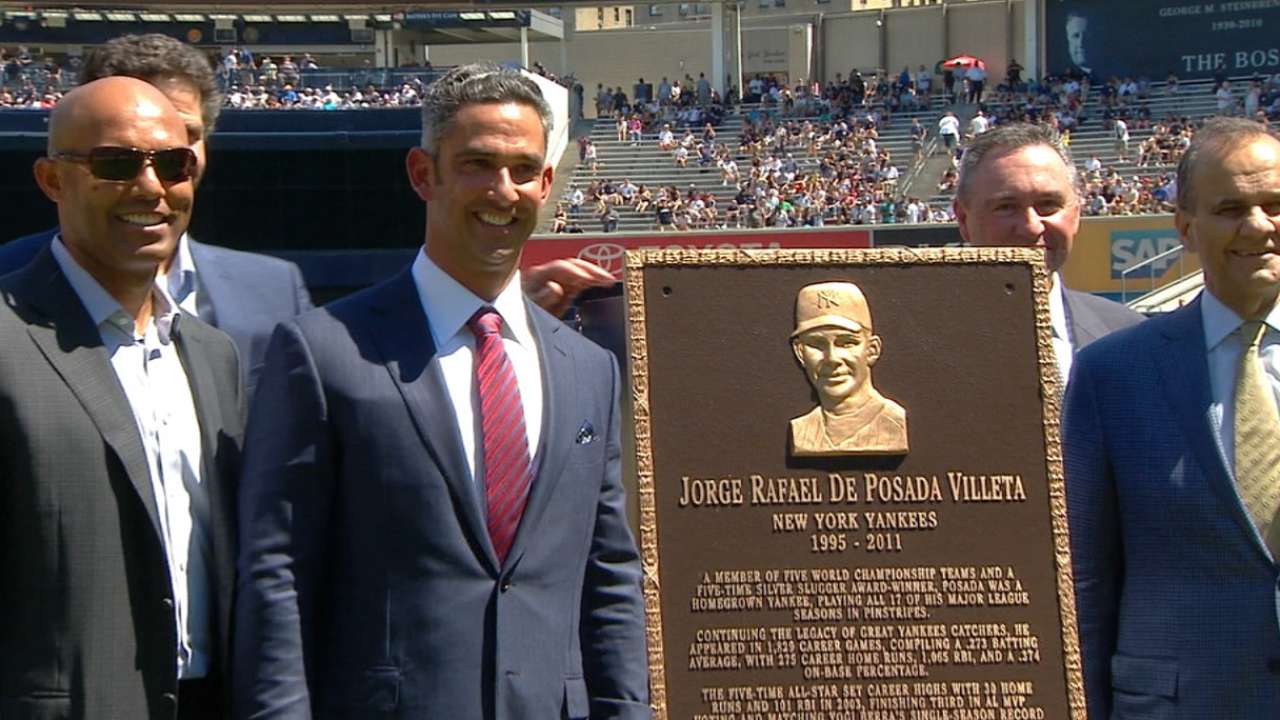 NEW YORK -- It's the fire and the intensity that his coaches and teammates seem to latch on to so passionately when Jorge Posada comes to mind. There's a notion that no one brought it like Posada did, that even as just one player, his fervent impact carried so much magnitude.
On Saturday in the Bronx, with all of his closest friends and family in attendance, Posada relived the legacy he leaves behind as a Yankee in a pregame ceremony before the Yankees' 6-2 win over the Indians. As part of a weekend that is honoring Posada and Andy Pettitte, Posada's No. 20 jersey was retired and his own plaque in Monument Park was unveiled. It was a moment like no other, a day that the 17-year Yankee had been anticipating since February, when he first learned of the ceremony.
Emotions ran high.
"I can't believe I'm standing up here right now. And I can tell you, I've never been nervous on a baseball field ... being here seems surreal," Posada said to the crowd. "I can honestly tell you, this is one of the happiest days of my life."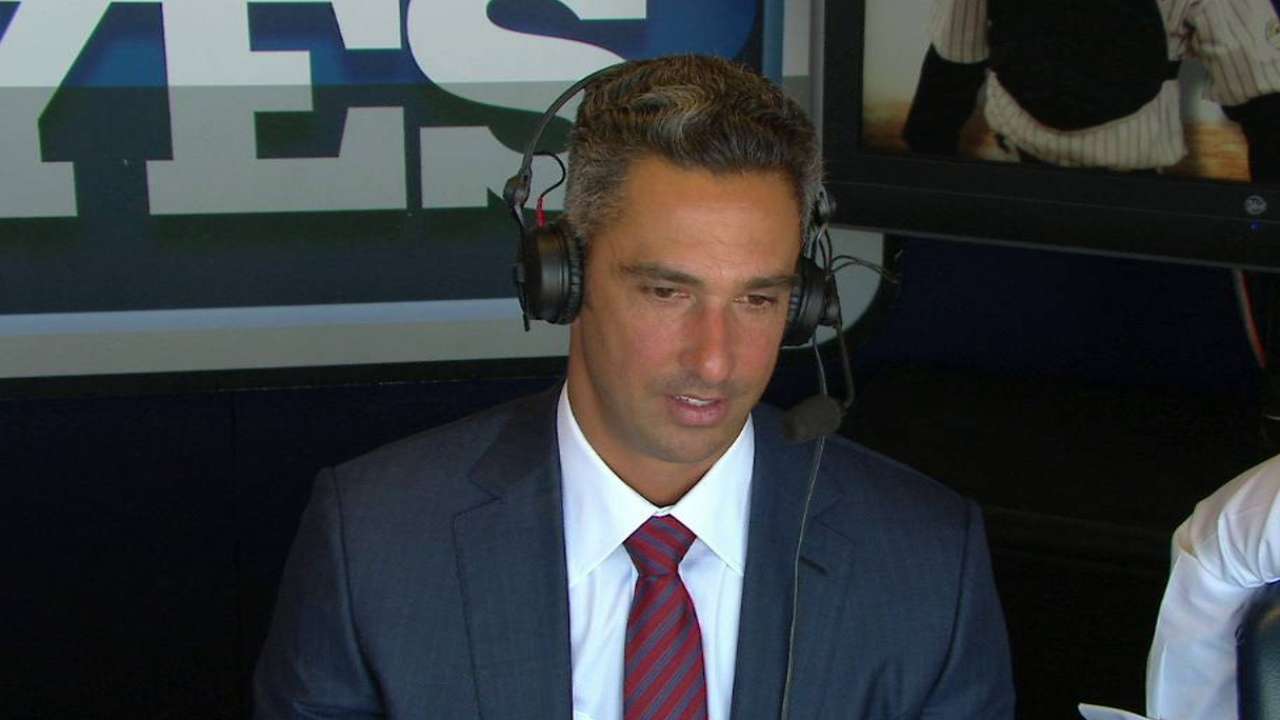 Posada was a forever Yankee, escalating through the club's farm system and playing all 17 of his seasons in pinstripes. In 1,829 career games with the Yankees, the catcher hit 275 home runs with 1,065 RBIs. He was a five-time All-Star and a member of five Yankee World Series teams.
When his career was at a crossroads and retirement was on the table, Posada turned to Don Mattingly for advice regarding his next step.
"I had a tough year in 2011, emotionally, career-wise, I wasn't catching. I had a shoulder surgery, I had a knee surgery. I knew it was over," Posada said. "I didn't want to play for another team. Putting on another uniform didn't look good when they presented it on the TV. Donnie said, 'You should retire as a Yankee. You should do everything possible. If the Yankees don't call, just go as a Yankee.' He helped me with that decision."
Posada never regretted it. On Saturday, all of his closest friends and mentors came to celebrate. His close friend and best man in his wedding Derek Jeter was there. Joe Torre was there. Andy Pettitte was there, and so was Hideki Matsui, Mariano Rivera, Diana Munson and other famous Yankees. Posada had always had a picture of Thurman Munson in his locker, so having his widow there meant a lot.
• Cut4: Posada's son had constructive criticism after his father's first pitch
Yogi Berra couldn't make it, but wrote Posada a personal letter, which was shown and narrated on the large video board.
"You were a really good ball player for a long time," Berra wrote. "I'm proud of you, kid."
The catcher now joins the ranks of people he once idolized: Berra, Munson, Bill Dickey, Elston Howard. He had never wanted to be a catcher and was angry when he initially made the move from second base, but now, he can't imagine his career any other way. Mike Stanley had wanted Posada to wear No. 20 behind the plate, and now, it'll never be worn again.
"Ever since I can remember, all I wanted to ever do was play baseball," Posada said. "Honestly, I didn't have a Plan B."
Then he borrowed a chapter out Joe DiMaggio's book.
"Today, I must say," he started, "I want to thank the Good Lord for making me a Yankee."
Grace Raynor is an associate reporter for MLB.com. This story was not subject to the approval of Major League Baseball or its clubs.