Mitchell nearing return to mound after nasal fracture
Right-hander scheduled for bullpen session on Sunday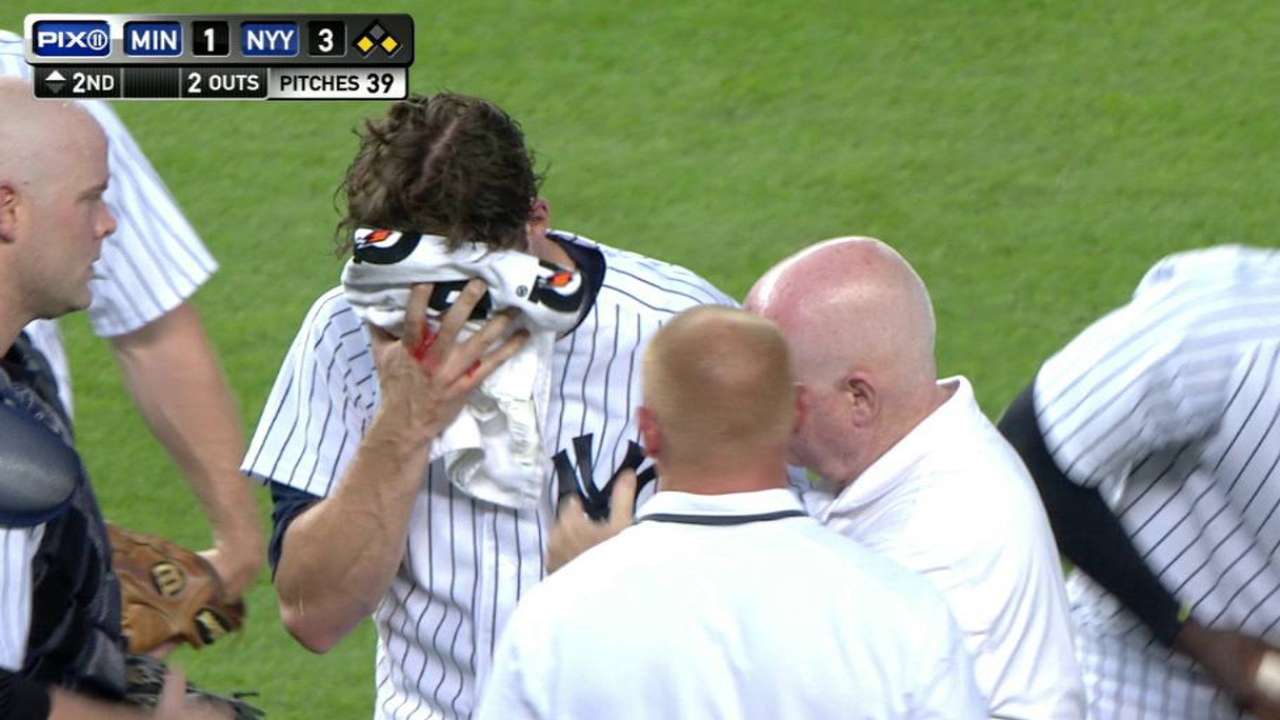 NEW YORK -- The Yankees feel fortunate that Bryan Mitchell is progressing the way he is, considering how much worse the nasal fracture he sustained on Monday night could have been. In a start against the Twins, Mitchell took a line drive to the face, exiting with his face covered in blood and his hat completely bent inward from initially deflecting the ball.
Mitchell was placed on the 7-day concussion disabled list, didn't do any baseball activities for two days and was monitored closely to be as cautious as possible. Now, he could be on the verge of throwing a bullpen and making his way back to the mound. The Yankees are planning for him to throw his first bullpen since the injury on Sunday.
"It's really pretty incredible considering what it could have been," Yankees manager Joe Girardi said. "He still has some stitches that need to be removed before we would let him pitch, but it's pretty remarkable.
"So far, everything he's done has been good. He's run, he's played catch, he's done flat ground a little bit. Everything has been good."
Mitchell was making a spot start for the Yankees when the liner struck him in the second inning against the Twins. He was immediately taken to the hospital, diagnosed with the nasal fracture and watched closely over the course of the next 24 hours for any concussion symptoms. He has already had one concussion already this season at Triple-A.
Girardi said the plan is to have him throw in some type of game that allows him to see some hitters again, but in which capacity that is, the Yankees aren't sure yet. The club also recalled Branden Pinder on Saturday, as well as designated Chris Capuano for assignment again.
"We're hoping Cap comes back, he goes and makes another start or two and is built up," Girardi said "Then we'll go from there."
As for Mitchell, Girardi is looking forward to seeing him on the mound again.
"Obviously, he's going to go a week without pitching, which you don't always think is the best," Girardi said. "You want him to get back on the mound. That's the bottom line. Players have to go back out there and that's what we do. We want him to feel comfortable."
Grace Raynor is an associate reporter for MLB.com. This story was not subject to the approval of Major League Baseball or its clubs.