Rays win key battles to get back to .500 mark
Smyly, Gomes, Boxberger fend off A's to take opener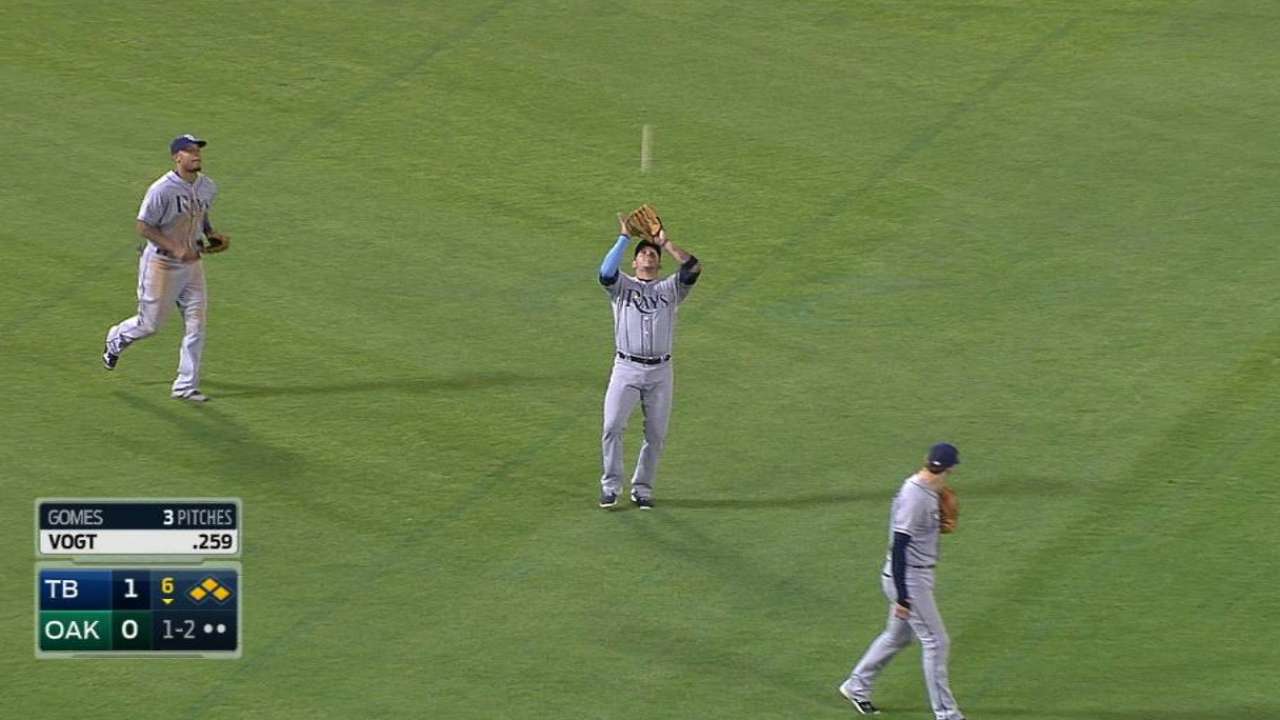 OAKLAND -- Twice in their 2-1 win over the A's on Friday, the Rays nearly blew the lead. But in both the sixth and ninth innings, they did just enough to fend Oakland off.
In the sixth inning, after the A's loaded the bases, Drew Smyly picked up a massive strikeout on Brett Lawrie on a high fastball. Smyly -- who recorded his first win since Aug. 27, 2014 -- departed having allowed six hits on 91 pitches.
Had Stephen Vogt gotten a hit, Smyly could have ended up with a loss, but Brandon Gomes made sure that didn't happen. He got Vogt to pop to short, and the Rays escaped unscathed.
"I felt like I needed this game, I needed a bounceback outing," Smyly said. "I feel like I've been throwing a lot of strikes, but for whatever reason I'd been giving up timely hits, and tonight it just went my way. It felt good to get those big outs when you needed it."
Friday marked the 24th time this season a Rays starter hasn't yielded any runs, surpassing the Dodgers for tops in the Majors. The win put the Rays at 61-61 for the season and kept them at two games back of the second AL Wild Card spot.
Smyly, who has been out most of the season with a torn left labrum, struggled in his first start but commanded his pitches better and said he felt sharper this time around.
"We all said we were very optimistic after that start that he would bounce right back," Rays manager Kevin Cash said, "and he made us look smart because he did."
Gomes, who also pitched a perfect seventh, has now retired 25 straight batters. The most pivotal out of his night was Vogt's popup, when he jammed him on an inside pitch.
"If you look up and down our roster, you've got guys that get hot at times, guys that go through maybe a little bit of a funk," Cash said. "Gomer, he's hot right now. He's got a good feel for what he's trying to accomplish."
One of those guys in a funk is closer Brad Boxberger. Though Boxberger notched his 30th save in 34 tries Friday, it took him 33 pitches in the ninth to do so.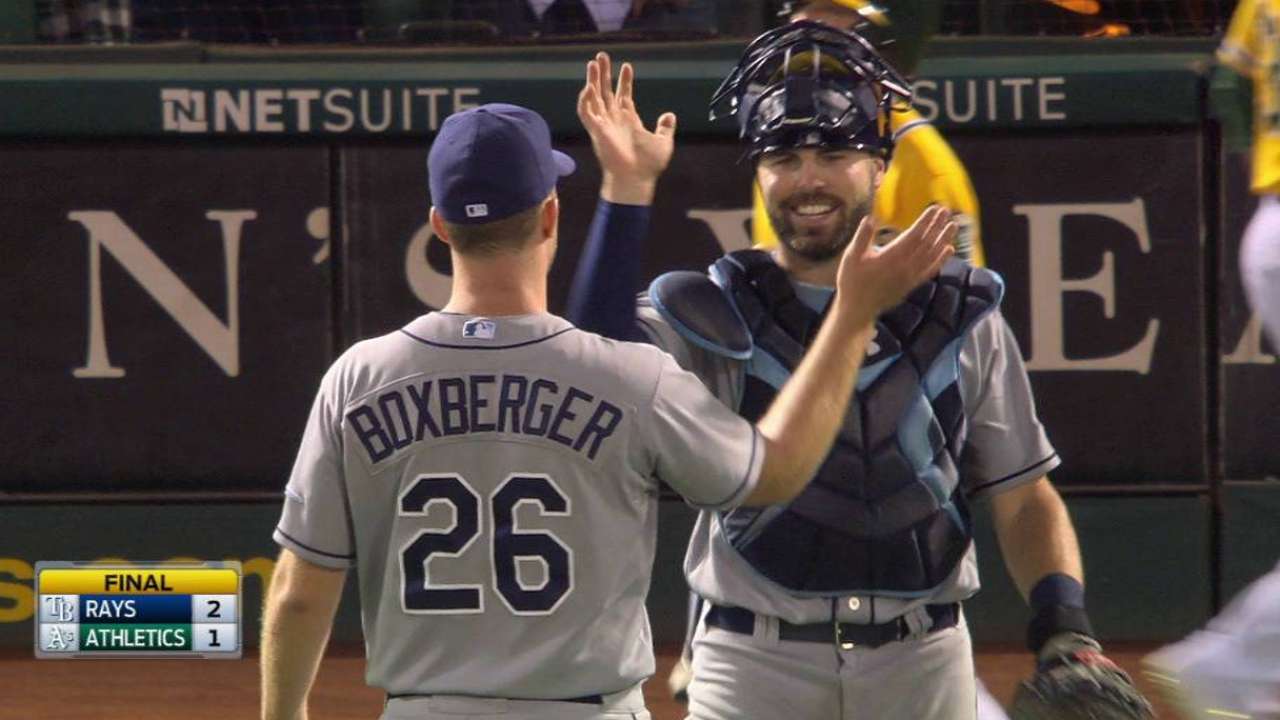 Lawrie scored on a check-swing bloop single by Coco Crisp. The ball floated into the outfield and was just out of Asdrubal Cabrera's reach.
Billy Burns battled and fouled off a string of pitches, but Boxberger ultimately got him to fly to left to end the game.
"It all just kind of magnifies itself when things aren't going your way, so I'll take it as a step in the right direction and go from there," Boxberger said.
Trevor Hass is an associate reporter for MLB.com. This story was not subject to the approval of Major League Baseball or its clubs.