ICYMI: Jankowski, longball power Padres over Cards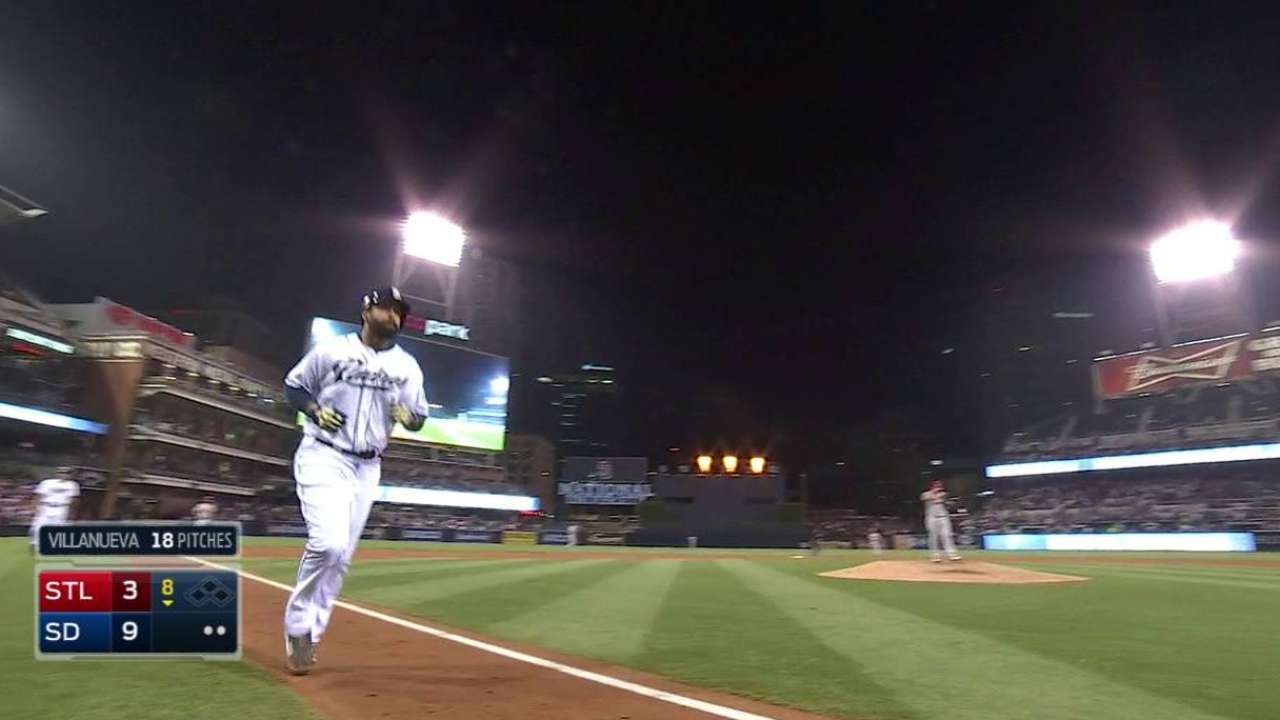 The Cardinals were certainly greeted with a rude welcoming when they entered Petco Park on Friday as the Padres routed the Redbirds, 9-3, in the first of a three-game set in San Diego. The Padres combined a superb pitching performance from starter Andrew Cashner along with plenty of power thanks to three home runs and a stellar debut by Padres rookie Travis Jankowski. With the victory, the Padres recorded their 500th win at home since Petco Park opened in 2004.
Cashner delivered one of his best starts of the season, tossing six innings of one-run ball. He gave up four hits and walked two, to earn his fifth win of the season. The one run that Cashner surrendered was an unearned run, which he yielded in the first inning. Cashner's quality start along with his eight strikeouts on the evening helped him improve to a 5-12 record with a 4.03 ERA.
The Padres' bullpen was initially called upon in a close game when the Friars led the Cardinals by only a pair of runs in the seventh inning, but as the Swinging Friars continued to pile on the efforts of Marc Rzepczynski, Shawn Kelley, Joaquin Benoit and Kevin Quackenbush -- although valiant -- would prove to be superfluous as the Padres' offense broke the game open in the eighth.
Jankowski made his Major League debut for the Friars on Friday as he started in center field and batted ninth. Jankowski promptly slashed a single into center field on the second pitch of his first at-bat in the third inning for his first Major League hit, and he wasn't done there. Jankowski would go on to record his first Major League RBI shortly afterwards and he also scored his first run in a very exciting fifth inning for the Padres.
In addition to the capable feats of the team's newest Padre, the rest of the team's offense had an excellent day at the plate as well as the Swinging Friars pounded out 13 hits en route to scoring nine runs. Matt Kemp was one of three Padres hitters who left the yard, as he connected on a two-run home run. Yangervis Solarte also launched a two-run shot of his own, and Brett Wallace delivered a two-run homer off the bench in the eighth inning.
Kemp also extended his hitting streak to 13-straight games on Friday. Additionally, Kemp was joined by Solarte and Alexi Amarista as the trio of Padres hitters who recorded multiple hits on the day. Thanks to Friday's win, the Padres have now won four-straight games and improved to a 60-62 record, while also securing a winning homestand this week.
The Padres will continue their series against the Cardinals on Saturday with Ian Kennedy taking the hill opposite of Carlos Martinez at 5:40 p.m. PT for the middle-match of the series. In case you missed it, here are some highlights and stories you may not have seen from Friday:
Padres postgame recap: Padres pound Cardinals behind Cashner
Cashner twirls a gem while stirking out eight and surrendering 0 earned runs over six inning pitched: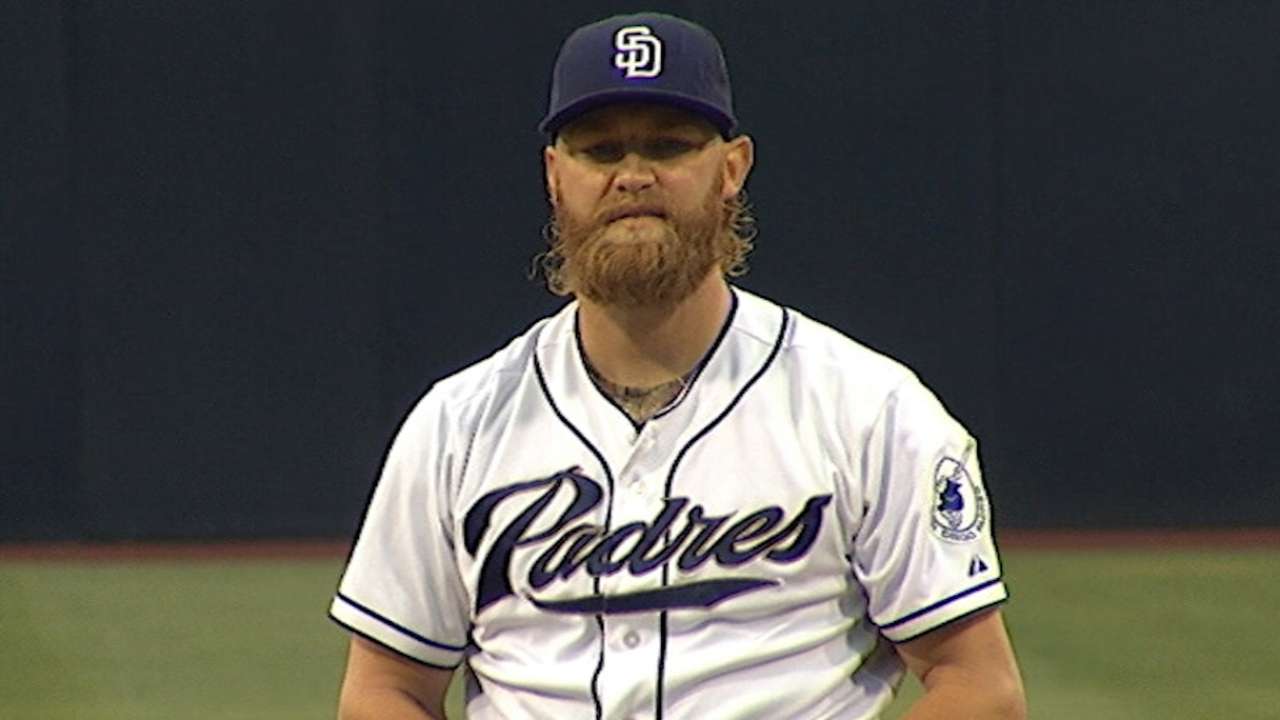 Jankowski collects his first Major League hit and the first Padres hit of the night in the third: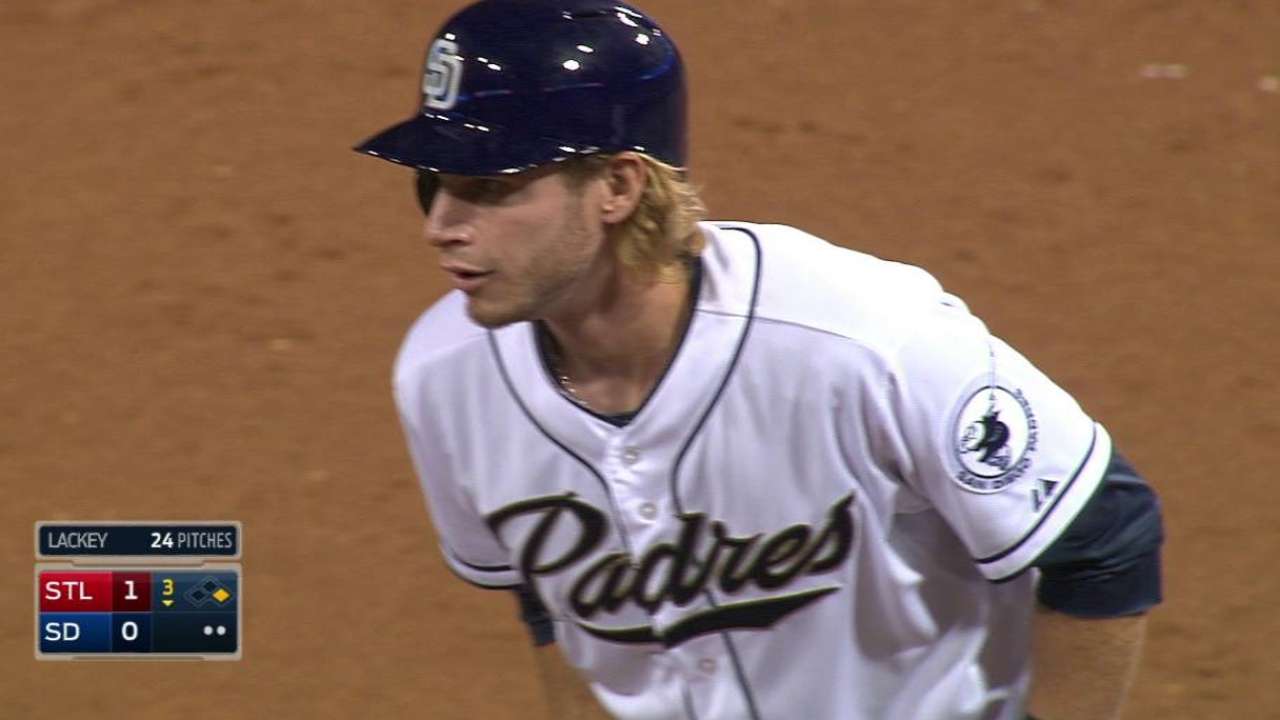 Jankowski then collects his first RBI in the Majors in the second plate appearance of his career: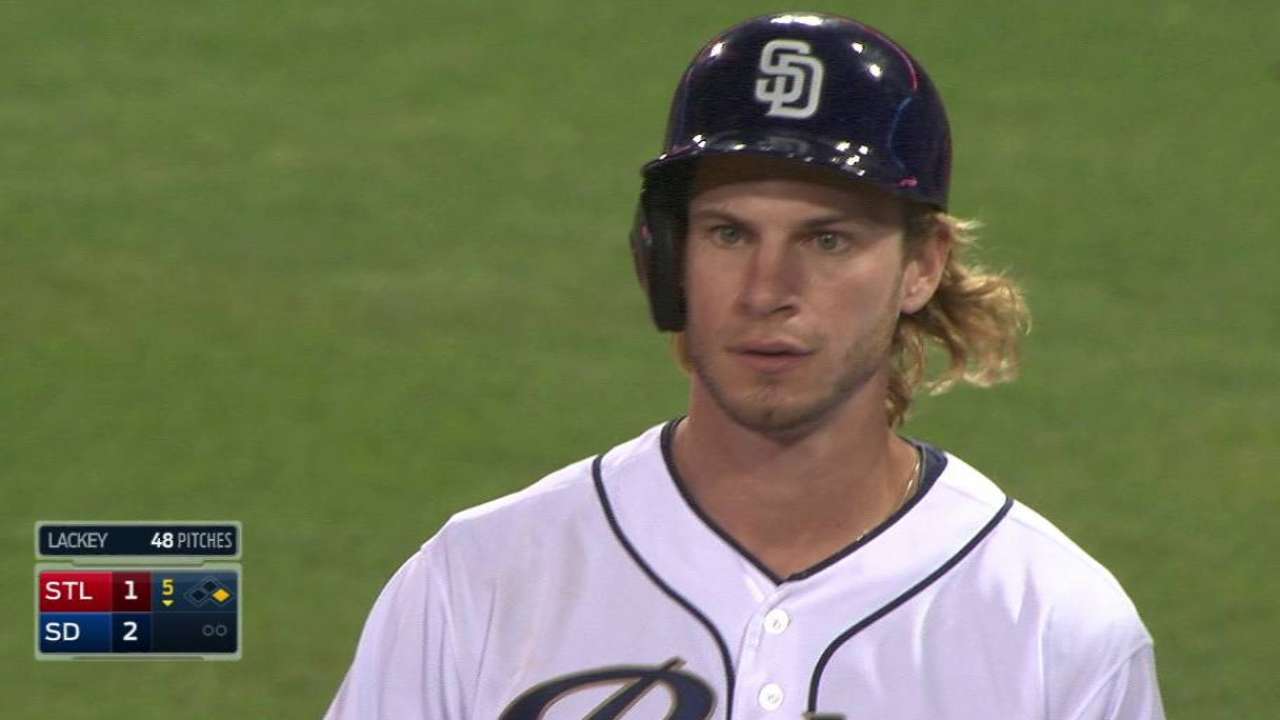 The Padres erupt for five runs in the fifth inning to put a crooked number on the board: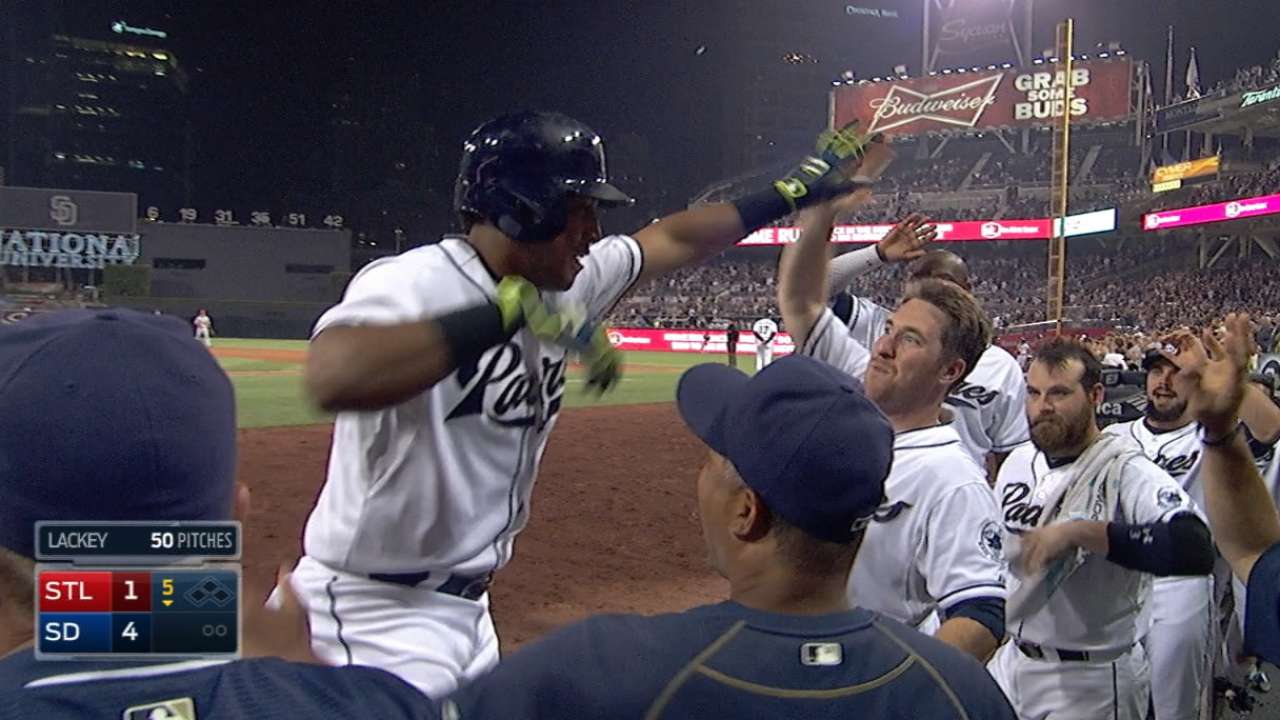 Wallace breaks it open with a pinch-hit two run homer in the eighth: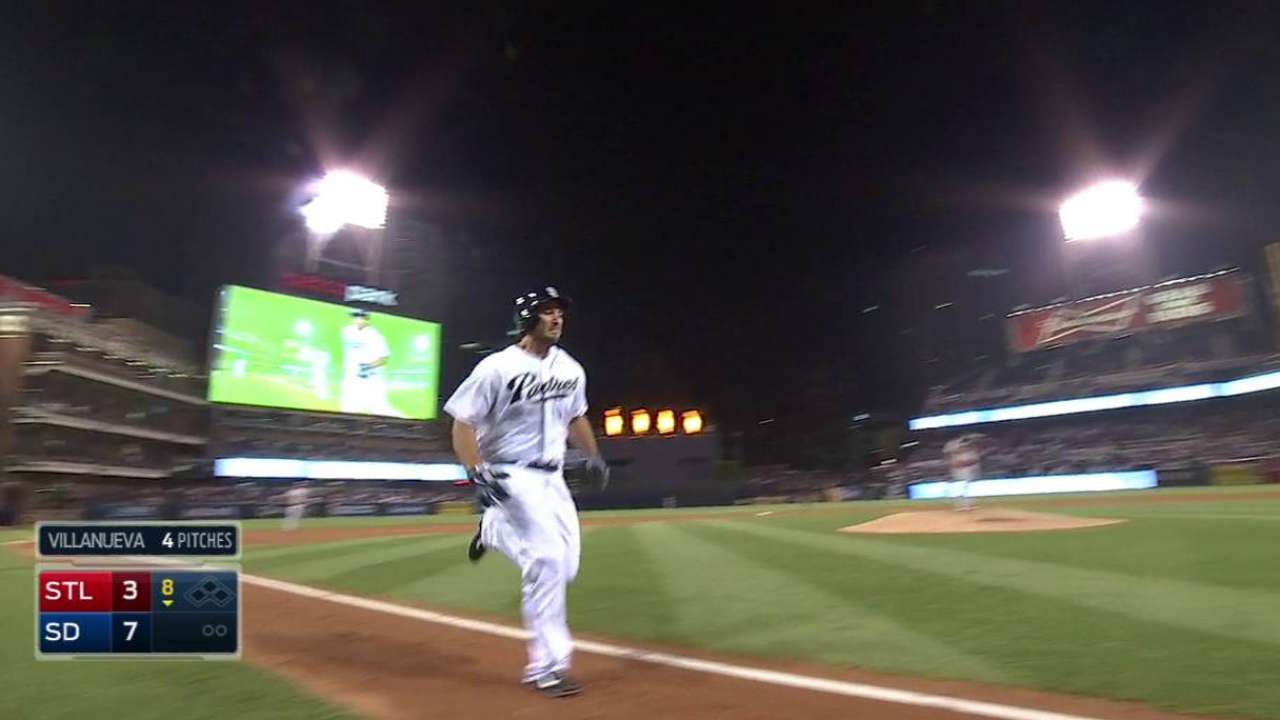 The day's top stories:
Padres complete trade to Rangers by picking up RHP: Edwards arrives with young, lively arm
Morrow undergoes surgery but vows comeback: After season-ending surgery, Morrow hopes to return
So what comes next for Manager Murphy?: In career full of twists, Murphy unsure of next turn
Optimism, albeit cautious, abounds in SD: Playoffs would take a miracle, but winning record possible
Weekly fan forum keeps Friar faithful engaged: #PadresFanChat with Bill Center: August 21st, 2015
Down on the Farm: Triple-A El Paso wins eighth straight, takes PCL division lead
Murph's Musings: Jankowski hitting 9th in his Major League debut
Notable Notes: Game notes vs. STL (08.21) Friars Welcome Cardinals to Petco for a three-game set
Looking forward to the next game:
Friar Forecast at Petco Park: Kennedy to duel Martinez in Saturday's middle-match
Saturday's probable pitchers: Ian Kennedy (7-11, 4.20 ERA) vs. Carlos Martinez (12-5, 2.78 ERA)