Rare mistake-filled play sinks Cardinals
Indecision and poor execution give Padres a run, a big inning
SAN DIEGO -- The Cardinals, who are 50-12 this season when scoring first, had a lead in the fifth inning before two errors sparked an offensive frenzy for the Padres, as St. Louis fell to San Diego, 9-3, on Friday night.
"We've done a nice job of not having multiple mistakes in a game defensively, and when you do see it, it stands out," manager Mike Matheny said. "We have had a couple of those this year where we talk about the defense looking uncharacteristically off and just on a couple plays, and absolutely every time this happens it's going to cost you in the long run."
With Alexi Amarista on first base, pitcher Andrew Cashner bunted hard to first base, where Mark Reynolds elected to not step on the bag first, but throw to second for the forceout.
However, his throw flew past shortstop Jhonny Peralta and landed in left-center field as Amarista then headed to third.
"It's almost like he committed to the bag and then made the throw and it's a tougher throw as you take the angle to where you have to throw over a runner," Matheny said.
Matheny added that he thought the play is probably to go to second with a pitcher running, despite Cashner having speed.
"I think he [Reynolds] registered with that a little bit after the fact," Matheny said.
However, the damage would get worse on that play, as Stephen Piscotty picked up the ball that landed in the outfield and attempted to throw to third base. But the ball flew over Matt Carpenter's head and into the Cardinals dugout, scoring Amarista for the Padres' first run of the game.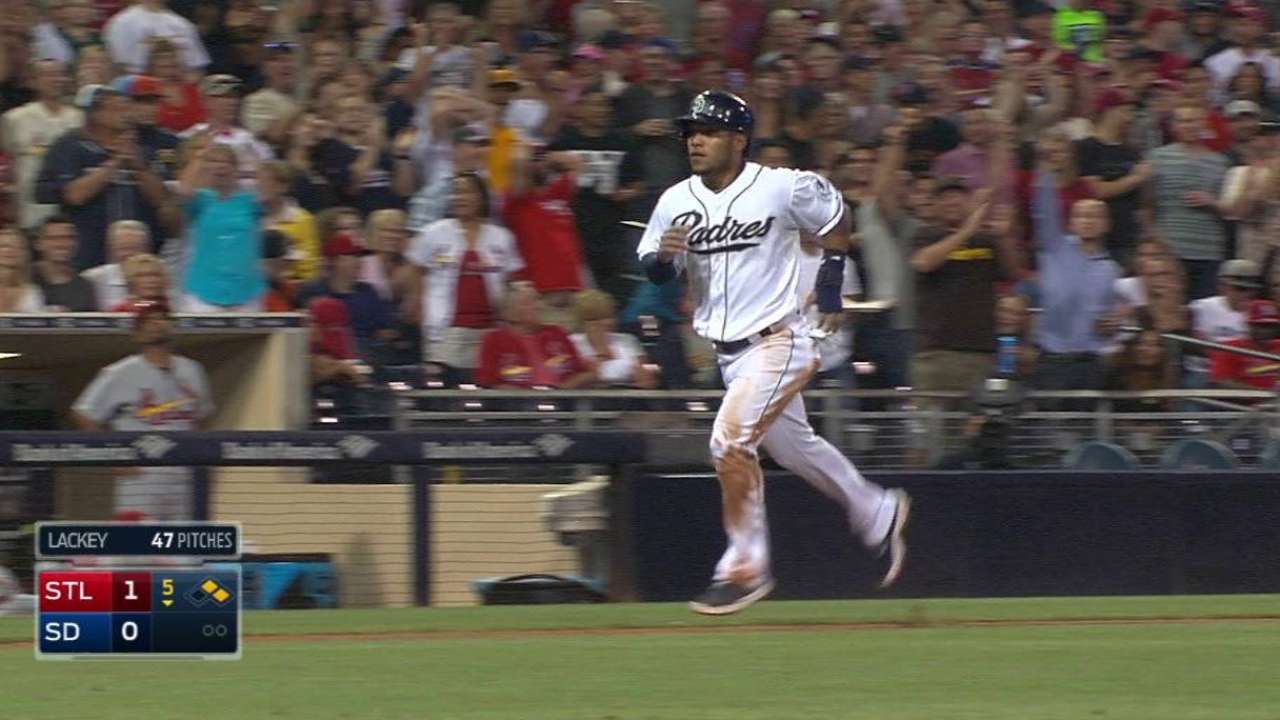 "He's just an aggressive thrower. Sailed high," Matheny said. "Something was going there and we had a potential for a double play that gives us two outs and nobody on. And then it looks like a completely different inning."
The Padres would go on to score four more runs that inning, with Yangervis Solarte blasting a two-run homer to right field and Justin Upton adding an RBI single to make it 5-1. But before the Padres' scoring frenzy, starting pitcher John Lackey was cruising and looked to be on his way to his 13th straight quality start.
"The first couple of innings I felt as good as I felt all year. Yeah, it came down to that fifth inning," Lackey said. "I felt great, I was locating my fastball really well, it came down to one inning."
Despite the blunders, there were moments throughout the game that the Cardinals defense did shine. In the fourth inning, Jason Heyward made a nice throw from right field to get Yonder Alonso at second base. Later, Piscotty made a diving catch in left field to rob Travis Jankowski of recording his third hit in his Major League debut.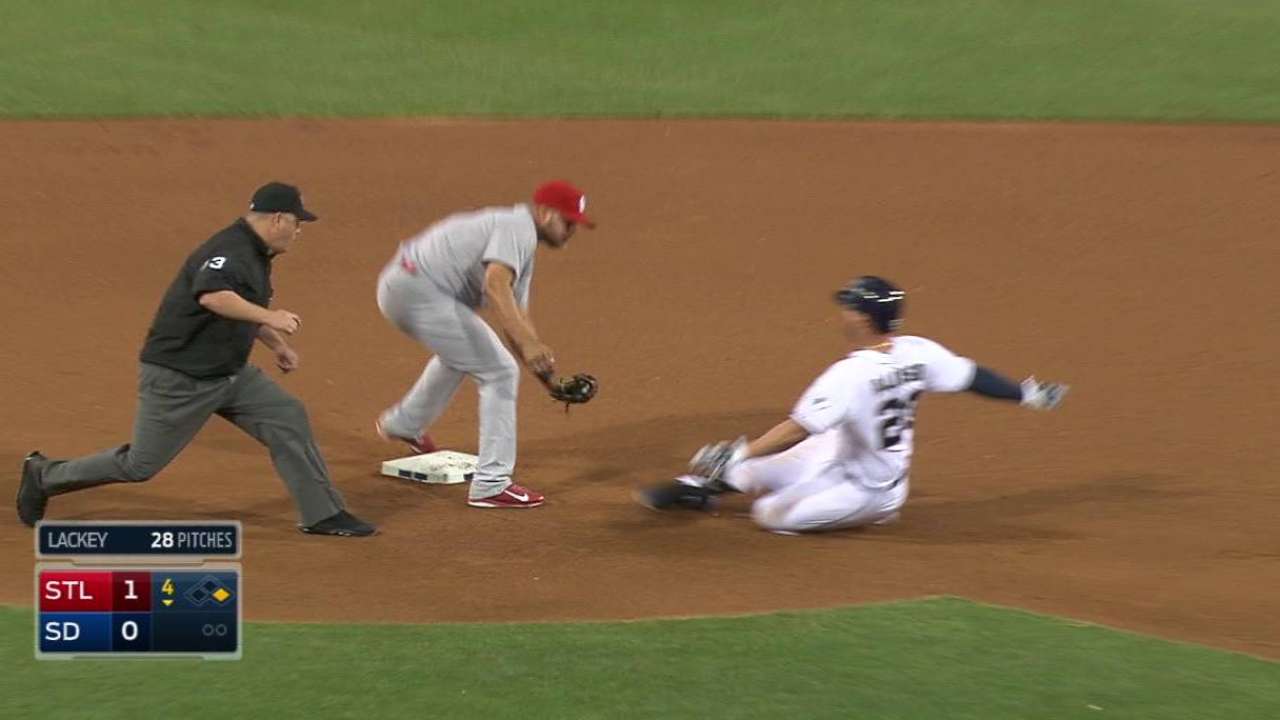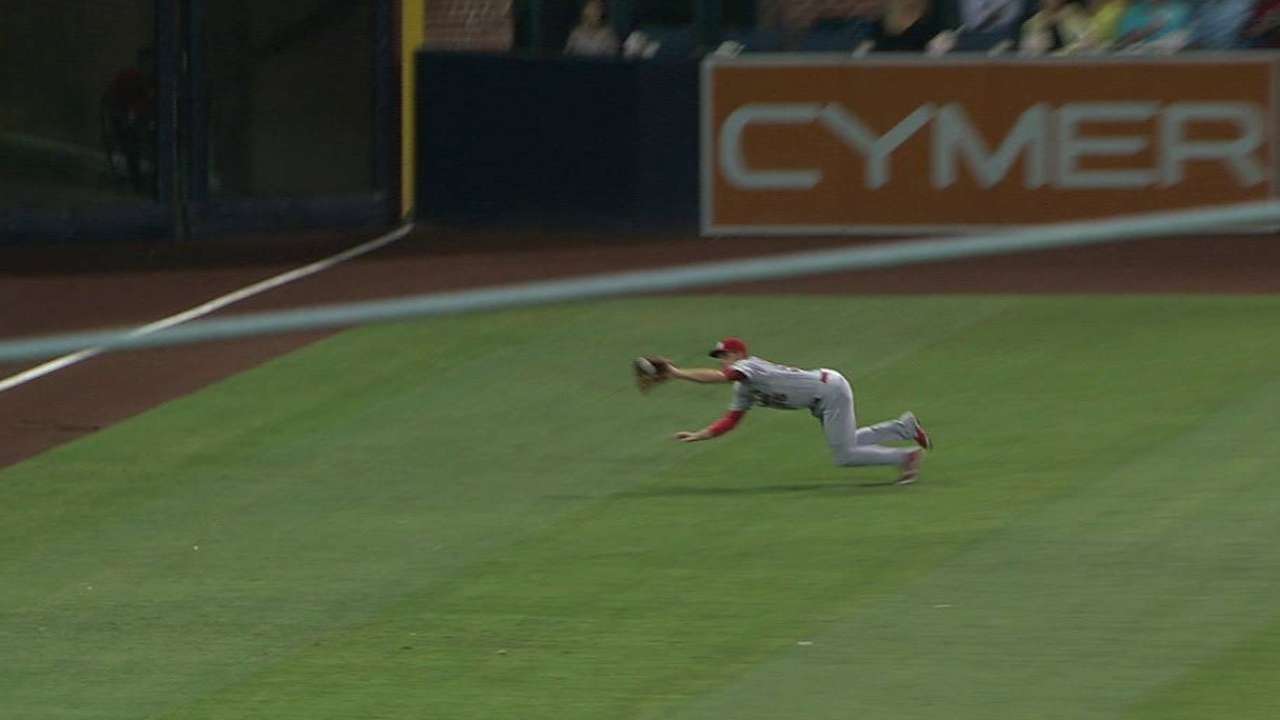 "A great play Jason made in right field to cut that down ... and Piscotty made in left and Tommy [Pham] having a couple of good jumps there," Matheny said. "We saw some good defense, too."
Beth Maiman is an associate reporter for MLB.com. This story was not subject to the approval of Major League Baseball or its clubs.