Rookie puts on a show in The Show
Jankowski bangs hits in first two Padres at-bats, beginning audition for 2016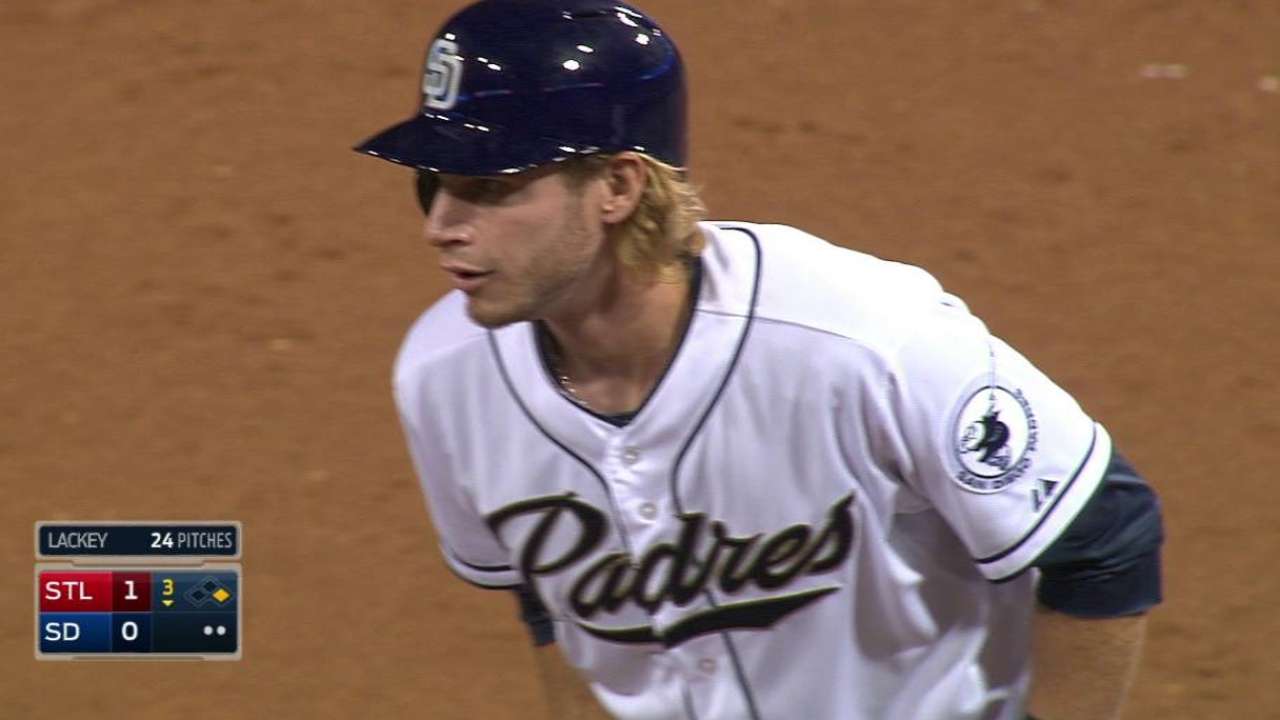 SAN DIEGO -- Travis Jankowski might have made his Major League debut during Friday's 9-3 victory over the Cardinals, but the 24-year-old center fielder actually arrived in San Diego on Wednesday.
That meant Jankowski had Thursday's off-day to kick around town with his family.
It also meant he had all day to nervously ponder when his first big league start might occur during the Padres' three-game series against the Cardinals.
"It was the last thing I wanted on my mind," Jankowski said. "Thank goodness they [family] were here."
Jankowski's family members, who flew in from Pennsylvania, got to see him come up with hits in his first two at-bats Friday, including an RBI single in a five-run fifth inning as the Padres rolled to victory in the first game of a three-game series.
"It was a great experience and something I'll never forget," said Jankowski, who went 2-for-4, knocked in a run and scored a run.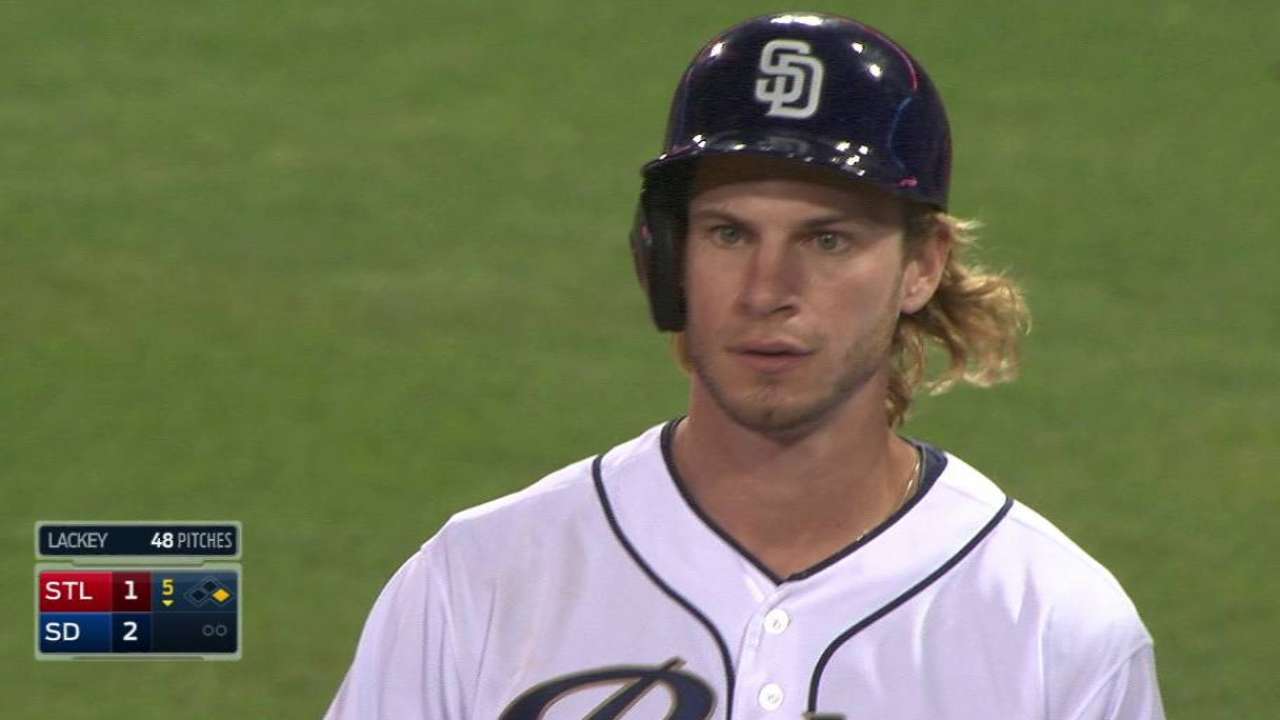 But on Thursday, a day before his memorable debut, Jankowski did everything in his power to keep his mind off baseball and his impending debut.
Jankowski kept himself distracted by going suit shipping, swimming in the hotel pool, having breakfast out ("chocolate-chip pancakes, like always") and finally having dinner with family ("stuffed shrimp with linguini pasta") before his mind started to wander, drifting back to baseball.
"Then it was time to focus," he said. "There was no turning my mind off."
Jankowski, who on Wednesday was recalled from Triple-A El Paso after veteran outfielder Will Venable was traded to the Rangers, was told when he arrived at Petco Park on Friday afternoon that he would be starting.
Hitting ninth and starting in center field, Jankowski came to the plate for his first at-bat in the third inning, bouncing a 1-0 fastball from John Lackey up the middle into center field for his first hit.
"He didn't want to fall behind 2-0 and I got a good pitch to hit," Jankowski said. "You're excited, you're happy, you're emotional is the best way to put it."
In the fifth inning, with a runner at third base and the infield pulled in to try to cut off a run at the plate, Jankowski ambushed a first-pitch fastball from Lackey, as he kept his hands in and directed the ball up the middle for an RBI single.
Two at-bats, two hits. Nice day, kid.
"You can tell he got his breathing under control. You could tell he was nervous in the first at-bat, but after that base hit, you could see all the weight come off his shoulders," said Padres interim manager Pat Murphy.
All in all, it was a successful night for the Padres and Jankowski, who figures to see more playing time over the final six weeks of the season. This will amount to, essentially, an audition for 2016.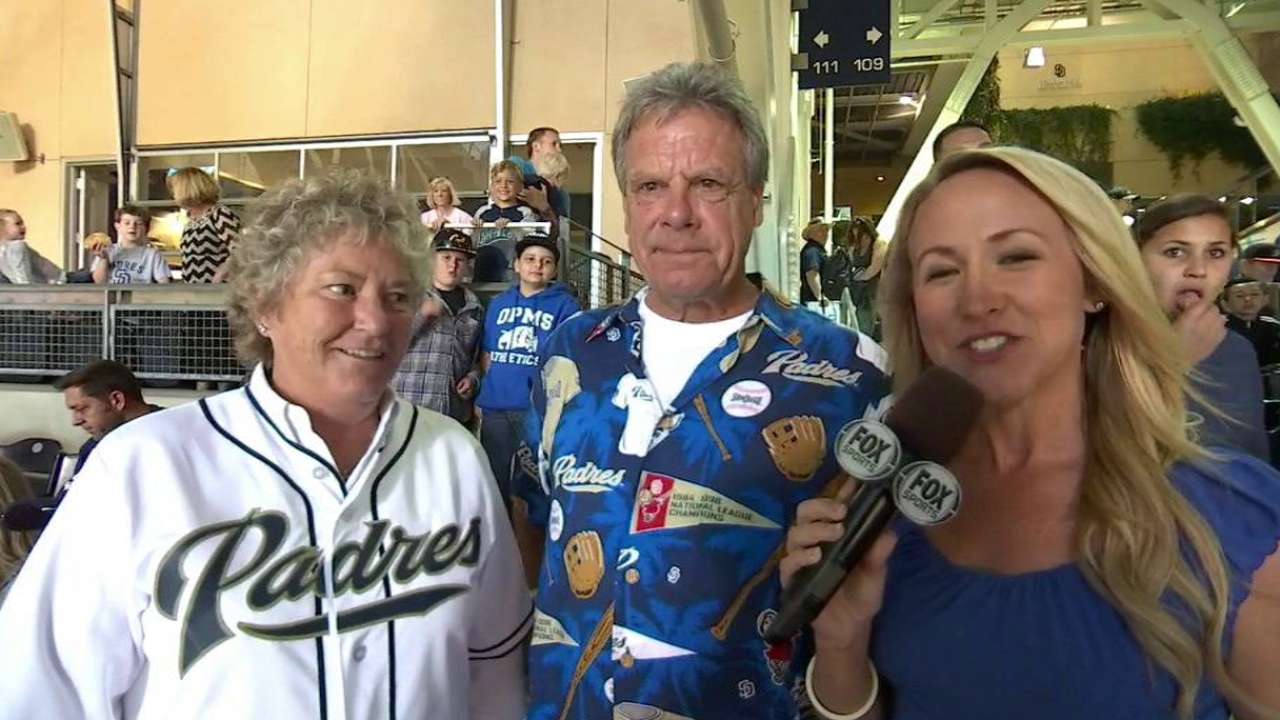 If that sounds like pressure, it probably won't rate nearly as high as what he faced Friday.
If nothing else, though, Jankowski managed to do something after one game Friday that many players before him never did -- win over the fan base, as he received a standing ovation.
"It gave me some chills," he said. "The fans were great all game. They've been treating me well the past two games."
Corey Brock is a reporter for MLB.com. Keep track of @FollowThePadres on Twitter and listen to his podcast. This story was not subject to the approval of Major League Baseball or its clubs.