Locked-in Astros able to revel in no-hitter late
Some players, including Castro, say they weren't aware Fiers was working on feat until final innings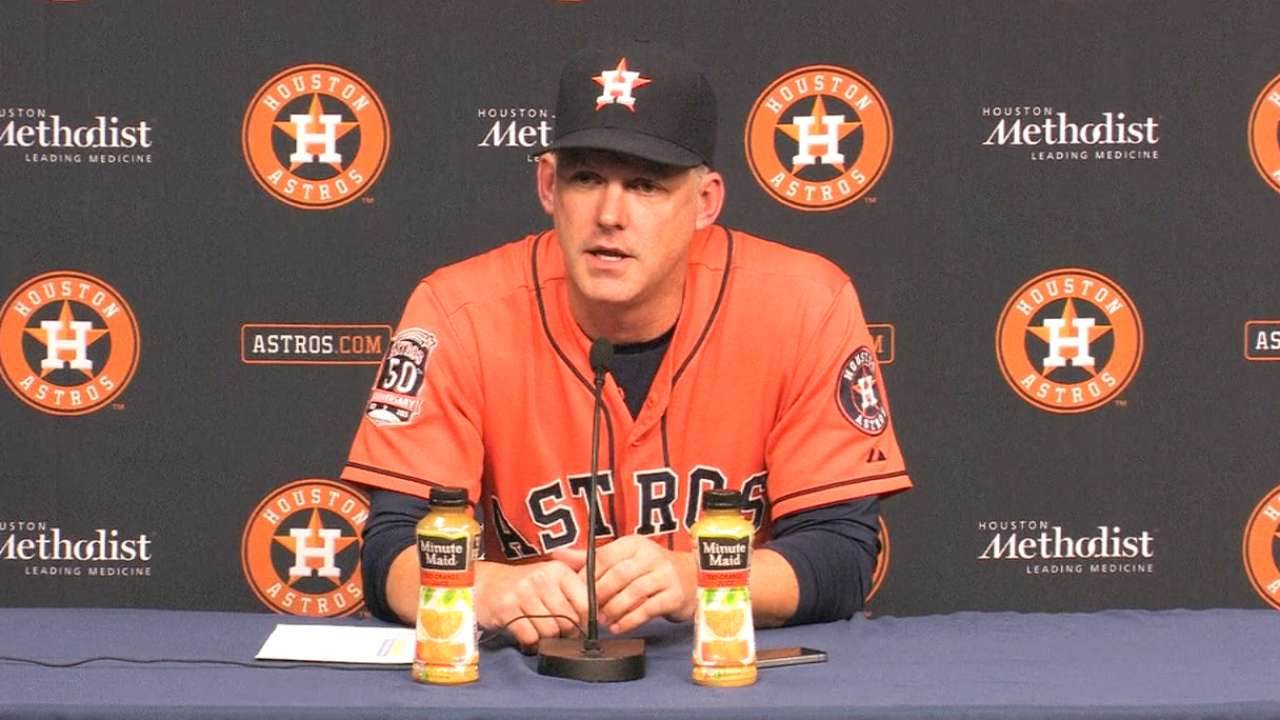 HOUSTON -- Astros catcher Jason Castro, who made the final out when Matt Cain threw a perfect game against Houston three years ago, may as well have closed his eyes during the final at-bat of Mike Fiers' no-hitter Friday night and just enjoyed the ride.
Fiers, riding on emotion, adrenaline and a raucous crowd, decided he was going to throw Justin Turner nothing but a steady diet of fastballs, and why not? It was the pitch that he had worked off most of the night. Fiers struck out Turner for the final out of the 3-0 win over the Dodgers at Minute Maid Park and soon found himself in the arms of Castro and the rest of his teammates who had a front-row seat for history.
"It was pretty cool," said Castro, the dean of all Astros players. "I didn't realize it until later on in the game, but once I was kind of aware of it, it was definitely something I wanted for him, and obviously to be able to catch and be a part of that was pretty special."
Perhaps the one teammate who was able to enjoy the achievement more than anybody was outfielder Carlos Gomez, who was traded along with Fiers from the Brewers last month. While Gomez has struggled with his new club, Fiers has allowed a total of one earned run over his last three starts for the Astros.
"It was unbelievable," Gomez said. "I am so happy for him. The day before and the day he pitches, I say, 'One time, just throw nine. Do the real job. Don't throw six, seven. I want nine innings.' Today, he did it. The way he did it -- I feel so happy for him and his family."
Injured outfielder George Springer has been a spectator for about seven weeks now since he broke his wrist, but he was happy to enjoy the ride on Friday.
"It's an insane thing to do, especially up here against that team," Springer said. "It's something special. I didn't even know until about the eighth inning, which is bad. It just shows you what he had done. He commanded the whole game. From the eighth and ninth inning, you're sitting there hoping that nothing [bad] happens. We made some plays out there tonight. It's an awesome experience."
Castro didn't know Fiers even had a no-hitter until he looked up at the scoreboard in the seventh inning.
"He was almost at 100 pitches at that point," he said. "I knew that stuff-wise it wasn't going to be a problem. He maintained that stuff all the way through, and at the end of it, it was just a matter of him getting it done or not. He did a tremendous job of battling all the way through, throwing so many pitches and really not being too fatigued."
Right fielder Jake Marisnick, who caught the first two outs of the ninth, had never heard Minute Maid Park so loud.
"The fans were great tonight," he said. "You wouldn't want it any other way."
The no-hitter was the latest chapter in a storybook season for the Astros, who weren't expected to contend in the American League West, but have been in first place most of the season.
"It's very emotional for our guys," manager A.J. Hinch said. "Any time there's a huge accomplishment like this, it resonates 1-25 for our players, through our coaching staff, through the fans, the organization. The fans were loud at the very end. It's a great energy boost in August when things are starting to heat up the most. Where it fits in? We've got to finish the season before we can accurately place it, but there's a lot of proud guys in there for Mike and our club."
Brian McTaggart is a reporter for MLB.com and writes an MLBlog, Tag's Lines. Follow @brianmctaggart on Twitter and listen to his podcast. This story was not subject to the approval of Major League Baseball or its clubs.