Dream becomes reality for Fiers during no-no
Astros righty dedicates feat to family, friends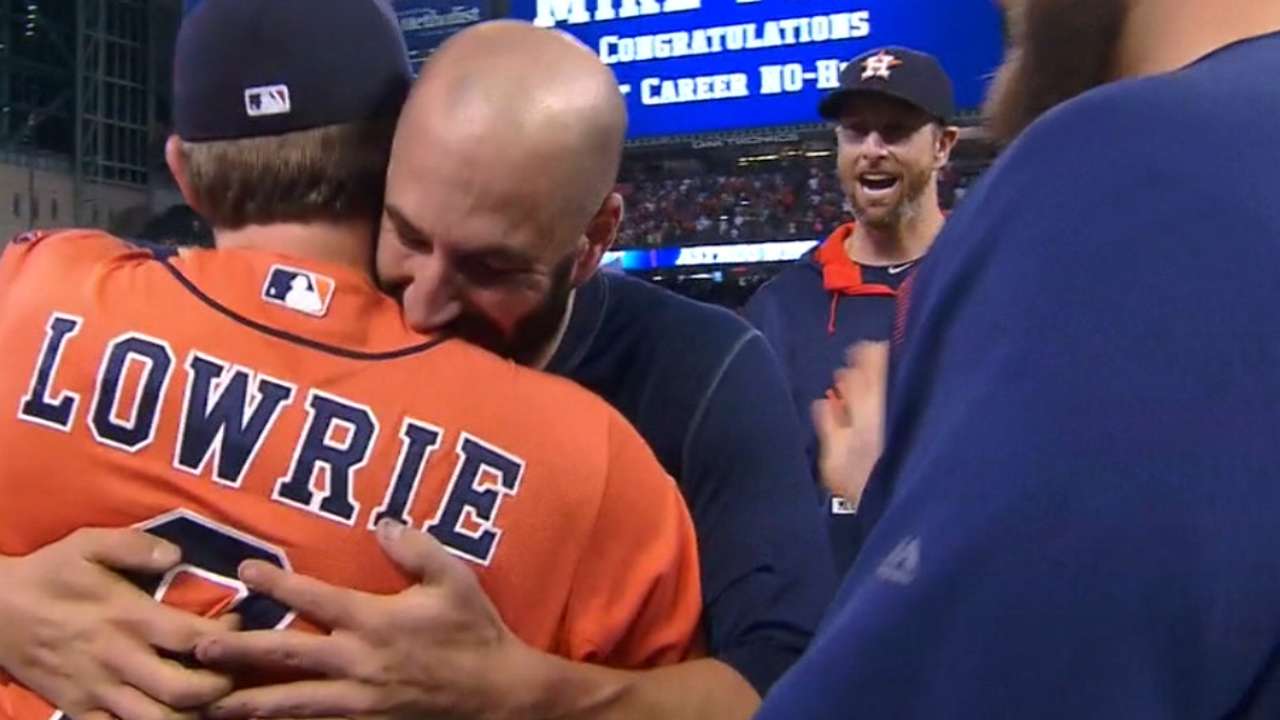 HOUSTON -- He took a step back, looked up at the sky and closed his eyes. A chance to make history, a chance to do something he never thought he'd be able to do was staring him in the face. Three hitters separated Astros righty Mike Fiers from a no-hitter in the ninth inning Friday night, and he took a second to soak in the moment.
Fiers, making only his third start in Astros orange since being acquired in a trade with the Brewers last month, retired Dodgers leadoff hitter Jimmy Rollins on a long fly ball to right field, then got Chase Utley to pop out to right before striking out Justin Turner on his 134th pitch to polish off a 3-0 win and complete an improbable no-hitter -- the first in the history of Minute Maid Park.
The final out of the 11th no-hitter in franchise history finished with Fiers throwing his glove in the air after Turner swung through a fastball. He was mobbed by his teammates, who hung on every pitch, every out with their newest addition. It was the first no-hitter by the Astros since six pitchers combined to no-hit the Yankees on June 11, 2003, at Yankee Stadium.
"Just one of those moments you don't get often, and for me this is the one time in my life to pitch a no-hitter in a big league ballgame against the Los Angeles Dodgers, which is amazing," Fiers said. "It's everything you dream of as a kid. It's a great feeling."
Fiers, who had never thrown a complete game before in his career, walked three batters but was otherwise unchallenged by the Dodgers, who had the newly acquired Utley in the lineup for the first time. He retired the final 21 batters he faced following a leadoff walk to Joc Pederson in the third inning.
"You fight so hard to get to that point, you want him to finish it," Astros manager A.J. Hinch said. "Obviously, he's walking into a territory that he's never been and there's so many people that are rooting for him to finish and get the outcome that he got. I wouldn't classify it as nervousness, as much as I could genuine excitement. I wanted the game to end. I wanted to win 3-0 with a no-hitter, and we did."
It is the first no-hitter thrown by a pitcher in a season in which he was traded since the Rangers' Jim Bibby blanked the A's on July 30, 1973.
Fiers did a masterful job of pitching up in the zone with his fastball, which set up the Dodgers to chase his curveball, which started high in the zone and dropped. His changeup, which looks like a fastball out of his hands, only made things harder for the Dodgers. Fiers said he knew early on he had electric stuff.
Still, he walked a batter in the first, second and third innings, but blew through the Dodgers after that, including striking out five in a row at one point. He whiffed the final two batters in the seventh and then struck out the side in the eighth. At that point, everyone in the ballpark could feel it.
"I knew I had it," Fiers said. "When people say they don't have it, I just don't understand. You're trying not to think about it. You go about every inning the same. You face every pitch, every hitter, every inning and treat it the same always and be aggressive, attack the guys and pitch. Just pitch and do everything you've done before."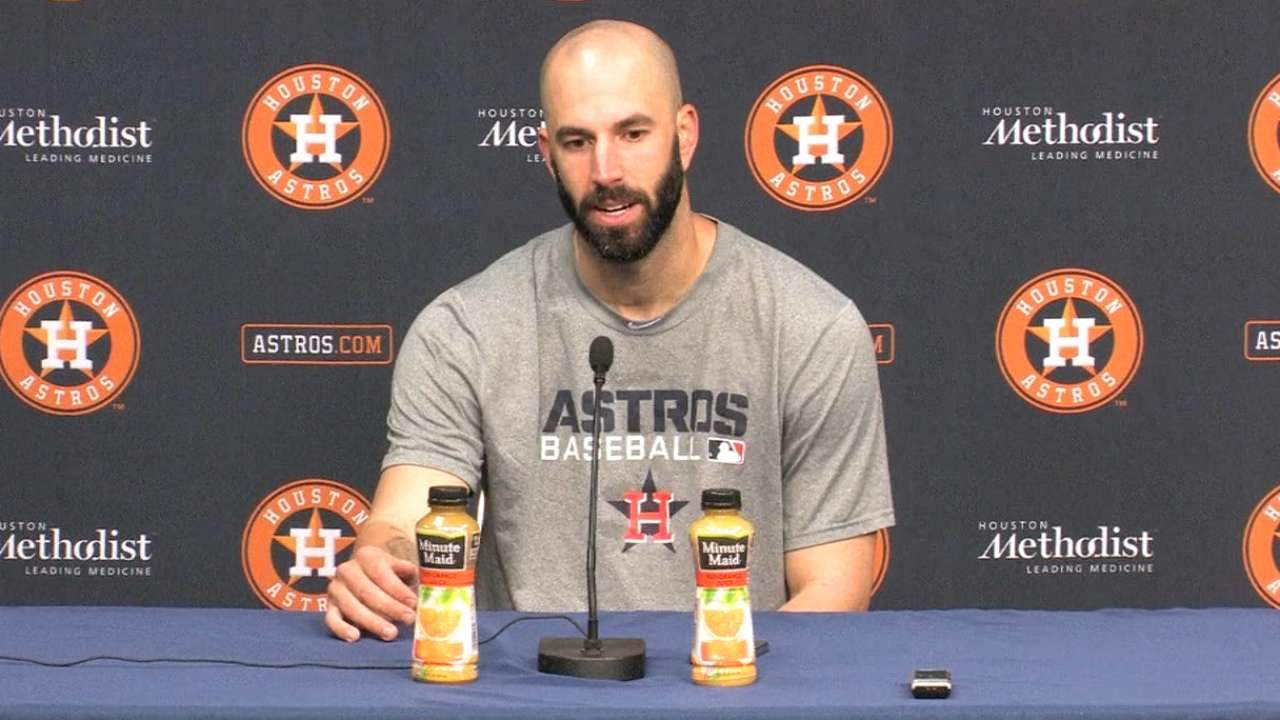 Fiers was at 107 pitches through seven innings, and Hinch had his bullpen up in case anyone got on base. Fiers wasn't having any part of it, though. He began the ninth with 120 pitches and was prepared to plow through. Hinch was, too, but he was prepared to take him out if anyone reached base.
"A.J. came up to me a couple of times later in the game and said, 'Hey, you good? You all right?'" Fiers said. "I just told him don't take me out of this game. I had a bunch of pitches. I hadn't thrown that many this year. He's protective of me and my career and he doesn't want me to get hurt, but in that moment, for me it's once in a lifetime."
Fiers shared the moment with his teammates, who doused him with champagne after the game. He shared it with the fans, who were rocking Minute Maid Park in the final innings. And he shared it with his former teammates -- the Brewers, who were watching the final out on a television in the clubhouse in Washington.
"It was like a dream," he said. "You throw the last pitch, you feel the emotion of everything you've been through in your life. I've been through a lot to get to this point and to do that and have your teammates come out and do that, it's crazy. Knowing my mom's watching -- she passed away a couple of years ago -- I still feel that. My dad, my friends, I did it for them, too. … It's for everybody."
Brian McTaggart is a reporter for MLB.com and writes an MLBlog, Tag's Lines. Follow @brianmctaggart on Twitter and listen to his podcast. This story was not subject to the approval of Major League Baseball or its clubs.