On 3 pitches, Price rings up Trout in key spot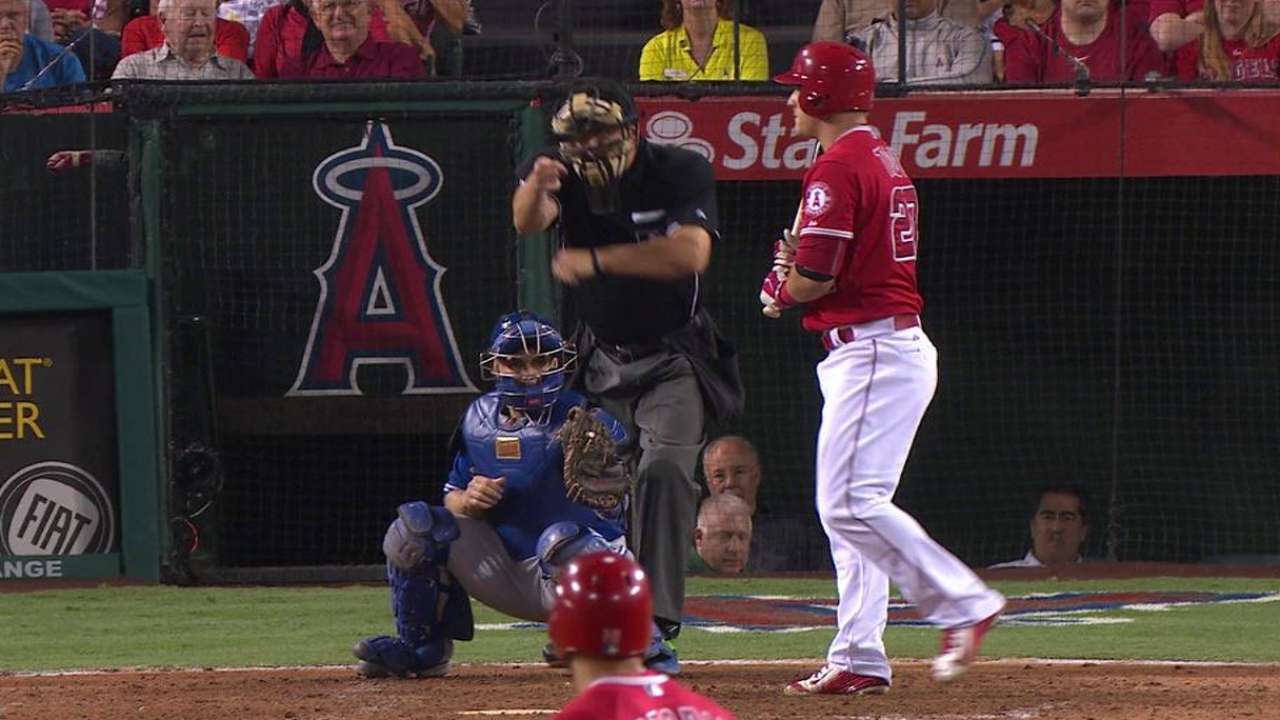 ANAHEIM -- In a best-on-best, head-on competition between Mike Trout and David Price on Friday, the Price was right.
With two on, no out and Toronto holding onto a four-run lead in the sixth inning, Price blew three straight fastballs past Trout, and the Blue Jays cruised to a 9-2 victory over the Angels. It was one of nine strikeouts for Price in his eight innings.
"We ran into Price, who is one of the best in the league," Trout said. "He had all his pitches working, throwing his pitches for strikes. Couldn't really sit on one single pitch. He was mixing his fastball at different speeds, throwing them anywhere from 91 to 97, 98."
• Spencer: Price is just ace Blue Jays needed
Like most of his at-bats, Trout calmly watched the first pitch go by for a strike, a 97 mph fastball from Price.
Having a runner in scoring position is a rarity for Trout, despite having 72 RBIs on the year. He's 179th in the Majors in at-bats with runners in scoring position, although he's hitting .347 in those situations.
Price followed up with another fireball, again at 97. This time Trout was ready and unleashed a mighty hack, only to whiff at the heat.
"I just swung through it," Trout said. "I felt like I pulled off it, tried to do too much."
Like most hitters, Trout has had his struggles with Price in his career. He's hitting .188 lifetime against the left-hander and has struck out in nine of his 19 plate appearances.
After two straight fastballs to start the at-bat, Price again went at the reigning American League MVP with a heater, again at 97 mph, to freeze Trout looking for the third strike. Trout thought the pitch was high, but home-plate umpire Jeff Nelson rung him up for the second out of the inning.
"In that situation, if I was going to get beat, I wanted to get beat with my best pitch," Price said. "I wanted to challenge him. He's the best player in baseball."
From there, Price retired Albert Pujols and C.J. Cron to end the threat, and the Blue Jays ran away with the game to increase their lead for the top American League Wild Card spot over the Angels to four games.
For Trout, Friday was another forgetful day at the plate. He finished 0-for-3 with two strikeouts after Price fooled him on a changeup in the eighth inning. In August, Trout is hitting .183, with only one home run and is striking out over 26 percent of his plate appearances.
For his career, Trout's numbers become much more mortal as the pennant race comes into focus, which is when the Angels will need him the most. He's a .278 hitter in August and a .266 hitter in the months of September and October combined.
Steve Bourbon is an associate reporter for MLB.com. This story was not subject to the approval of Major League Baseball or its clubs.