Playing from behind vs. Tribe not suiting Yanks
For second straight game, club forges late rally only to fall in defeat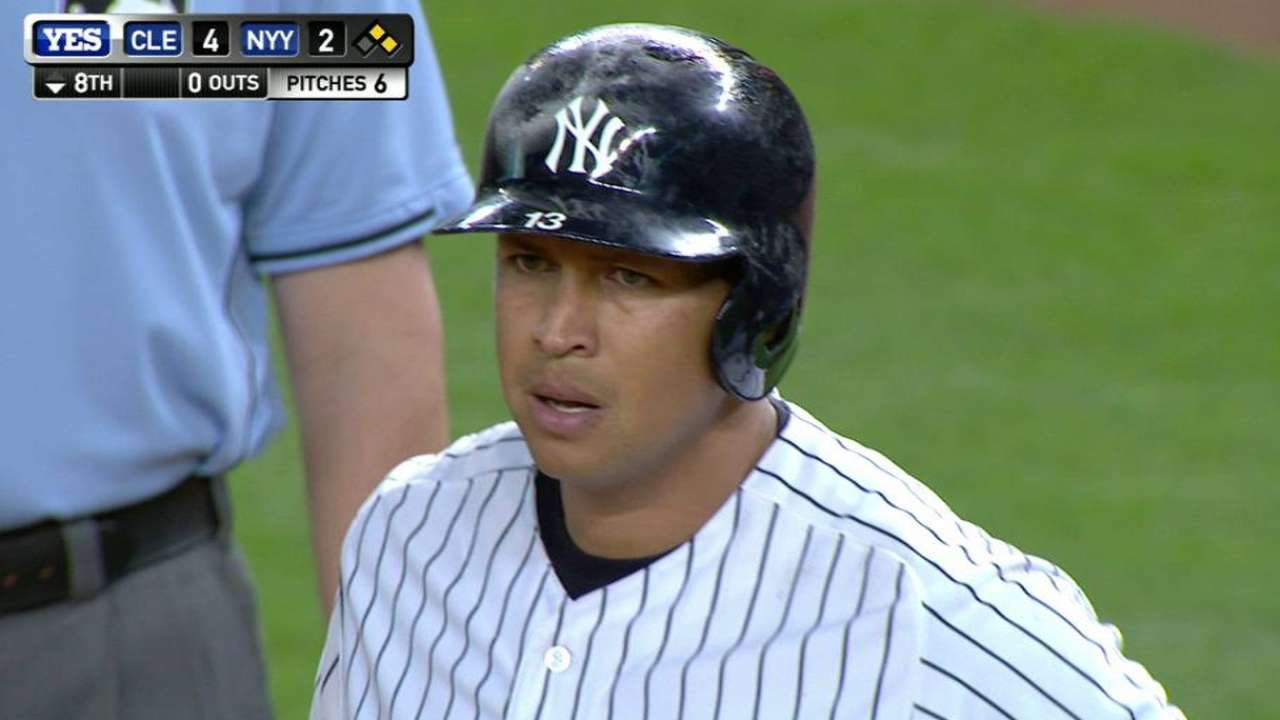 NEW YORK -- The fans rose to their feet, hoping for a spark for the second night in a row. After the Yankees dropped a one-run decision to the Indians on Thursday night despite putting up a ninth-inning rally, the 35,940 in attendance Friday night were hopeful this time would turn out differently.
But it didn't, as the Yankees fell just short after an eighth-inning push, then watched the Indians pull away in a 7-3 loss.
"We just got beat," left fielder Brett Gardner said. "That's it."
After the Yankees were unable to score with two on and two out in the seventh, they opened the eighth with a three-run deficit and the top of their order due up against Zach McAllister.
Gardner laid down a bunt single and advanced to second when Chase Headley sent a hard single into center field. Alex Rodriguez scored Gardner moments later with a single, and the Yanks had cut the Indians' lead to two. Following two flyouts, Greg Bird reached on a fielding error, scoring Headley, and all of a sudden the Yankees were down by a single run.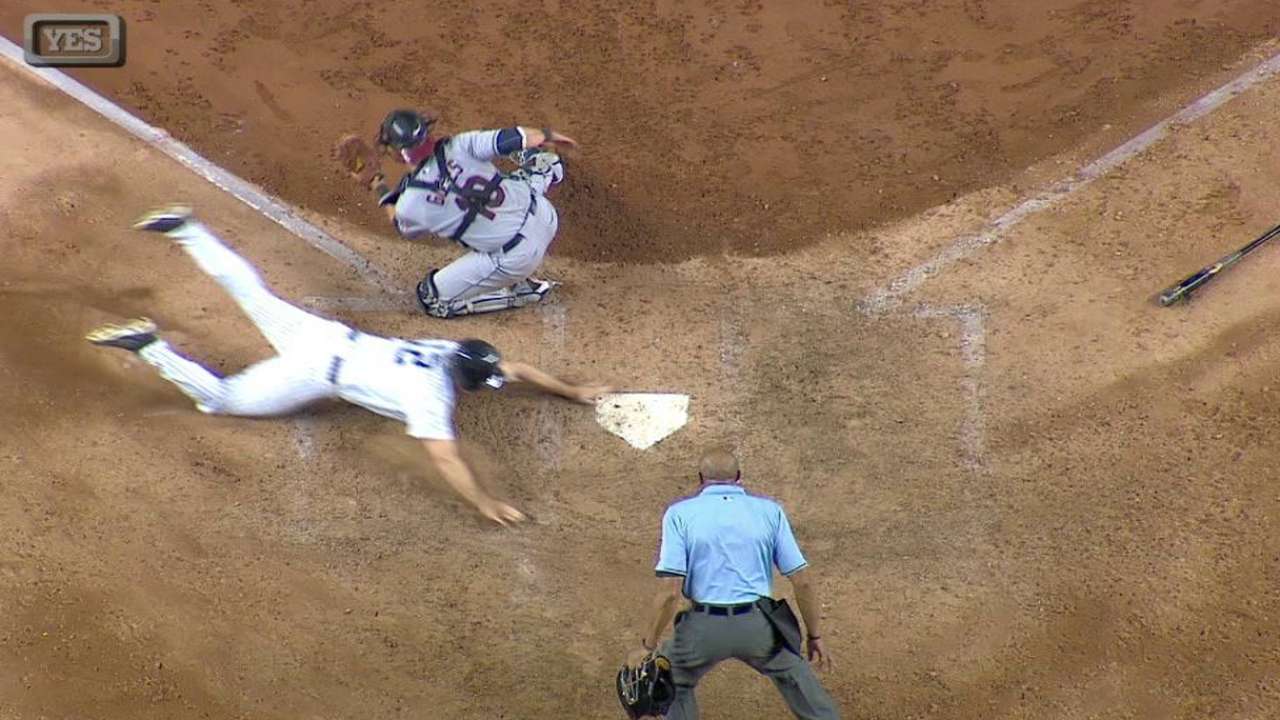 Jacoby Ellsbury then walked, and Stephen Drew approached the plate with the bases loaded and two outs.
"Hit something, hit something -- a single," a fan yelled at the second baseman. "Come on, Stephen, a base hit."
Facing Cody Allen, Drew then sent a hard-hit ball to deep left field as the fans rose. If it dropped, the Yankees would surely tie the game and potentially take the lead. But seconds later, the hope had fizzled, when Indians left fielder Michael Brantley squeezed the fly ball in his glove for the final out.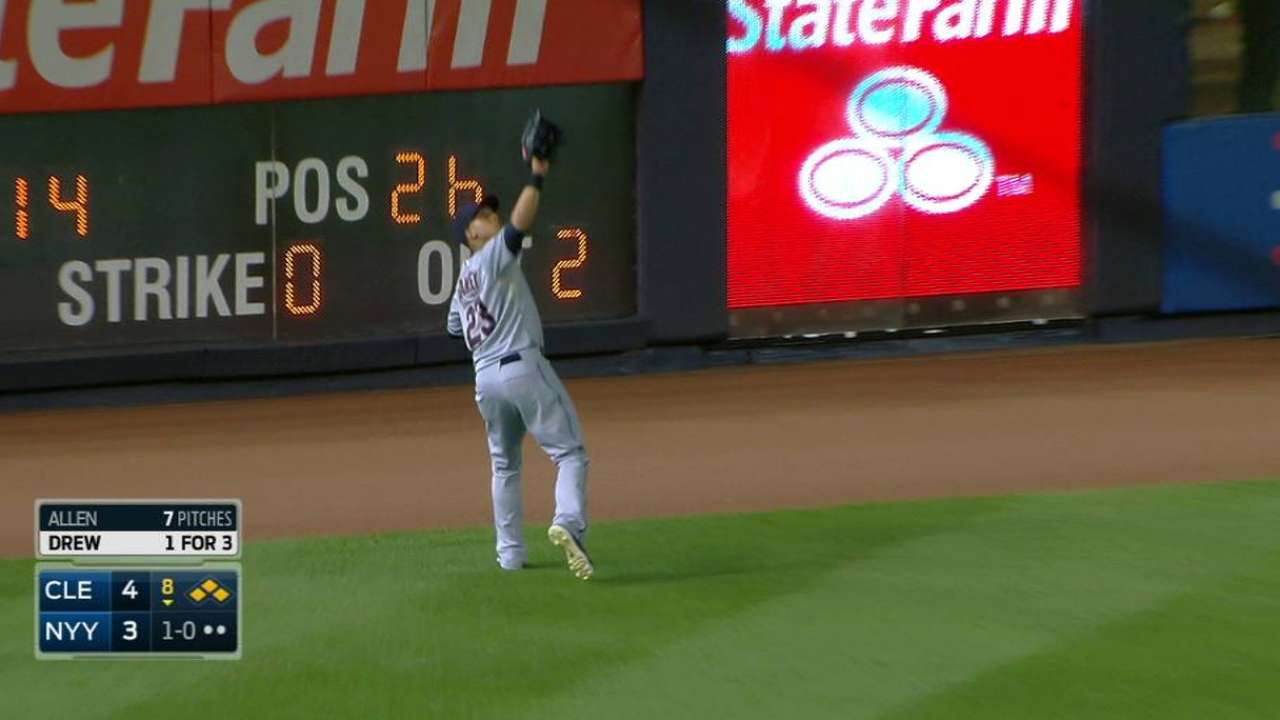 "He hit the ball really good. I mean, it's a good matchup for Stephen," manager Joe Girardi said. "He hits it more in the gap, he probably clears the bases. If he pulls it, it's probably a home run. I mean, he hit it hard, and I don't think he can hit it any harder. It was just, they ran it down."
After the Indians, who are tied for last in the American League Central, plated three in the ninth off Justin Wilson to seal their fate, the Yankees have lost the season series to Cleveland for just the third time since 1993.
"I don't really worry about where the other team is in the standings -- last place, first place, a loss is a loss, a win's a win," Gardner said. "They're obviously not in our division, but every game counts just the same, and we just got beat."
Grace Raynor is an associate reporter for MLB.com. This story was not subject to the approval of Major League Baseball or its clubs.