With 4-hit game, Revere joins Blue Jays' fun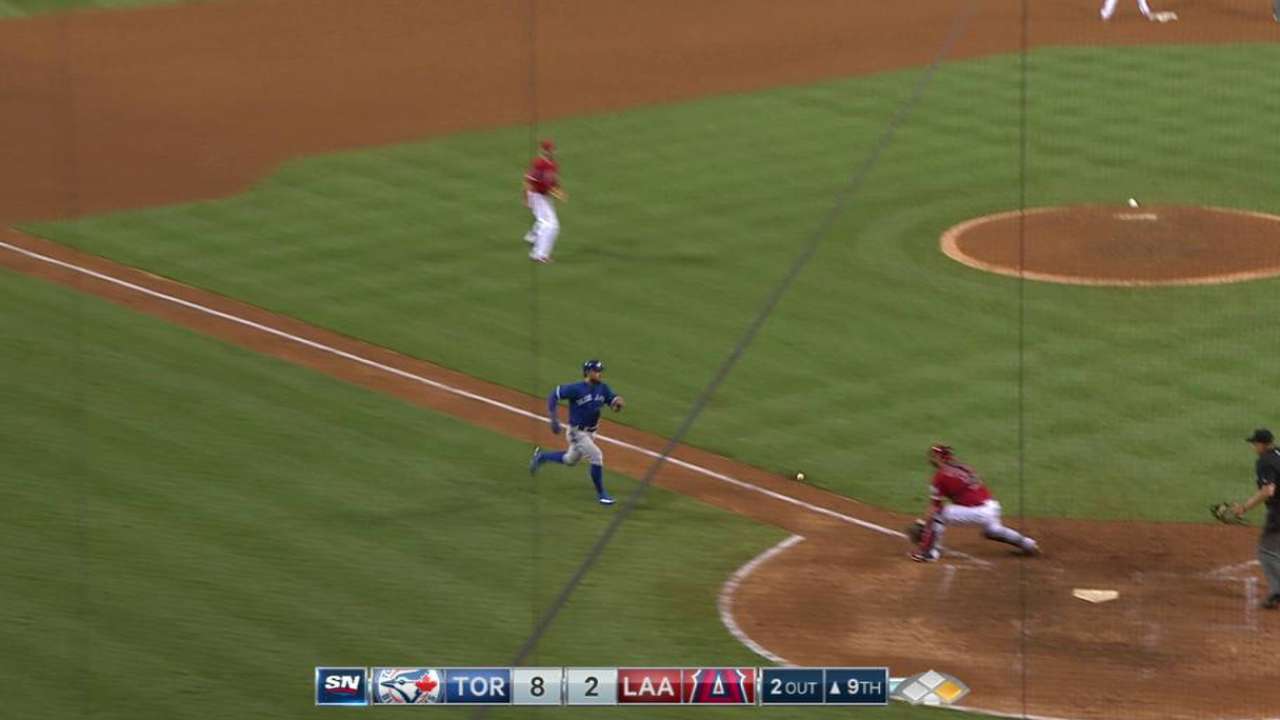 ANAHEIM -- Ben Revere finally got to enjoy a breakout night at the plate with the Blue Jays as he came through with four hits in Friday night's 9-2 victory over the Angels.
Revere has been struggling since coming over from Philadelphia prior to the July 31 non-waiver Trade Deadline. He entered play in the series opener hitting just .211 in 17 games and at times appeared to be pressing, but his handprints were all over Toronto's latest win.
The 27-year-old had three singles and a leadoff double in the sixth to finish the night 4-for-5 with an RBI and two runs scored. It was his best game yet for Toronto and provided a glimpse of the value that he can bring to the bottom of the batting order.
"I was struggling, and these guys were winning 11 straight games," Revere said after his second four-hit game of the year. "It's the way we score runs, one through nine in the lineup, it's unbelievable how much firepower we have in there. Not just the lineup, the pitching, the bullpen, just all around we have a good all-around team.
"The lineup one through five and all of the power. The bottom of the lineup, we can hit line drives and we just have to get on base and let the big boys hit us in."
Revere's addition flew under the radar even though it was only last year that he led the National League with 184 hits. Almost all of the attention went to David Price and Troy Tulowitzki while LaTroy Hawkins and Mark Lowe also got quite a bit of press because of the Blue Jays' previous issues in the bullpen.
Left field had been a pressing concern as well, but it's not anymore. Even when Revere wasn't hitting, there was value in his glove for a club that used to rotate infielders Chris Colabello and Danny Valencia through the position. Toronto expects more than just defense, though, and there have been some encouraging signs of late.
Revere struggled at the beginning of August, but he had at least one hit in all but two of his previous eight games. He's been a top-of-the-order bat for most of his career, and even though that hasn't been the case in Toronto, it's the way most of his teammates still view him.
"He's a good hitter, he's a top-of-the-lineup type of guy," Price said. "With our lineup and the way things were going when we got him, that's probably why we didn't put him there. When we got him, he was hitting .290 something and he still is. He's a pro hitter."
Gregor Chisholm is a reporter for MLB.com. Read his blog, North of the Border, follow him on Twitter @gregorMLB and Facebook, and listen to his podcast. This story was not subject to the approval of Major League Baseball or its clubs.