Brewers celebrate Fiers' no-hitter
Former teammates watch final outs of gem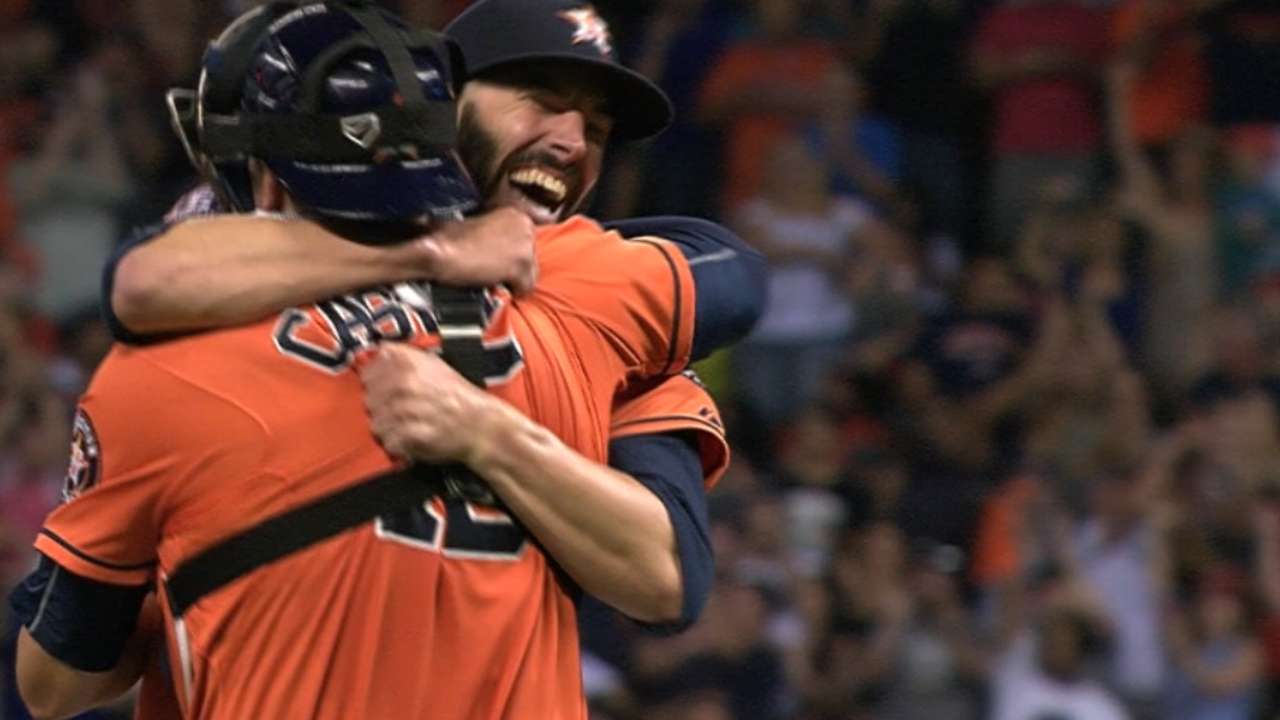 WASHINGTON -- The only thing better than a victory celebration? Two in the same night.
No, the Brewers did not sweep a doubleheader at Nationals Park on Friday. They beat the Nats, 10-3, then retired to the visitors' clubhouse to watch, in full uniform, while former teammate Mike Fiers finished his no-hitter for the Astros over the Dodgers in Houston.
"The guys were all gathered around the TV. It was a pretty neat scene, actually," Brewers manager Craig Counsell said.
There was reason for both sides to be happy. Milwaukee traded Fiers and Carlos Gomez to Houston on July 30 for four prospects, one of whom, outfielder Domingo Santana, homered in his Brewers debut on Friday.
"It's really cool," said Brewers starter Jimmy Nelson of Fiers' no-hitter. "He always competes. A lot of stuff has to fall into place for something like that, and I'm glad he could accomplish that. I've seen him go through some ups and downs, so it's nice to see a guy like that who battles accomplish something like that."
"Ups and downs" was an understatement. Fiers beat the odds as a 22nd-round Draft pick (in 2009) who made it to the big leagues, then enjoyed great success as a rookie in 2012. But he experienced a series of heartbreaks a year later, when he was demoted back to the Minors, sustained a broken forearm on a comebacker on his 28th birthday, and later lost his mother, Linda, after a long battle with illness.
"I got drafted in 2009 and those guys will always be my teammates," Fiers said. "Things happen. I got traded but I still have a lot of friends over there, guys I played with in the Minor Leagues coming up, in the big leagues, competing at a high level with those guys. It's special that those guys are still watching. I'd probably be mad if they weren't. If they were in the clubhouse or heading home, I'd probably call a couple of them and let them have it."
Fiers bounced back in 2014 to finish the season strong, and earned a spot in the Brewers' 2015 pitching rotation. He pitched well enough (3.87 ERA in 24 games, 23 starts this season) to garner interest from teams, including the Astros, who parted with four prospects to acquire Fiers and Gomez.
One of those prospects was Santana, who was promoted to the Brewers on Friday and went 1-for-5 with a two-run home run.
"It's exciting. It's good for [the Astros] that they're doing good," Santana said. "But at the end of the day, I'm trying to be here, and trying to do my job."
Fiers was already at 120 pitches entering the ninth inning, bidding not only for a no-hitter, but his first career complete game. He finished it with pitch No. 134, striking out the Dodgers' Justin Turner.
A huge cheer went up in the Brewers' clubhouse that was audible outside.
"We're all extremely happy for him," Brewers second baseman Scooter Gennett said. "It was nice seeing him out there having such a great day."
Counsell was asked about Fiers' high pitch count.
"Hey, it's a no-hitter," Counsell said. "He can rest tonight."
Adam McCalvy is a reporter for MLB.com. Follow him on Twitter @AdamMcCalvy, like him on Facebook and listen to his podcast. This story was not subject to the approval of Major League Baseball or its clubs.