Jepsen fans side for 1st save with Twins
Filling in for ailing Perkins, righty whiffs tough Orioles trio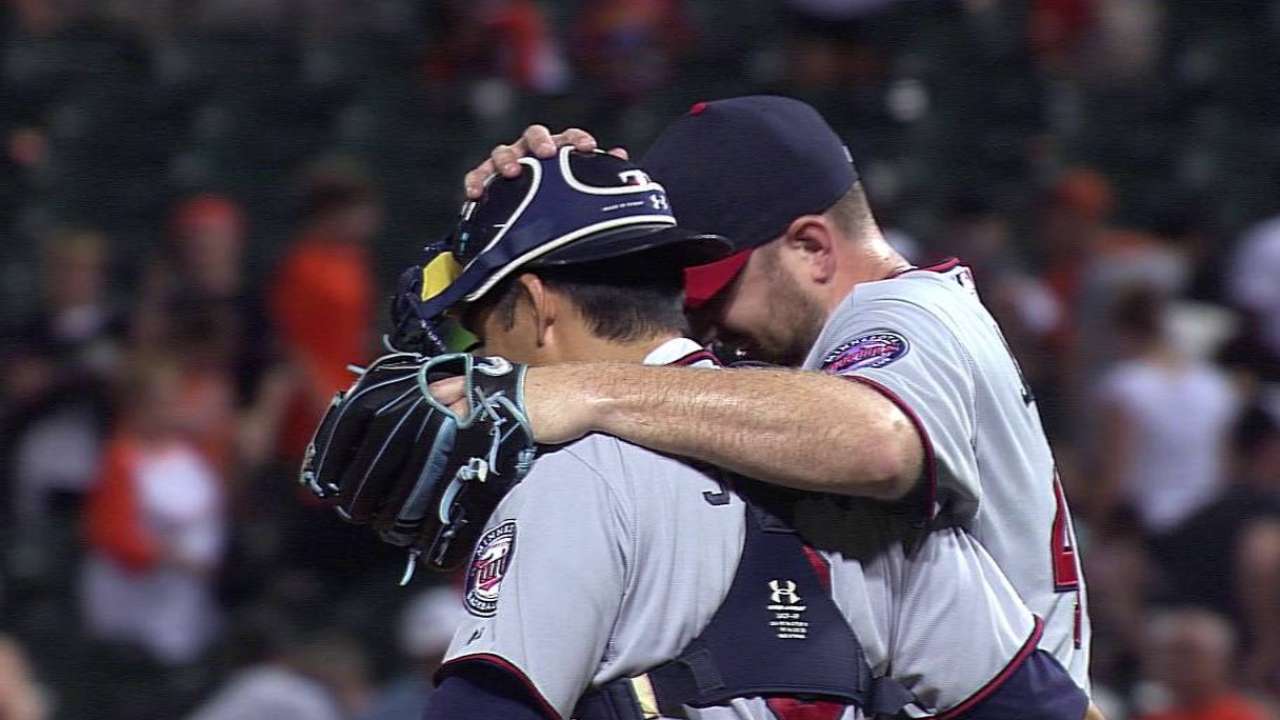 BALTIMORE -- With the Twins leading by a run in the bottom of the ninth, an unfamiliar face trotted out of the bullpen doors in center field to make his way to the mound at Oriole Park at Camden Yards.
With All-Star closer Glen Perkins unavailable due to a neck injury, Kevin Jepsen made the long jog to the rubber, where he quickly collected his sixth save of the season and first as a Twin in Minnesota's 4-3 victory over the Orioles on Friday night.
"As a bullpen guy, it's about throwing a lot of seventh and eighth innings," Jepsen said. "The ninth, you still have to get three outs, but once you get three outs, the game is over. I think one of the biggest things is going out there and throwing strikes."
The right-hander did just that as he entered to face the meat of the Orioles' lineup: Adam Jones, Chris Davis and Matt Wieters.
It looked like things might get a little interesting when Jones worked a 3-2 count to open the inning. After fouling a couple of pitches down the third-base side, Jones couldn't catch up to a Jepsen fastball for the first out. The Twins' impromptu closer followed that up with two more strikeouts, recording seven swings and misses in his 16-pitch outing.
"Those guys are some of the best hitters in the game," Jepsen said. "I think the biggest thing is just going out and challenging guys. You got to get three outs, and I guess I have done it before where you go out and try and nitpick, and the inning starts to unravel on you.
"You know if they are going to beat you, they are going to beat you in the zone. I got 3-2 on Jones and he fouled off some good pitches and I was able to get a fastball by him. From that time on, I told myself, 'Get back in the zone and try to not get into any deep counts, and try to get in and out of here as quick as possible.'"
Jepsen, acquired from the Rays on July 31, increased his scoreless streak to nine games (8 1/3 innings) and his outing capped Minnesota's impressive bullpen performance. Casey Fien, Trevor May and Jepsen recorded the final 11 outs of the game while not giving up a hit.
"If you look at it and see what guys are capable of, that was it," Jepsen said. "Guys come in, they battle, go right after guys, and we are going to go in and our mentality is we are going to come in and leave the game exactly where entered it."
Connor Smolensky is an associate reporter for MLB.com. This story was not subject to the approval of Major League Baseball or its clubs.