Venable stars on offense and defense in win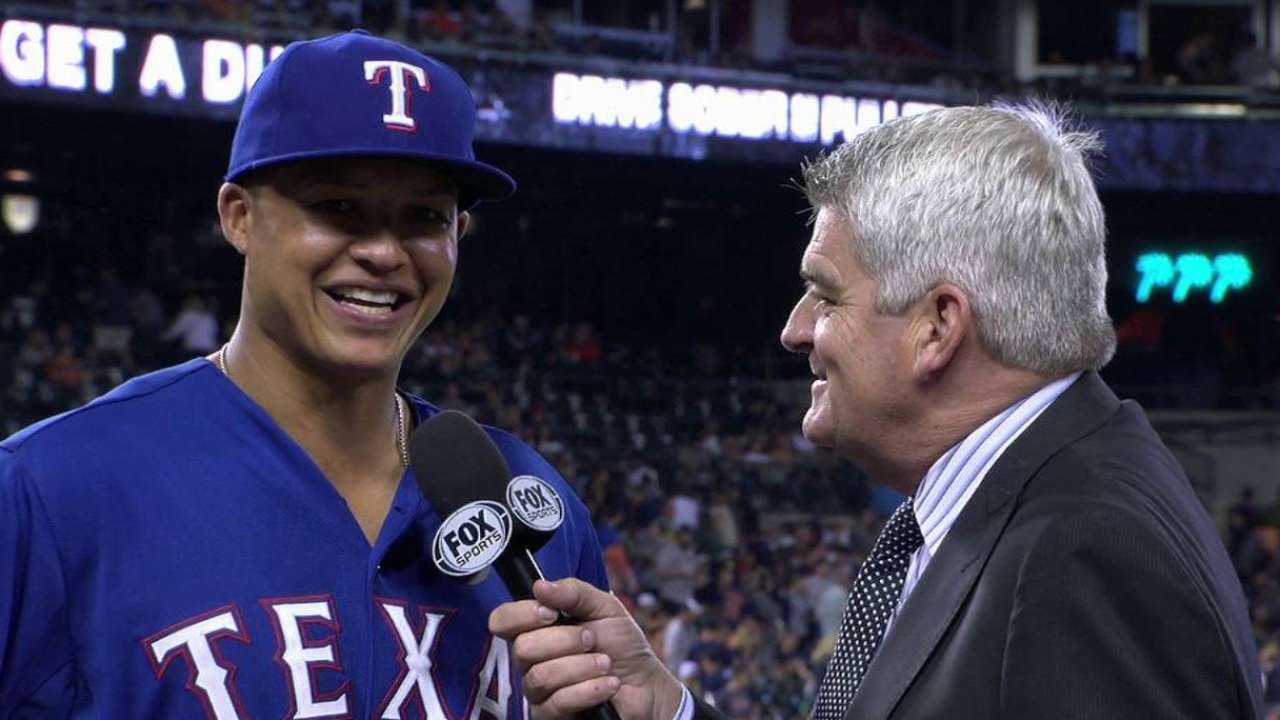 DETROIT -- Recent Rangers acquisition Will Venable delivered the go-ahead RBI during Friday's 2-0 victory over the Tigers, but in his manager's eyes, it wasn't the left fielder's most important play of the night.
That distinction came two innings later, when Venable -- who on Tuesday was dealt to Texas from the Padres -- threw a strike to catcher Bobby Wilson as Detroit first baseman Miguel Cabrera lumbered toward home plate, attempting to score from second on a single. Wilson fielded the ball cleanly, and a review determined he had applied the tag in time.
"That's a game-changer for us," manager Jeff Banister said. "That's a different ball game if he scores there."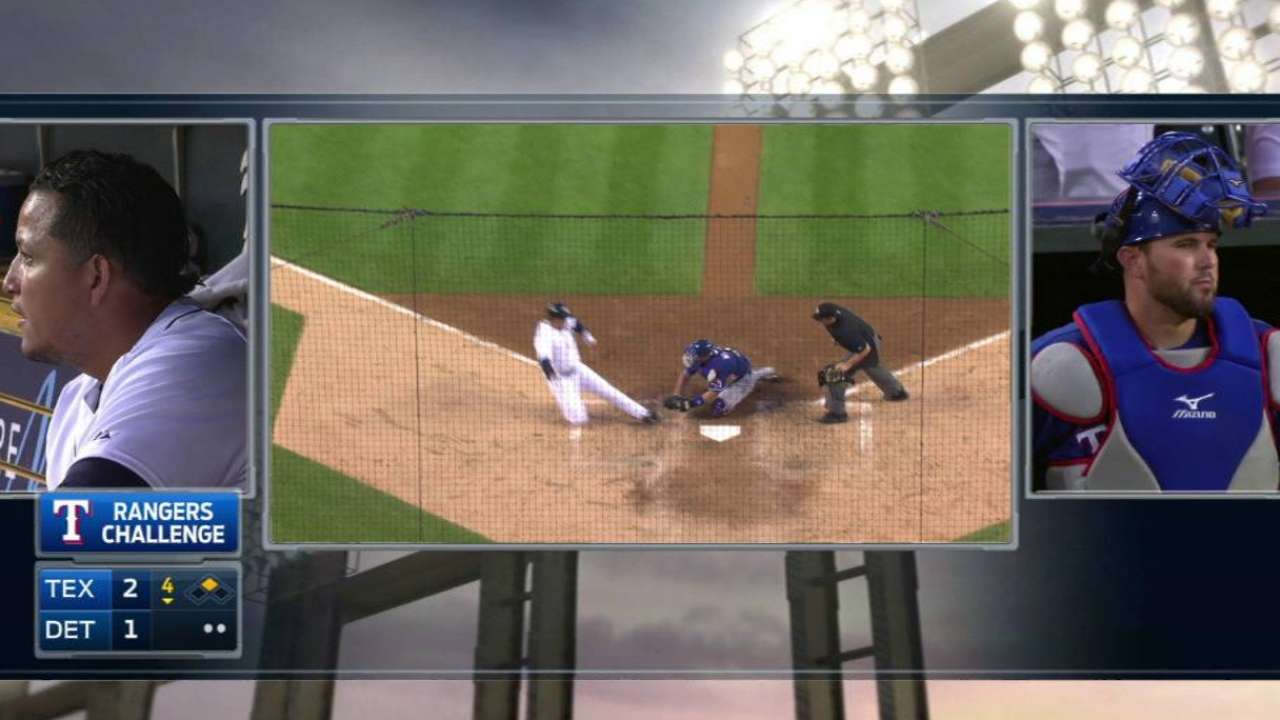 Instead, starter Colby Lewis and a pair of relievers recorded Texas' sixth shutout of the year, a result which moved the Rangers to just a game behind the Angels for the second Wild Card spot.
The star of the night was Lewis -- whose 14th win of the season puts him in a three-way tie for most in the American League -- but the righty tipped his cap to his new teammate, who gave him the lead with which to work.
In the second inning, Venable fell into an 0-2 hole against Detroit starter Justin Verlander, but he took a pair of close pitches that were called balls to work a full count. Then, he lined an 87-mph changeup into center field for his 11th double of the season, which plated Elvis Andrus and handed Lewis all the support he needed.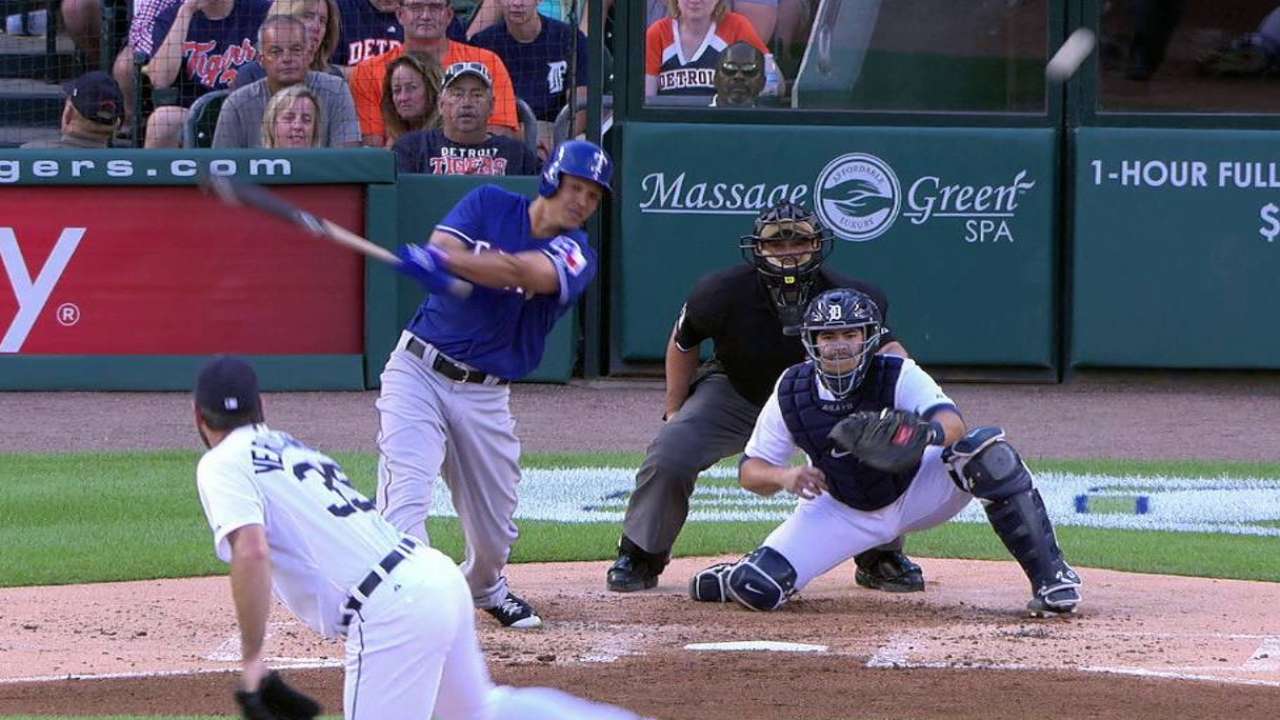 "I feel like it was a huge at-bat, and I feel like it was pretty instrumental," Lewis said. "It held up."
It also marked a step back toward normalcy for the eight-year veteran. After going 0-for-2 with a walk Thursday in his Rangers debut, Venable had admitted to Banister that nerves may have played a role.
"He felt like it was his first day in the big leagues all over again," the manager said.
The outfielder had no such issues Friday as he established himself as a threat on offense and defense, contributing to the Rangers' victory in exactly the manner Banister had hoped he might.
"We got him because we knew the type of defense that he plays, the baserunning ability that he brings," Banister said. "This is a guy that's a veteran, that knows how to swing the bat. He's going to chip in."
Alejandro Zúñiga is an associate reporter for MLB.com. Follow him on Twitter @ByAZuniga. This story was not subject to the approval of Major League Baseball or its clubs.