Part of Hamels deal, Eickhoff matches lefty with feat
Righty first Phillies pitcher to not allow a run in Major League debut since man he was traded for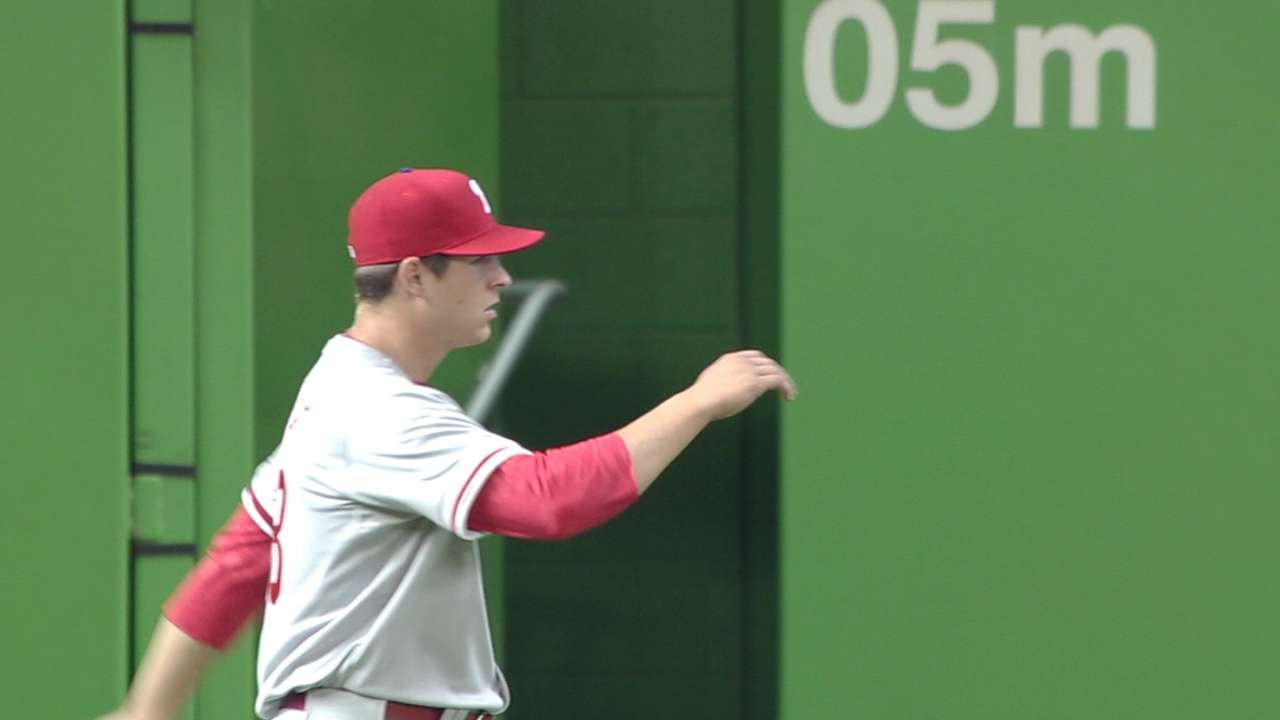 MIAMI -- For the past few days leading up to his Major League debut on Friday night, Phillies starter Jerad Eickhoff had one thought on his mind.
"I just wanted to get up there and get after them," he said.
Eickhoff did exactly that, earning his first career win in Philadelphia's 7-1 victory at Marlins Park by tossing six scoreless innings on 75 pitches -- 52 of which were strikes. Eickhoff, who was acquired from Texas in the Cole Hamels trade on July 31, allowed five hits, struck out five and walked just one.
With his performance, the 25-year-old became the first Phillies starter to not allow a run in his Major League debut since the man he was traded for, Hamels.
"We were told that he likes to pound the strike zone with all his pitches, and he showed that he was able to do that," interim manager Pete Mackanin said.
Eickhoff didn't just contribute on the mound, though.
Batting with the bases loaded and two outs in the top of the fifth, he notched his first career hit -- a two-run single through the left side -- to push the Phillies' lead to 4-0. It was actually his first professional hit as well, as he never had a plate appearance in the Minor Leagues.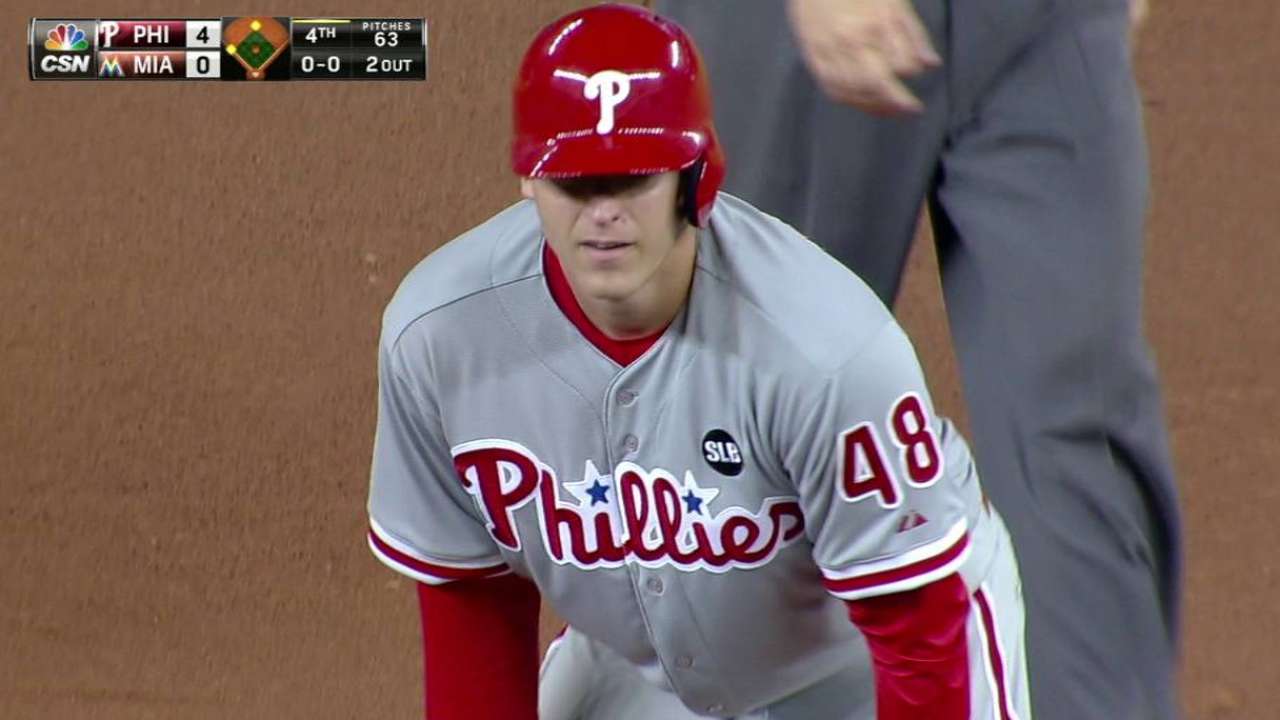 "I didn't know if the pain was going to sustain or go away, but I was fine," Eickhoff said. "It hit the good pad of my hand."
Said Mackanin, "I took him out of the game [after 75 pitches] because ... I think the adrenaline of his first Major League start and he hasn't run the bases ... that's why we lifted him after six innings. He was soaking wet. He looked to me mentally exhausted, more than anything."
Overall, it couldn't have gone much better for Eickhoff, who became the first Phillies pitcher to notch an RBI and pick up a win in his MLB debut since Dave Downs on Sept. 2, 1972, at Atlanta. Even more, the only other Phillies pitcher to record multiple RBIs in his big league debut was Tom Sullivan on May 15, 1922, at St. Louis.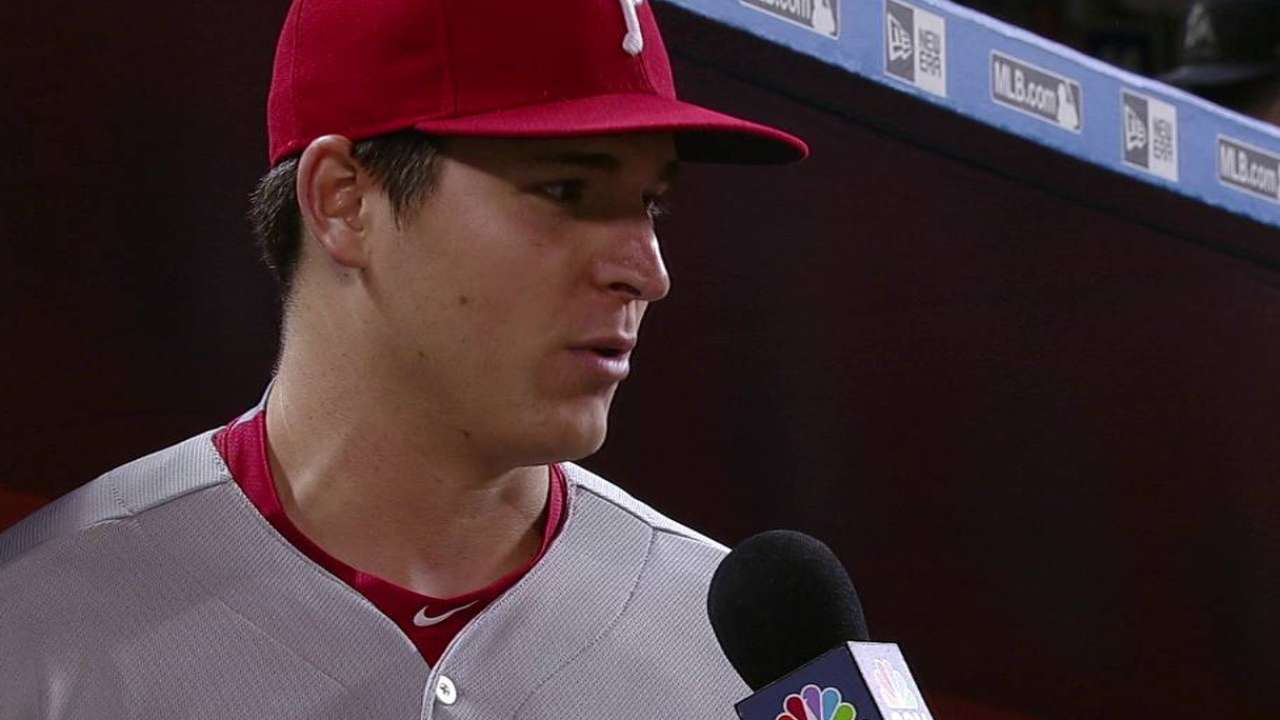 To top it all off, the rookie did it all in front of 16 friends and family members in attendance, most of who made the trip down south from his hometown of Evansville, Ind.
"It's surreal," Eickhoff said. "You grow up dreaming about this, and words can't describe it. There's so many people you meet that help you get here, and it's just a testament to what they do. A lot of it is on them. It's unbelievable."
Steve Wilaj is an associate reporter for MLB.com. This story was not subject to the approval of Major League Baseball or its clubs.