MLB.com Columnist
Lyle Spencer
Price is just ace Blue Jays need to rise to top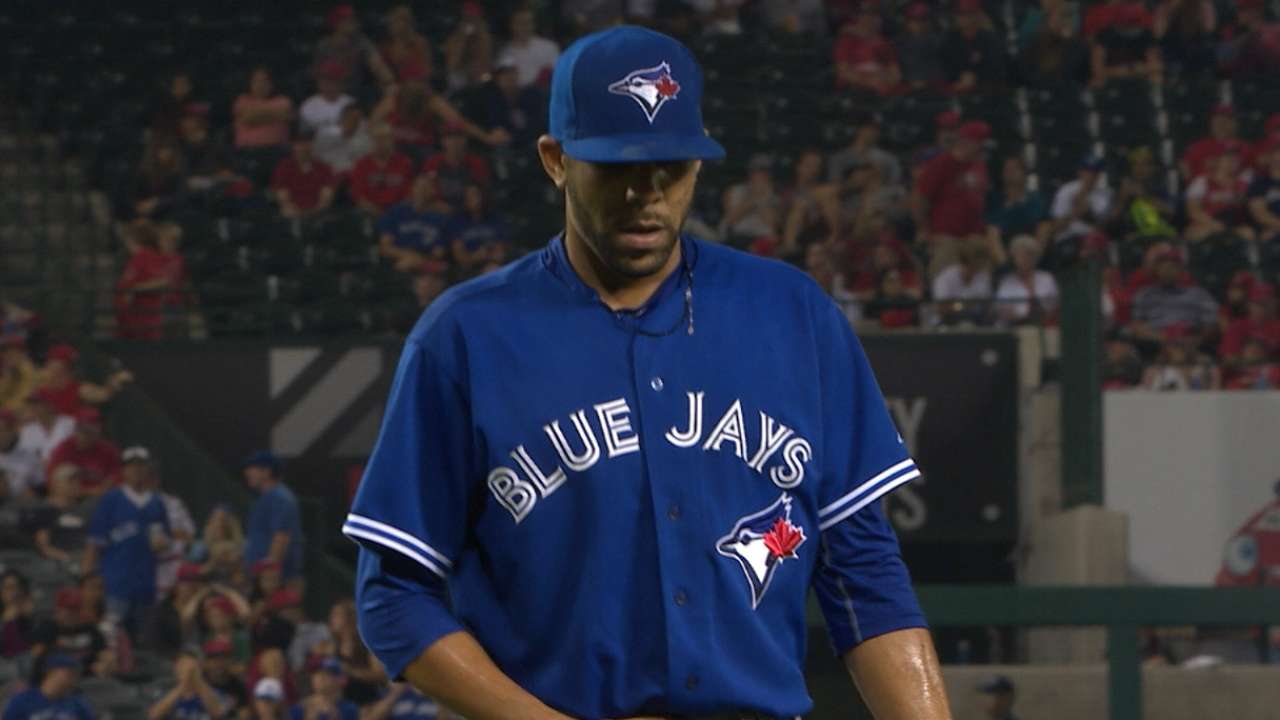 ANAHEIM -- David Price is more than right for the Toronto Blue Jays. He's dead-solid perfect.
The latest, along with Troy Tulowitzki, in a succession of bold strikes by general manager Alex Anthopoulos, Price is giving the Blue Jays the shutdown artist they needed to go to the head of the class in the loaded American League East.
Price, who made his name with the Rays and enhanced it with the Tigers, put away the Angels on Friday night in a 9-2 decision that lifted Toronto to within a half-game of the division-leading Yankees. The Orioles and Rays are bidding to make it a multiple-team scramble while also trying to leave an imprint in the secondary scramble for the two AL Wild Card bids.
"We've got our eyes on the people in front of us," Price said, dismissing any Wild Card conversation.
The way the Blue Jays are playing, there might be nobody in front of them real soon.
Price, who worked out of a sixth-inning disturbance by striking out Mike Trout and retiring Albert Pujols and C.J. Cron, departed after eight innings with nine strikeouts while walking one and yielding six hits and two runs. Price has issued six walks while notching 33 strikeouts in a Blue Jays uniform.
• On 3 pitches, Price rings up Trout in key spot
"We're just happy to have one of the best pitchers in the game," Russell Martin, Price's new catcher, said of the man acquired from the Tigers on July 30 for three players. "I think all 30 teams would love to have David Price.
"He can be overpowering. Today he was just on his game. He was making his pitches, mixing his speeds, working the edges. He was attacking, being aggressive."
Price, who turns 30 on Wednesday, is 3-0 in four starts with the Jays, with a 1.78 ERA in 30 1/3 innings. The ultra-smooth southpaw is 12-4 with a 2.40 ERA overall, jumping into contention in the AL Cy Young Award derby.
Price is the first pitcher in franchise history to allow three or fewer runs with at least six strikeouts in his first four starts for Toronto.
The 2012 AL Cy Young Award winner for Tampa Bay when he led the league in wins (20) and ERA (2.56), Price gives the Blue Jays a clear edge over the Yanks and O's. There are, as Martin suggested, few No. 1 starters in his class. His original club, the Rays, have one in Chris Archer.
"I thought I threw my game," Price said. "I executed some really good changeups -- cutters and curveballs as well."
The highlight was his three-pitch punchout of Trout, a man Price called "the best player in baseball now."
With singles by Shane Victorino and Kole Calhoun putting runners on the corners with none out, Trout was in a position to get the Angels back in the game after a three-run first against a wild Hector Santiago had the Blue Jays in the front from the jump.
Three 97 mph heaters sent Trout back to the dugout.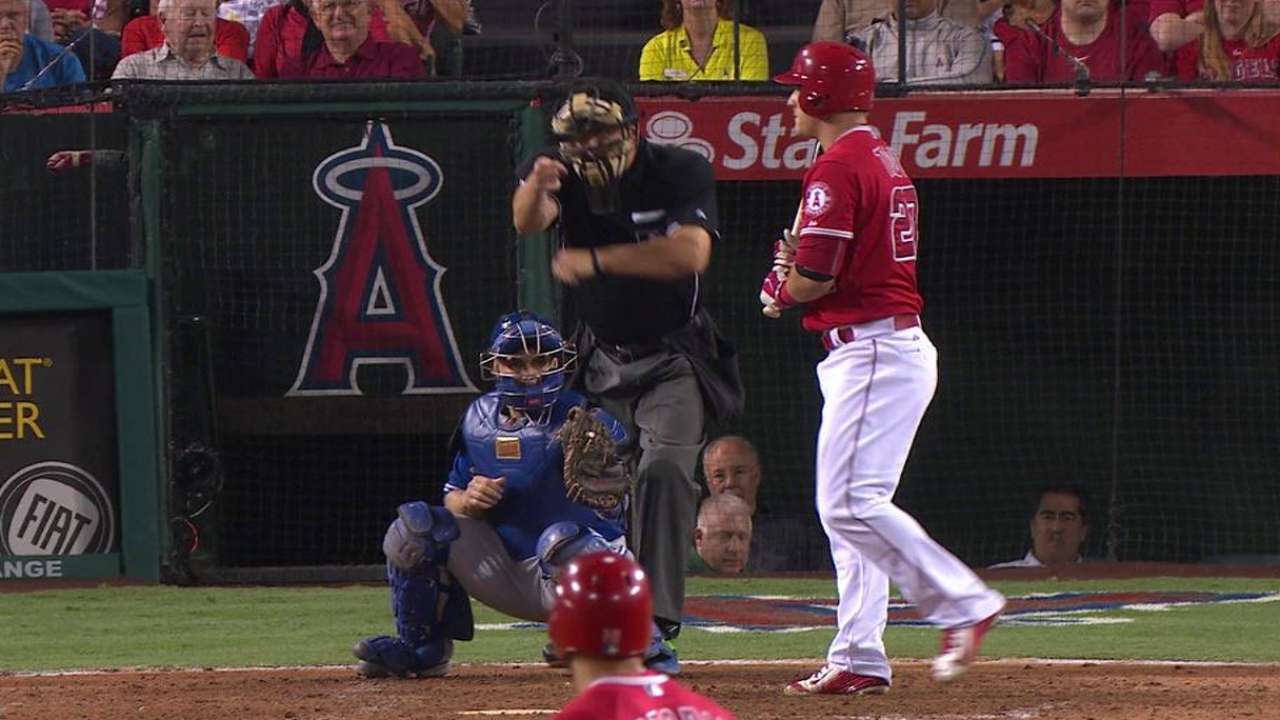 "That's the reason he's here, to shut down teams," Blue Jays manager John Gibbons said of his new ace. "He's a very focused guy. He's got a great arm, but he's a pitcher. It's fun to watch. He went through some pretty good hitters there."
Price's presence enables the rest of the rotation -- R.A. Dickey, Mark Buehrle, Marco Estrada and Drew Hutchison -- to slide into slots that make it more competitive with the elite teams.
The Blue Jays aren't interested in a one-game October showdown, but if it comes to that, they'll feel comfortable with Price potentially dealing against anybody the league has to offer.
Price said he's not even looking at the teams in the Wild Card hunt, "because there are so many." Winning the division is the mission of every club within shouting distance.
With Tulowitzki struggling to find his stroke, Josh Donaldson is taking the pressure off his new partner on the left side of the Blue Jays' infield.
Donaldson banged a pair of doubles behind Price, claiming round one of his weekend duel with Trout, the reigning AL Most Valuable Player Award winner.
Donaldson, Oakland's offseason gift to Canada, leads the Majors with 94 RBIs -- 22 more than Trout, who has hit with runners in scoring position 30 fewer times.
Donaldson sits between Tulowitzki and Jose Bautista in a loaded lineup that runs deep with Justin Smoak (two-run homer Friday night) and Martin bringing thunder behind cleanup man Edwin Encarnacion. Ben Revere, who had four hits, brings another dimension to the attack.
Make no mistake: Anthopolous and the Jays are all in.
Lyle Spencer is a national reporter and columnist for MLB.com. Follow him on Twitter @LyleMSpencer. This story was not subject to the approval of Major League Baseball or its clubs.