Defense has rare off night at Fenway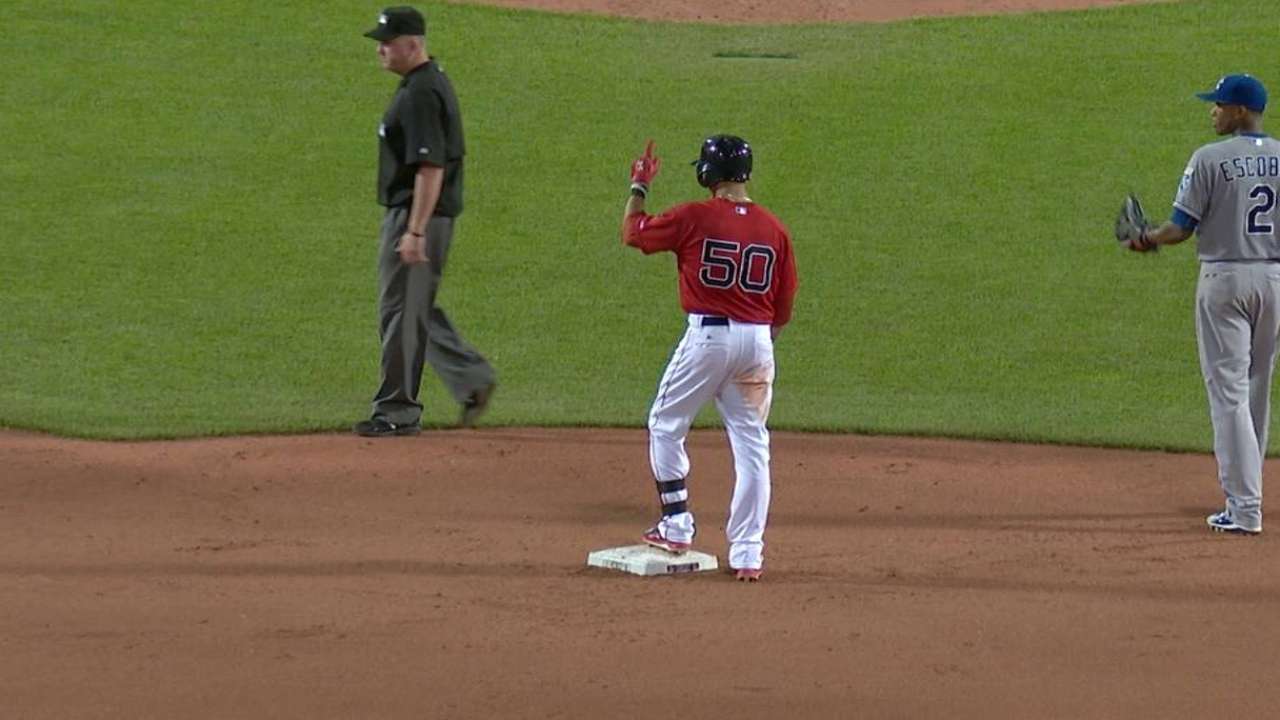 BOSTON -- The Royals, possibly the best defensive team in baseball, had a rare lapse in the field throughout a forgettable 7-2 loss to the Red Sox on Friday night at Fenway Park.
The Royals took turns botching plays they routinely make, and while they were only charged with two errors, several misplays stood out.
In the second inning, Boston's Rusney Castillo looped a catchable flare to center that fell between center fielder Lorenzo Cain and second baseman Omar Infante. Cain had the best shot, but he backed off when it appeared he might collide with Infante.
The next hitter, Blake Swihart, doubled to left with Castillo stopping at third. But left fielder Paulo Orlando's throw to the infield dribbled by shortstop Alcides Escobar and rolled toward the pitcher's mound. With no one backing up Escobar, Castillo raced into score. Escobar was charged with an error.
"Left field is so short here, he needs to get that throw to Esky in the air," Royals manager Ned Yost said. "Don't bounce out."
Two batters later, Mookie Betts hit a sinking liner to left that Orlando reached while sliding for an apparent out, but Orlando dropped the ball. It was ruled a hit, and another run scored.
"I thought I had it, but I kind of took my eye off it, because I was getting ready to get up and throw home," Orlando said.
In the fourth inning, Castillo hit a deep drive to center that Cain seemed to have measured. But as he stuck out his glove, the ball eluded him and Castillo was awarded a triple. After Swihart singled in Castillo and Josh Rutledge flied out, Betts lined a single to center. Cain broke late and tried to make a shoestring catch, but he couldn't reach it. Cain wound up kicking the ball about 10 yards away from him, which allowed Swihart to score. Cain was charged with an error.
"I was terrible," said Cain. "I need to make those plays. I have to make those plays."
In the seventh, left-hander Franklin Morales struck out Travis Shaw with a slider in the dirt, but catcher Salvador Perez couldn't block the pitch and Shaw reached first base safely. It was scored a wild pitch.
Yost said he simply isn't used to seeing his team struggle defensively.
"It's rare when it happens, but it happens," he said of his team's defensive lapses. "With Lorenzo, you get accustomed to him making routine plays and spectacular plays and jaw-dropping plays. It's a little strange tonight."
Jeffrey Flanagan is a reporter for MLB.com. Follow him on Twitter at @FlannyMLB. This story was not subject to the approval of Major League Baseball or its clubs.