Cueto moving past rough performance
After yielding career-high 13 hits, ace won't dwell on outing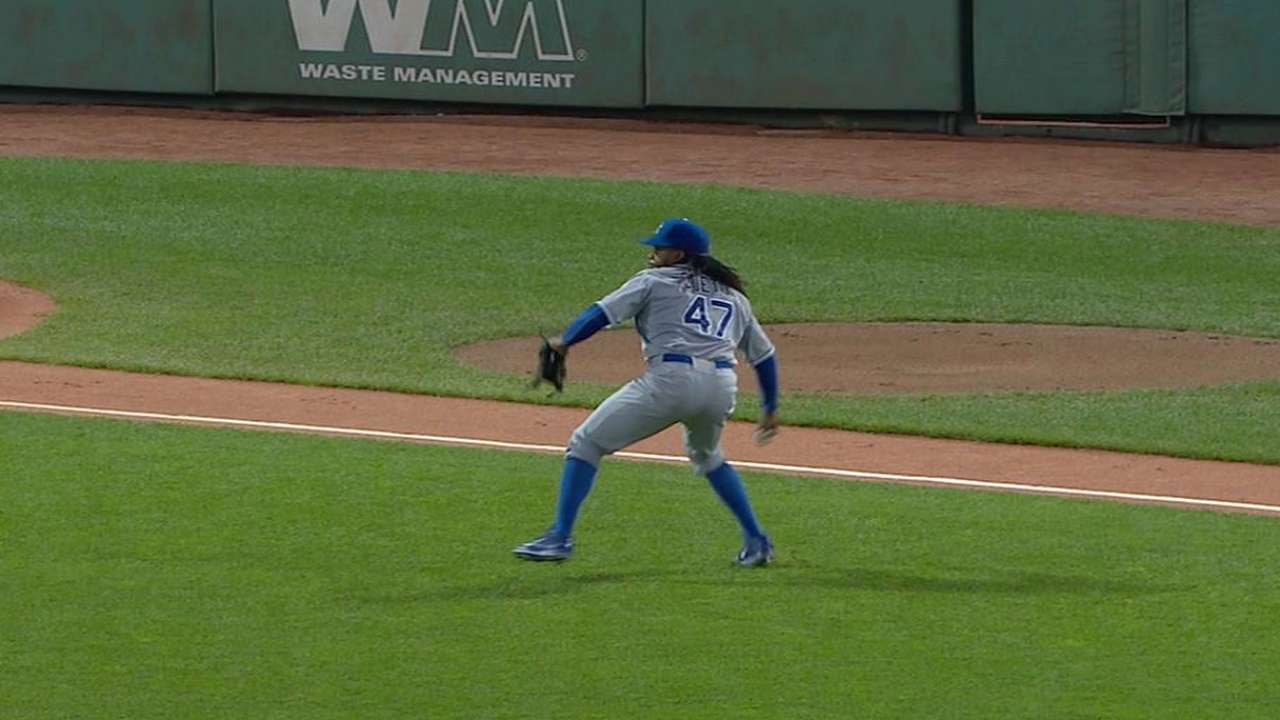 BOSTON -- Johnny Cueto's first bad outing with the Royals also rivaled one of his career worst.
Cueto gave up a career-high 13 hits as well as six earned runs in a 7-2 loss to the Red Sox on Friday night at Fenway Park.
"He kept competing his tail off, but he wasn't sharp," manager Ned Yost said. "Just one of those nights."
Cueto's previous high for hits allowed was 11 during an 11-5 loss to the D-backs on June 21, 2013. He once gave up nine runs in two-thirds of an inning during a 22-1 loss to the Phillies on July 6, 2009.
"They made adjustments to me," Cueto said of the Red Sox through interpreter Pedro Grifol. "I didn't leave too many up, but when I did, they capitalized on them."
The real damage came from lower in the Red Sox's lineup. The bottom three hitters in the Boston order went 8-for-12 with a homer and six runs scored.
"They just beat me," Cueto said. "They are Major League baseball players in a Major League lineup and they just beat me."
Being the veteran he is, Cueto said he won't stay focused on this outing for long.
"Not at all," he said. "Just a bad outing. I'm going to keep my head up and get them next time."
Of course, Cueto didn't get much help from the Royals' normally tight defense, which made two errors and misplayed several other balls.
"He has battled for us since he got here," center fielder Lorenzo Cain, who made one error, said of Cueto. "I didn't help him tonight."
Cueto, though, assured that he has his teammates' backs.
"That is part of the game," Cueto said of the errors. "We've got a really good defense."
Jeffrey Flanagan is a reporter for MLB.com. Follow him on Twitter at @FlannyMLB. This story was not subject to the approval of Major League Baseball or its clubs.