Bettis notches another scoreless rehab start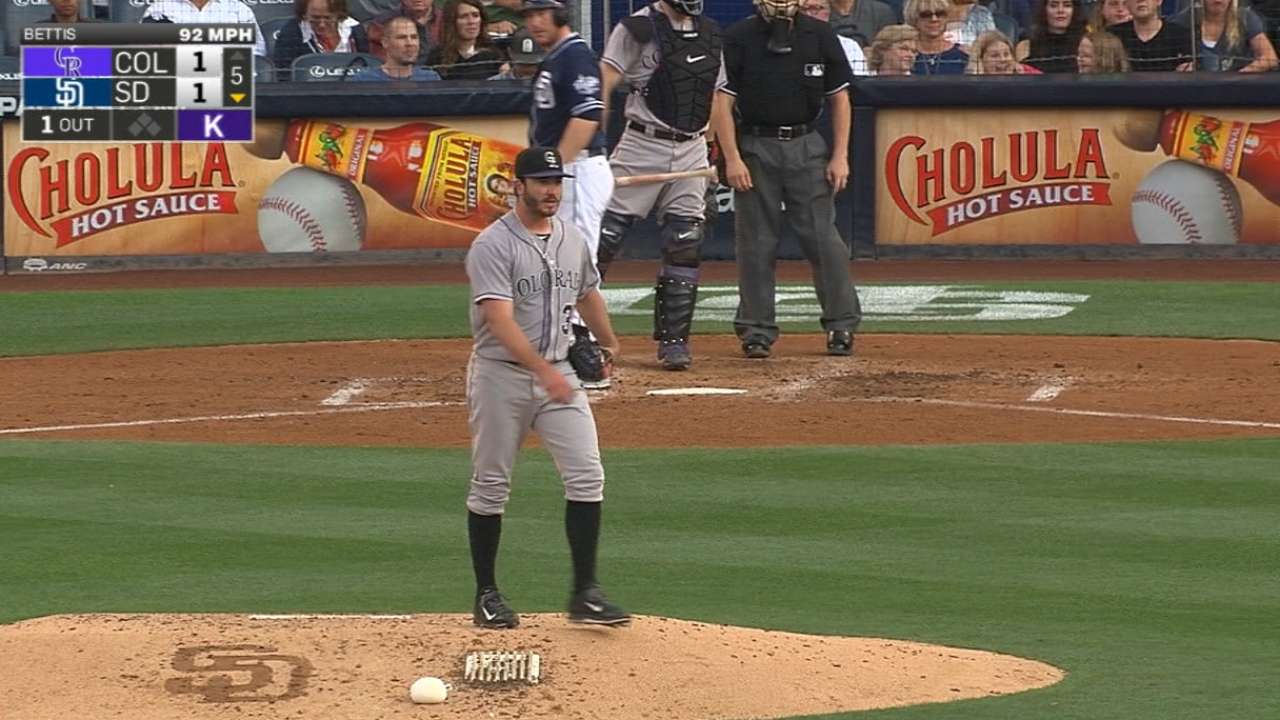 DENVER -- After throwing five scoreless innings in Thursday's rehab start with Triple-A Albuquerque, Chad Bettis appears ready to return to the Rockies sooner rather than later.
A specific date, though, is still being determined.
"[Bettis' return] isn't mapped out yet, but we're going to discuss what the next step for him is," Rockies manager Walt Weiss said before Friday's series opener with the Mets. "Whether he's going to be pitching for us or if we need to build him up a little bit more, that's a conversation we'll have."
Right shoulder inflammation sent Bettis to the disabled list on July 19, but he's made two encouraging rehab starts since. Bettis first threw 3 1/3 scoreless innings and 61 pitches for Double-A New Britain on Aug. 15. He was scheduled for 80-85 pitches in Thursday's outing, but needed just 67 to get through five.
"He was real efficient," Weiss said. "He didn't use a lot of pitches in the innings that he worked. He feels great. At this point, it's just a matter of if he's built up enough to go out in a Major League game and give us some length. That's all."
Worth noting
• After Chris Rusin's delivery, which is very similar in both the stretch and the windup, caused some balk controversy in his last outing, Weiss said that Rusin will pitch out of the stretch on Saturday if there is a runner on third.
Weiss said he spoke to Rich Rieker, MLB's director of umpire development, before Friday's game, adding that the conversation "cleared some things up" as far as Rusin's delivery is concerned.
• Embattled Rockies pitcher Tyler Matzek has turned in three straight scoreless relief appearances for Albuquerque, including an 18-pitch, 12-strike outing on Thursday.
Although Matzek struggled immensely as a starter for the Rockies early in the season, Weiss reiterated that Matzek won't be brought back as a reliever whenever he's ready.
"We had those conversations before he was a big leaguer -- there was some debate as to whether he was a starter or a reliever -- but we haven't had those since," Weiss said. "Again, there's some work that's left out in front of Matzek, but we haven't had that discussion."
Dargan Southard is an associate reporter for MLB.com. This story was not subject to the approval of Major League Baseball or its clubs.