Special sight: Millville boy meets hero Trout
Walkup, 8, spends time with Angels star after surgery for rare eye condition
ANAHEIM -- Standing in front of the Angels' dugout on Friday afternoon, Thomas Walkup finally saw Mike Trout, his idol, coming over to him. He saw Trout. And then he talked to him.
"He made me feel special," Thomas said. "I said, 'Thank you,' because he did a lot for me."
For his whole life, Thomas hadn't been able to see clearly at all. The 8-year-old -- who is from Millville, N.J., the same town as Trout -- had a condition called congenital nystagmus, or "dancing eyes." He couldn't keep his eyes fixed on anything, so everything was blurred.
But on Aug. 13, Thomas had successful surgery in California to correct his vision, with the one doctor in the world who performs it, Dr. Robert Lingua of the Gavin Herbert Eye Institute. Thanks to a coordinated effort with the Millville community, Trout and the Angels -- who were informed of Thomas' situation by Trout's mom, Debbie -- Thomas, his mother Susan Banks and their family were brought out to Friday's game, a 9-2 loss for the Angels.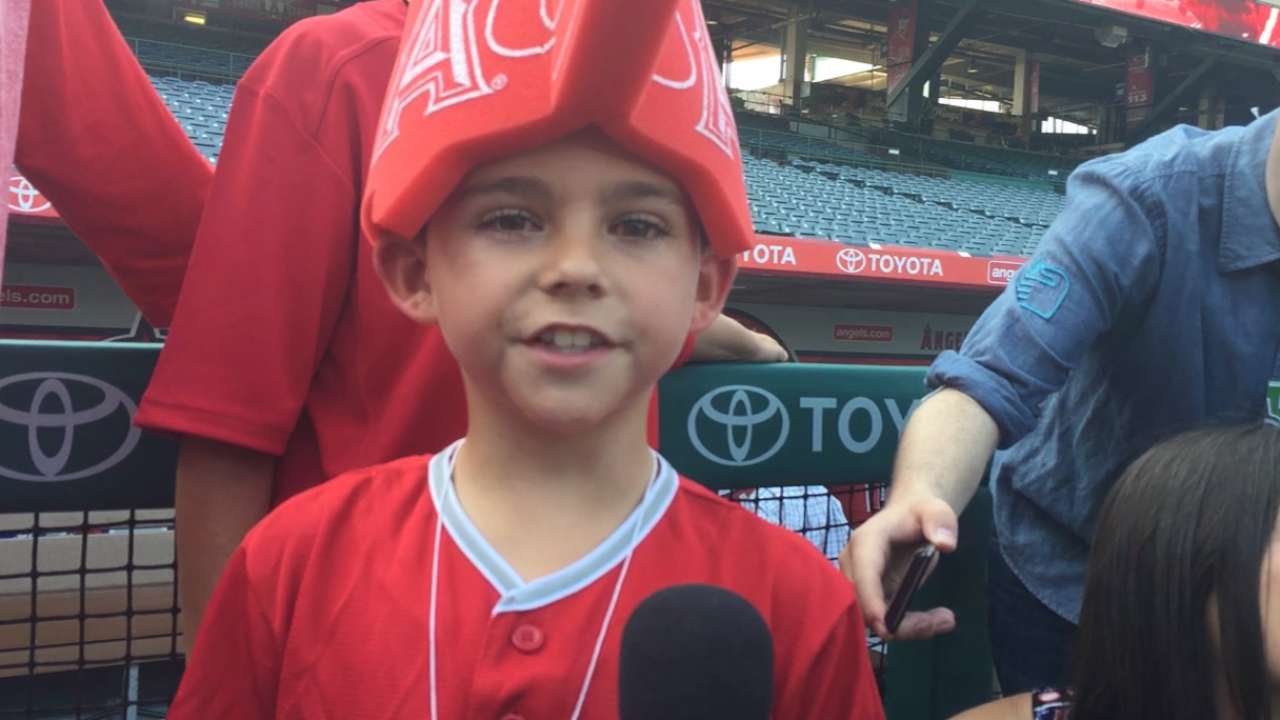 "I was looking forward to it, and I'm sure he was, too," Trout said. "When he comes out here, and we see him smiling and having a good time and getting his mind off other things, it means a lot to us, and to me."
Angel Stadium is one of the first places Thomas has been since his surgery. Trout is one of the first people he's ever seen clearly.
"It's cool, because he came all the way from Millville just to come to the Angels team," Thomas said. "I came from Millville, too, to get eye surgery."
Wearing a Trout jersey and a Trout wristband and holding a Trout fish-shaped foam hat, Thomas stood on the Angel Stadium turf and talked to the Angels' center fielder, one of his two heroes (Dr. Lingua is the other). Thomas got a handshake from Trout and a fist-bump. He watched Trout take batting practice, and Trout checked out Thomas' swing.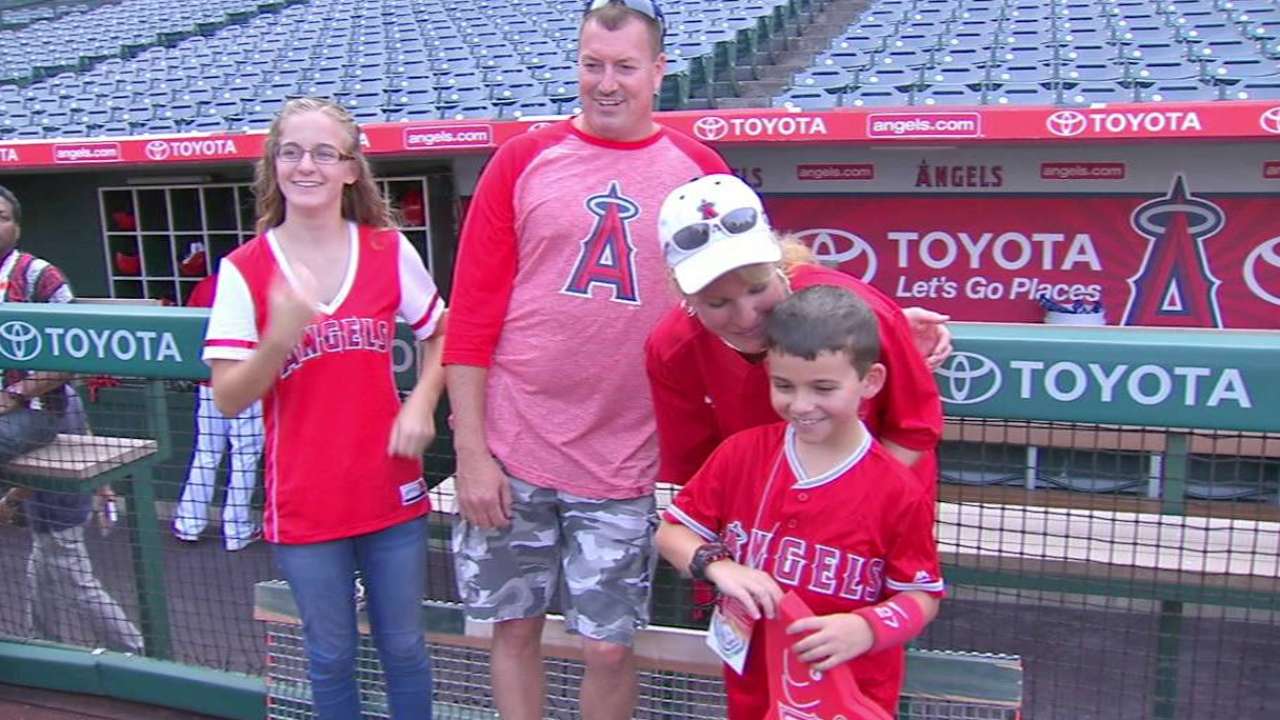 "He's not supposed to have been able to do any of this," Susan said of her son. "He's just been determined, and every day we've been at that doctor's office, he says, 'I just want to go see the game, and I want to be able to see Mike Trout.'"
Thomas had muscles removed from his eyes during the surgery. He still has 20 stitches in each. Susan is carrying around a bag of medications to give Thomas every two hours, and Thomas and his family still have to stay in California another week so Dr. Lingua can make sure nothing goes wrong.
He still made it to go see Trout.
"I just can't thank them enough," Susan said. "I don't even know if there's a feeling for it. I look at my son, and my excitement is through him. When you look at your child and see how many things people do for them, it's very hard to describe that."
David Adler is an associate reporter for MLB.com. This story was not subject to the approval of Major League Baseball or its clubs.