LaRoche still in search of improved timing
White Sox veteran optimistic he is emerging from slump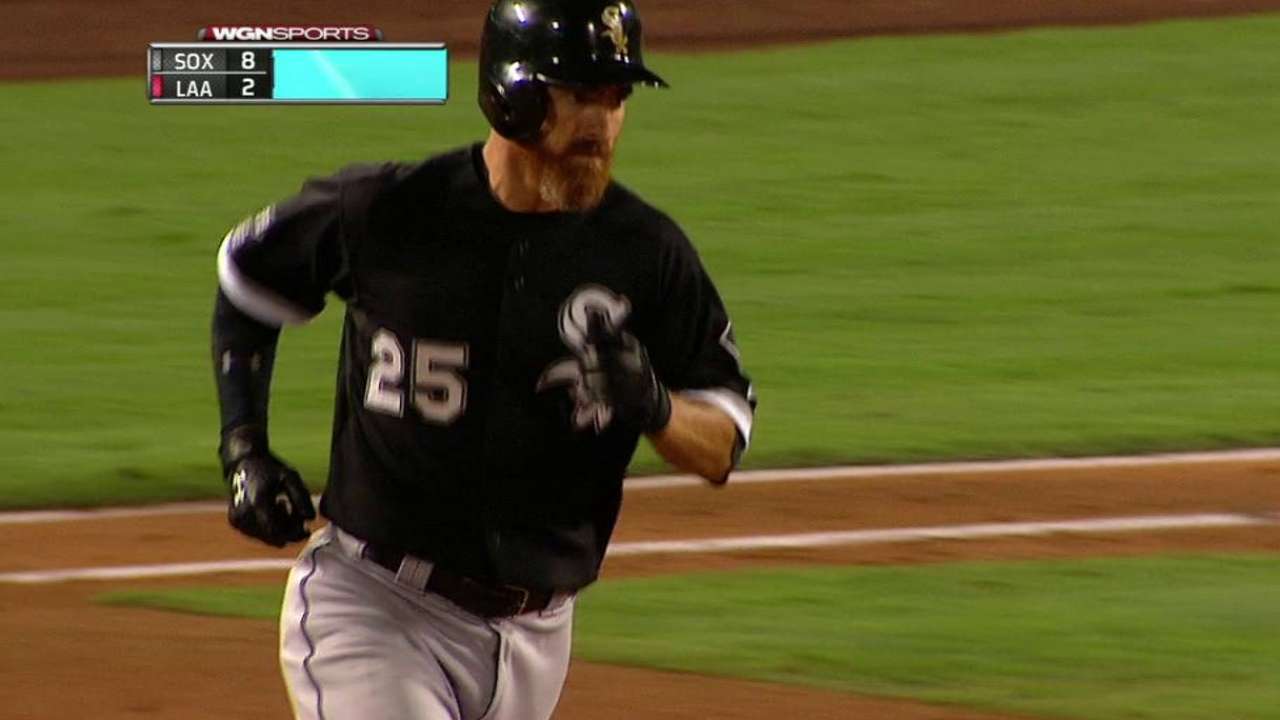 SEATTLE -- Adam LaRoche entered the White Sox's 11-4 Friday win over the Mariners hitting just .210 and 3-for-his-last-27 at the plate, but also fresh off his best hitting performance of the month.
LaRoche, who had been benched earlier in the week and relegated to pinch-hitting duties for the first three games of the White Sox series in Anaheim, went 2-for-4 with a two-run homer in Chicago's 8-2 win over the Angels on Thursday, posting his first multi-RBI game since July 8.
While LaRoche said he saw the ball better Thursday, he remains cautiously optimistic. The 35-year-old has had plenty of would-be spark games during a months-long tough stretch at the plate only to have that timing not feel the same his next time out.
"You know, typically those are days that it can be the start of something," LaRoche said of Thursday's game. "I've had a few of those this year where it's felt really good even after an 0-for-3 or something where I hit a couple balls hard but right at somebody. That's baseball."
LaRoche was back in Chicago's lineup as a first baseman for the second straight day on Friday as manager Robin Ventura gave Jose Abreu a day to get off his feet and hit from the designated hitter spot. LaRoche struck out three times but hit a couple balls hard in a 1-for-5 effort, including a double to right-center in a four-run eighth inning.
Even successful nights like Thursday, LaRoche said part of the challenge in emerging from a slump is identifying what went well in the first place. Mechanically, there wasn't much he could glean from his 2-for-4 effort on Thursday, just that the result had improved.
"I have no idea, which is why we fall into these at times. You can't pinpoint other than when you're swinging the bat well when you're not thinking about anything. You don't know or realize what you're doing," LaRoche said. "When you're not [hitting well], you think you need to know what you need to fix. I've got to get back to just kind of the empty-minded approach of Little League style, see it and hit it."
Whether he's playing first base or filling his regular duties as a DH, LaRoche said building momentum at the plate comes down to two things.
"Timing and rhythm," LaRoche said. "It's just something where you just want to get that feeling where you're on time. Not necessarily is the ball leaving the ballpark, but you're just feeling that connection and being on time, which I've really fought all year to find."
Worth noting
• Right-handed relief pitcher Daniel Webb started a Minor League rehab assignment with Triple-A Charlotte on Friday.
Webb, who was placed on the disabled list on Aug. 5 with a back strain, has a 2.49 ERA in 17 games with the White Sox this season.
Andrew Erickson is an associate reporter for MLB.com. This story was not subject to the approval of Major League Baseball or its clubs.