Gomez says he needs to 'step up' for Astros
Outfielder off to slow start at the plate since being traded to Houston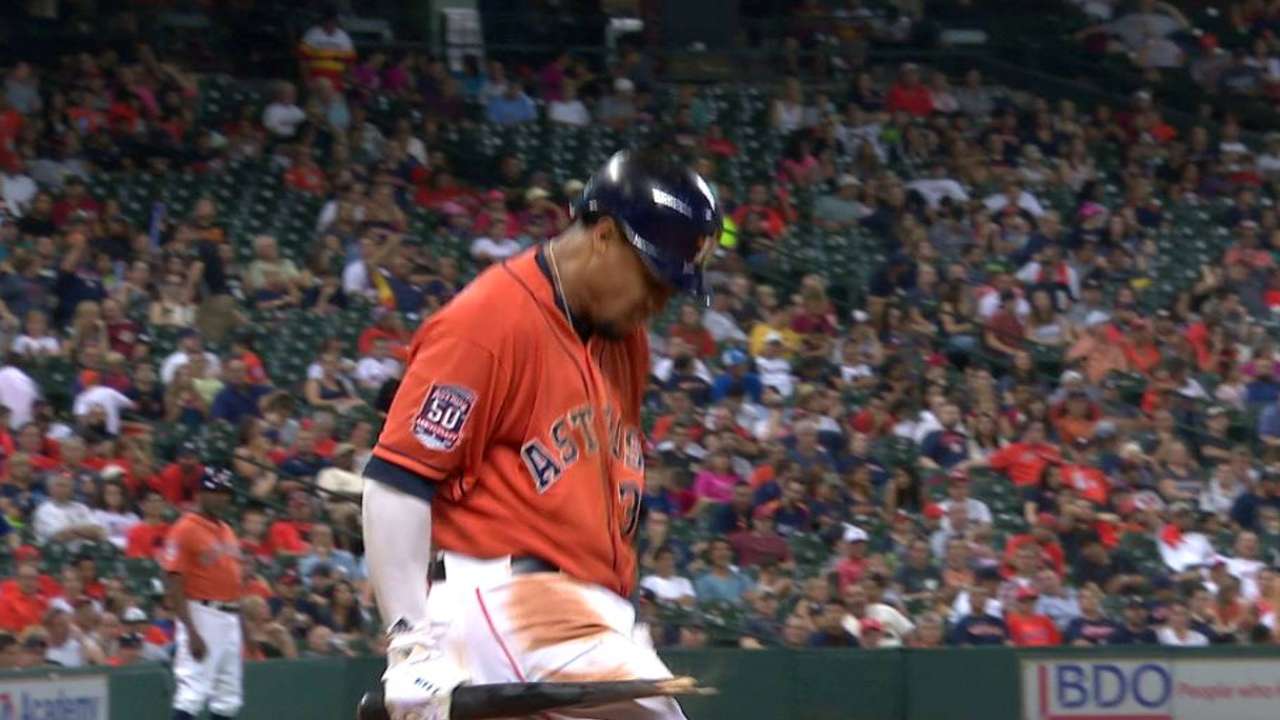 HOUSTON -- Outfielder Carlos Gomez doesn't need to be reminded he hasn't performed up to his level of expectations since coming to the Astros last month in a trade with the Brewers. Gomez is hitting .192 with one homer and four RBIs in 19 games after going 1-for-4 in the Astros' 3-0 win on Friday.
Astros fans have yet to see the dynamic and exciting player who made two All-Star appearances with the Brewers in 2013-14, but Gomez said the hits are coming.
"It's no secret I haven't been doing my job lately," he said. "I have to break out. I'm not that type of player. Everybody knows when I get hot, I get extremely hot. I'm being patient and doing my work because when they come, I think they're going to come at the right time and when my team needs it."
The Astros certainly haven't lost faith in Gomez and will keep running him out to center field. He was hitting .262 with eight homers and 43 RBIs in 74 games for the Brewers this year prior to the trade and has the ability to beat opposing teams in many ways.
"He didn't forget how to play or get hits in the last couple of weeks," manager A.J. Hinch said. "He's just had a little bit of a rough stretch. He's got just as good a chance tonight to carry us and lead us to a win as anybody in our lineup. He hasn't been around our team long enough to hear my speech about not carrying baggage with you to the next game. He shows up ready to play every day, and tonight could be the night he breaks out."
Gomez understands the Astros gave up young talent to get him to help them reach the postseason and knows the fans are frustrated.
"It's a big trade to come here," he said. "I haven't been doing my job lately. Fans, when you have a team in first place and has been in first place, everybody is anxious. Everybody expects a lot of things. It's understandable. It's reasonable. I have to step up and do my job."
Brian McTaggart is a reporter for MLB.com and writes an MLBlog, Tag's Lines. Follow @brianmctaggart on Twitter and listen to his podcast. This story was not subject to the approval of Major League Baseball or its clubs.