Donning Dodger blue 'pretty cool' for Utley
Veteran infielder happy to team with Rollins again, excited for postseason chase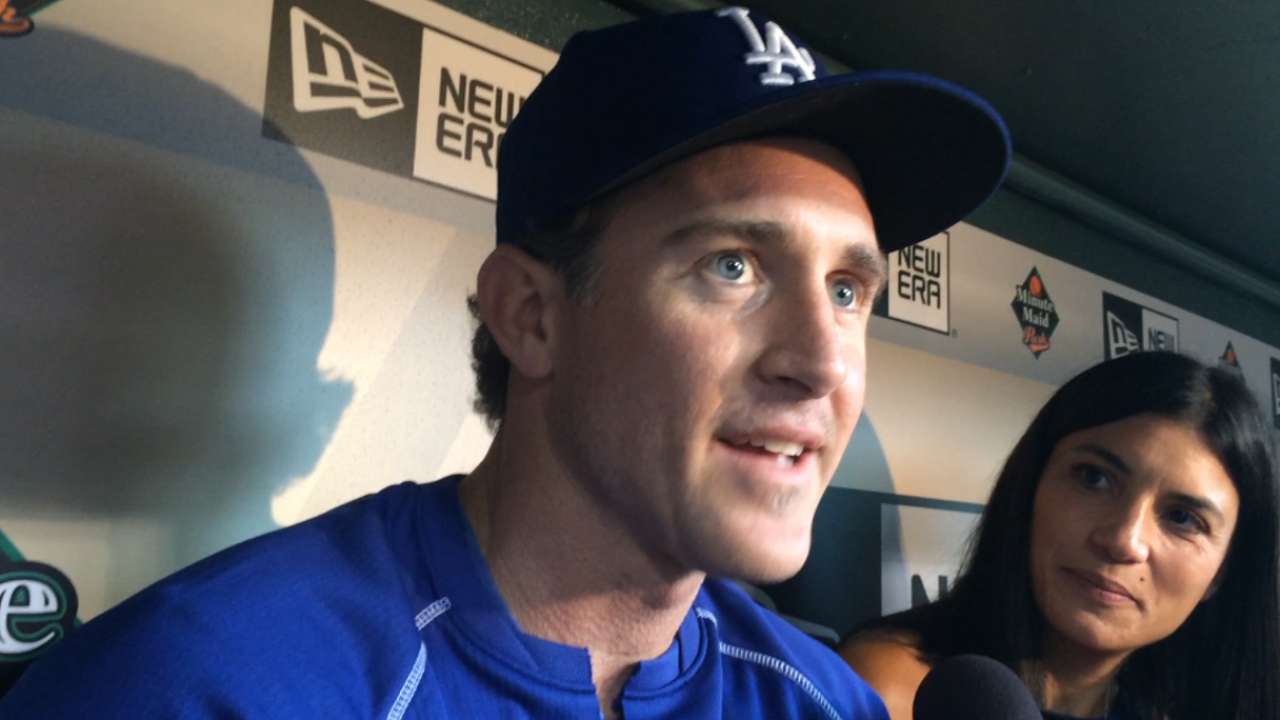 HOUSTON -- He sat before a throng of reporters, still marveling at the Dodger blue cap he put on. Before he began answering questions, Chase Utley polled the assembled media, asking how many attended his alma mater, UCLA, as opposed to rival USC.
Ten minutes later, Utley was recalling his favorite moment as a young Dodgers fan -- Game 2 of the 1988 World Series, when he watched Orel Hershiser toss a three-hit shutout at Dodger Stadium. Utley's boyhood dream became reality Friday when he suited up for the Dodgers, batting second as the designated hitter in the series opener against the Astros. Utley went 0-for-4 as the Dodgers were no-hit by Mike Fiers in a 3-0 loss.
"It's pretty cool wearing blue," Utley said. "Obviously a little bit different, it hasn't quite sunk in yet, but soon enough it will. I can't tell you how much I'm excited to play with Jimmy [Rollins] again. I met a few guys on this team, obviously a good team, and I'm just here to win."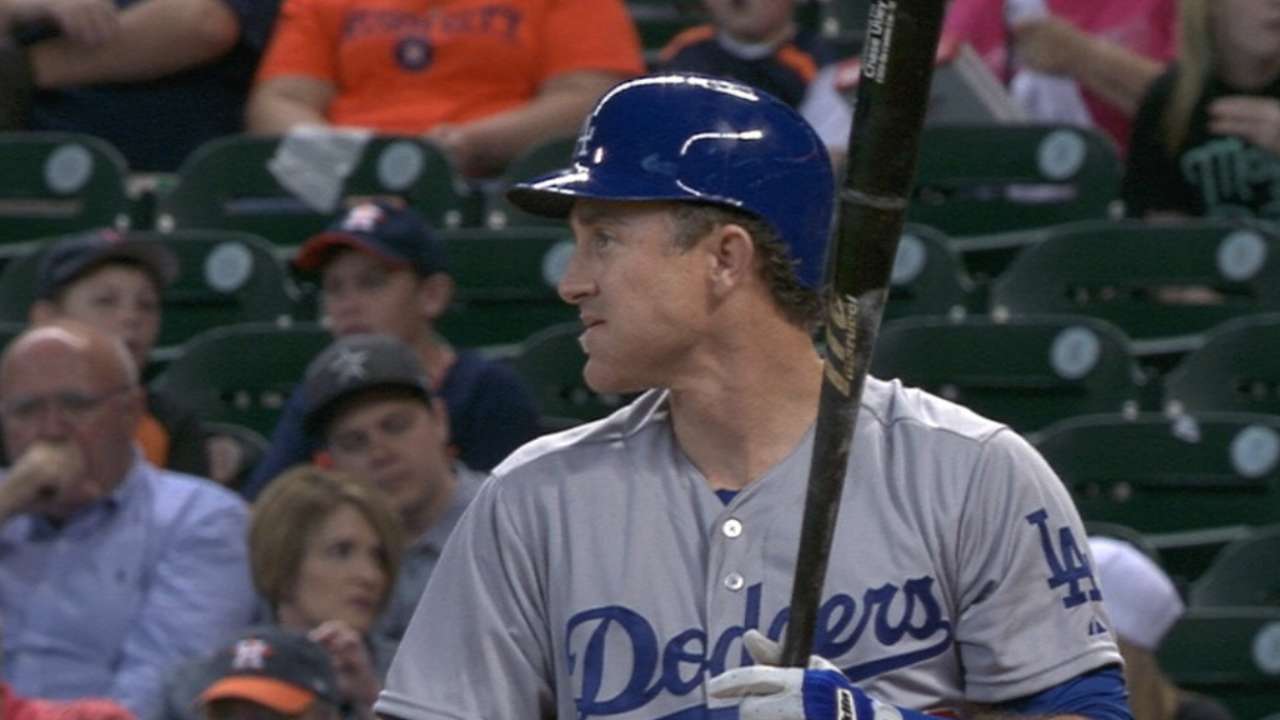 Utley, who spent 11 seasons alongside Rollins to comprise the Phillies' middle infield, said the allure of playing with his old teammate once again was one of the deciding factors during his trade negotiations -- negotiations Utley said he navigated with the Phillies in mind.
"I have a lot of loyalty to the Phillies for the way they treated me over the years," Utley said. "I felt for them to get the best offer, that would be best for the organization, and lucky enough it was a spot I felt comfortable enough to come to. Obviously Jimmy played a role, knowing him for a while and playing with him. He's fun to be around. All of those factored in to it."
With Howie Kendrick on the disabled list with a strained left hamstring and not set for a return until at least September, Dodgers manager Don Mattingly said Utley will work primarily at second base, and he expected him to play there Saturday.
When Kendrick returns, though, Mattingly said the club will shift Utley to third base, giving Justin Turner occasional days off. Utley, who said he played third base in the Minor Leagues and took grounders there after the Phillies thought about transitioning him a few years ago, had no qualms with whatever role he's given.
"Knowing that Howie's down for a little bit longer, obviously, I would like to play as much as possible," Utley said. "I'm not here to try and take anyone's position, like I said before, I'm here to win."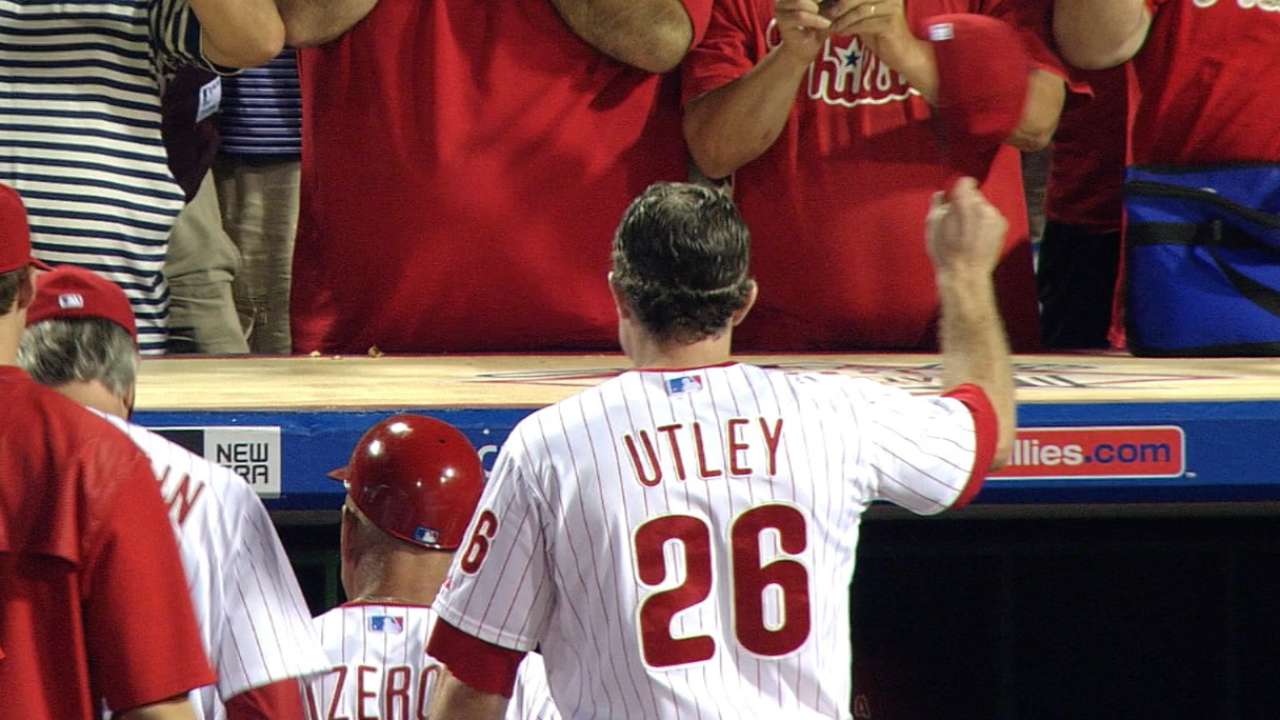 Mattingly praised Utley's no-nonsense approach to the game and thought his transition into the clubhouse would be seamless, especially when he carries himself as well as Rollins.
"Obviously those guys have a lot of history and are comfortable together," Mattingly said. "You're getting a guy that's been through it and it's hard to replace that. We've been talking about Jimmy, how calm he's been down the stretch, and Chase talked about it. ... He's not a rah-rah guy, he's going to come out and be ready to play."
When asked if he planned to play beyond this season, Utley, who will be a free agent, said "absolutely."
And he hopes those plans include championships.
"There's no better baseball than playoff-atmosphere baseball," Utley said. "We experienced that in Philadelphia for a number of years with the fan support in Philly. Citizens Bank Park was rocking every single night and the intensity is magnified. It's fun to be a part of, there's a little bit of stress, but overall it's about winning ballgames."
Chandler Rome is an associate reporter for MLB.com. This story was not subject to the approval of Major League Baseball or its clubs.