Wolf thankful for opportunity with Tigers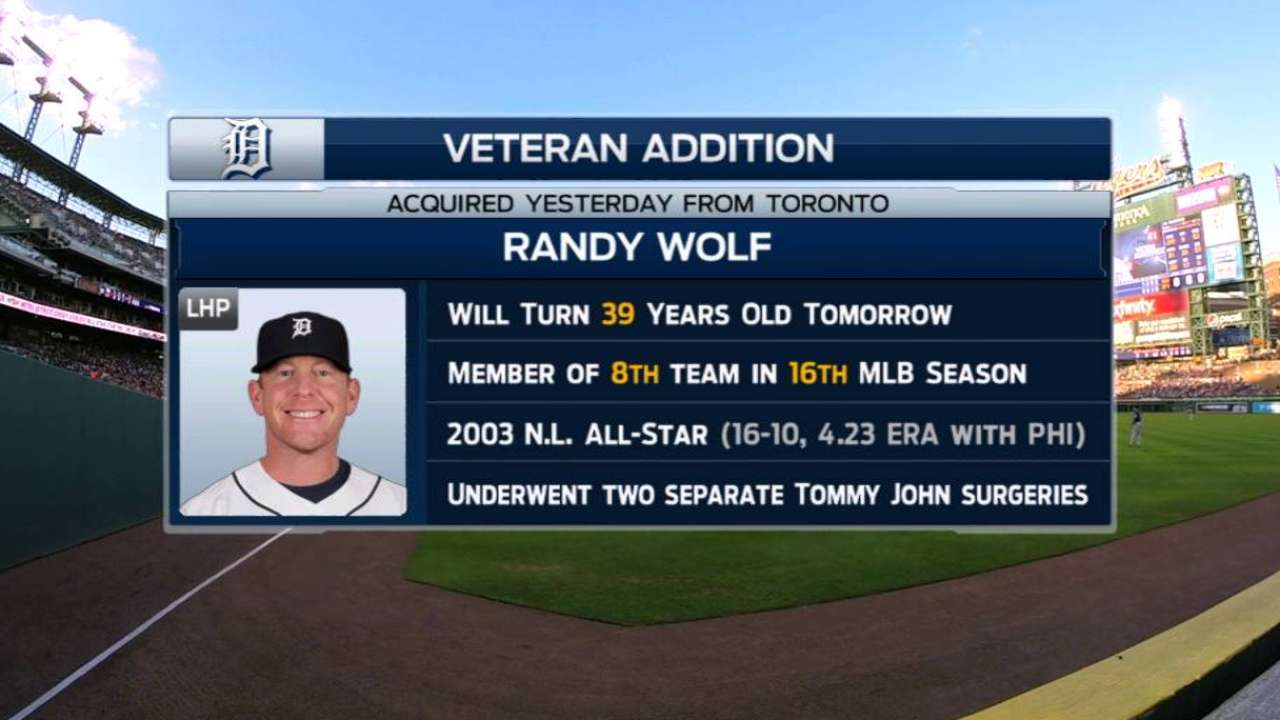 DETROIT -- All Randy Wolf wanted was one more big league shot and no regrets. He didn't know when it would come, and he didn't know where, but the fact that a 15-year Major League veteran spent nearly all summer pitching in Buffalo at age 38 to wait out his chance said a lot.
"When I was throwing [in the spring], I felt incredible," he said. "I hadn't felt that way in a long time, and it was hard for me to walk away when I knew that I felt that way. I kind of always wanted to live in a way where when I look back when I'm 50 years old, I don't want to look back with any regrets. I had to give it one more try and see what I had in the tank. …
"It was a humbling experience. But I think it was all worth it."
The call, he said, came while he was walking his dog on an off-day in Buffalo on Thursday. The Tigers had just lost Daniel Norris and Anibal Sanchez to the disabled list, and they needed help.
Their manager, Brad Ausmus, needed somebody to slot into the rotation. The call went to a pitcher Ausmus caught in 2008 and 2009.
"I think his first words to me when he called me were, 'Don't mess this up.'" Wolf said. "If you know Brad, there's no belt line when it comes to blows."
He was kidding, of course.
"I think most impressive thing is that with all his big league experience and time, he's still willing to put in the time at the minor league level to make it back," Ausmus said. "I think that speaks to his character and how much he loves the game of baseball. It's a very different lifestyle."
He'd rather live that lifestyle, and the overnight bus rides and hotels that go with it, than live with regret. And with that, Wolf was on his way to Detroit for just his second American League stint.
When he turns 39 on Saturday, he'll be back on a big league mound, pitching in a Tigers uniform against the Rangers and in a Major League uniform for the first time since last June with the Marlins.
"It's hard to say it's a long time coming. I feel like nothing is really given to you," Wolf said. "I'm definitely thankful for the opportunity. I know that I've been throwing the ball well. To get an opportunity is something I've worked hard to do, to get to this point, and now at this point I just want to keep that continuing and help out the Tigers and have fun doing that."
To make room for Wolf on the 25-man roster, the Tigers optioned Jose Valdez to Triple-A Toledo. He spent two days in Detroit in his second big league stint.
To make room for the 40-man roster, the Tigers have released first baseman Marc Krauss, according to a source. Krauss joined the Tigers in July after Miguel Cabrera went on the disabled list with a strained left calf. Krauss, a Northwest Ohio native, homered in his first game as a Tiger, but struggled to hit after that. He was optioned to Triple-A Toledo in late July.
Jason Beck is a reporter for MLB.com. Read Beck's Blog, follow him on Twitter @beckjason and listen to his podcast. This story was not subject to the approval of Major League Baseball or its clubs.