Pearce making progress on comeback trail
Versatile veteran sent to Double-A Bowie for rehab games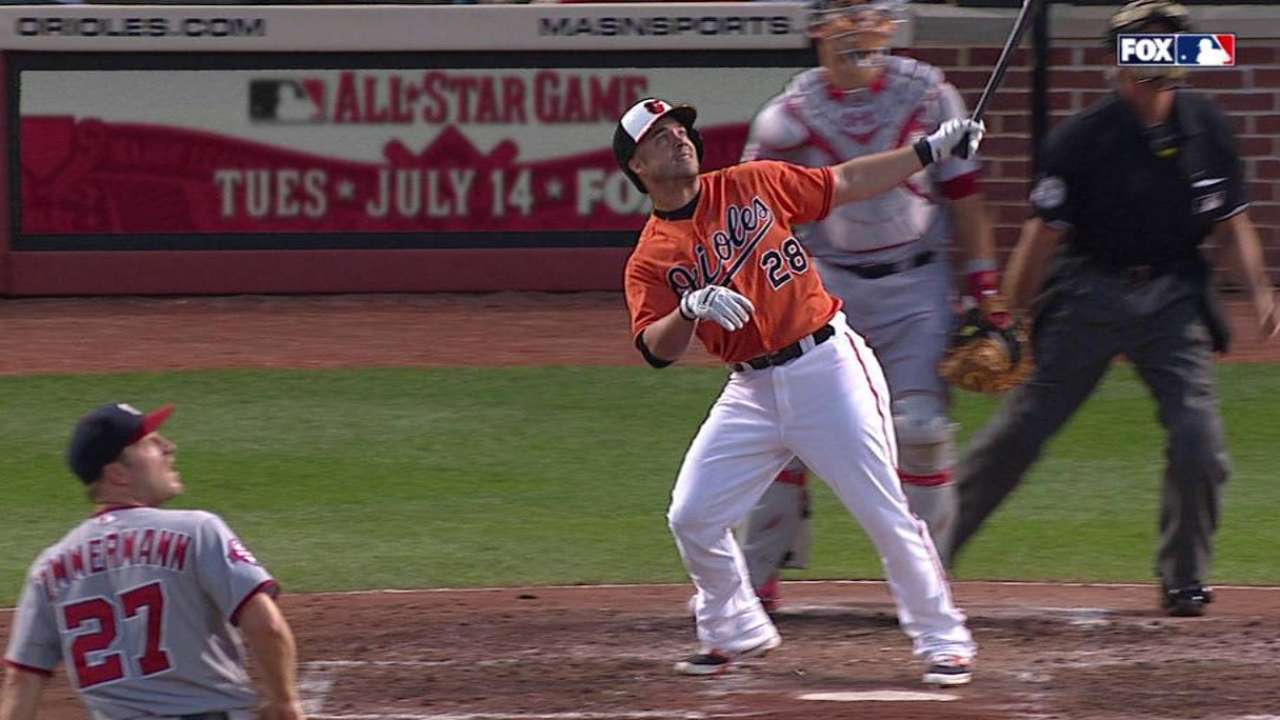 BALTIMORE -- Steve Pearce will play two rehab games at Double-A Bowie this weekend, and it's possible he could join the Orioles on Monday to start their weeklong road trip.
Manager Buck Showalter said Pearce, on the disabled list since mid-July with an oblique injury, fared well in another Gulf Cost League game Friday. Pearce played half the game in left field and half in right but did not see time at first base, something the Orioles had hoped for. He went 1-for-3 with a double and a walk, scoring twice.
Pearce was scheduled to fly back to Baltimore on Friday night and play at Bowie on Saturday and Sunday. Showalter said they'll see where things are after the Sunday game, but playing in Kansas City is a possibility as the Orioles start their trip with a four-game series against the American League Central-leading Royals.
"It's in play," Showalter said. "I'll see how tomorrow goes [and] see how Sunday goes."
Showalter said Pearce likely will play one game in the outfield and another at first base during this rehab assignment. Pearce, who's played first, second, DH and the corner-outfield spots, has a .227 average with seven homers and 24 RBIs in 58 games this season.
Worth noting
• Showalter said the subject of pulling struggling starter Miguel Gonzalez from the rotation is not in consideration. Gonzalez is 9-9 with a 4.73 ERA after Thursday's 15-2 loss to the Twins, giving up seven runs in five innings.
"Nothing's changed," Showalter said. "Same things that he needs to get better at. Wild in the zone and hasn't been able to finish off some counts when they do get in his favor. He's our best option. I don't think twice about it."
• The skipper also said right-hander Chaz Roe is recovering nicely from right shoulder tendinitis. He's throwing again and could rejoin the team in early September.
"He's moving pretty quick and feels good," Showalter said. "I will be surprised if this period doesn't really help him."
Jeff Seidel is a contributor to MLB.com. This story was not subject to the approval of Major League Baseball or its clubs.