Twins work with Buxton on steal technique
Top prospect swiped 94 bags on 121 attempts in Minors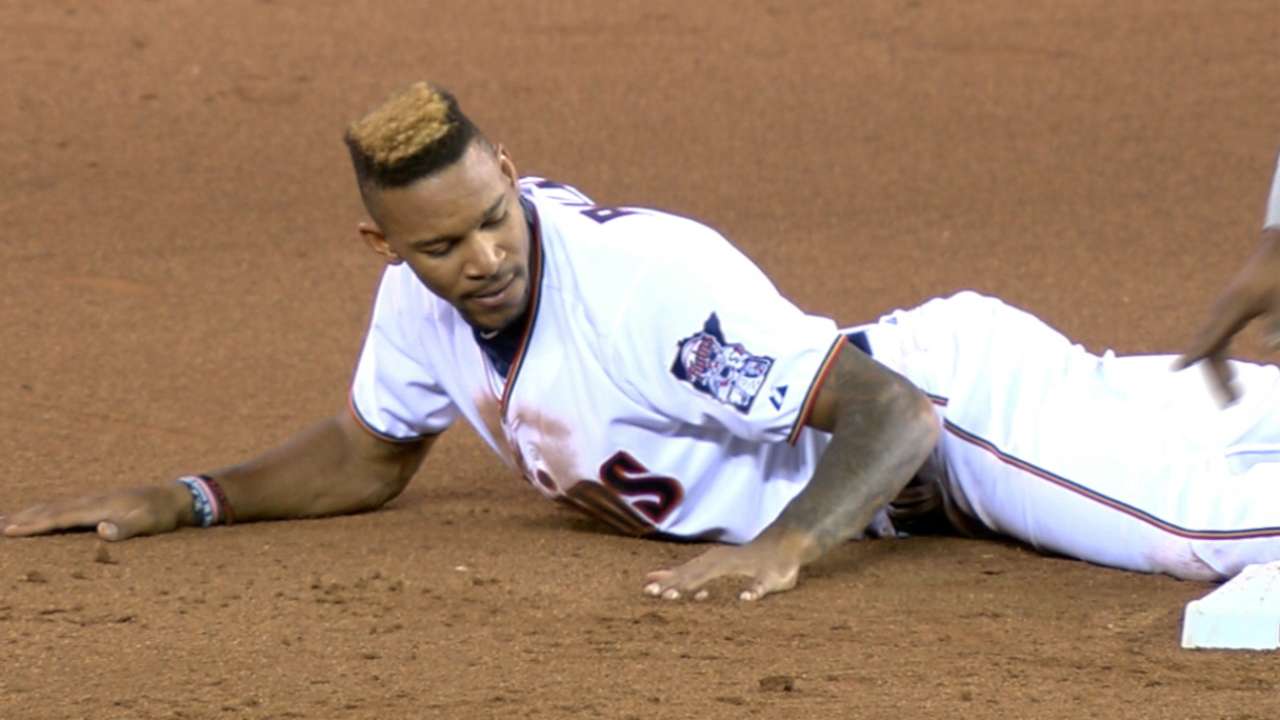 BALTIMORE -- The Twins' No. 1 prospect is tall, lean and not your typical base stealer. But, boy, can the 21-year-old fly.
In four Minor League seasons, Byron Buxton stole 94 bases while getting caught only 27 times. After calling him up from Triple-A Rochester this week, the Twins hope Buxton will bring an element of the running game to their offense.
"It's going to be a big part of his game," Twins manager Paul Molitor said. "As an industry, I think we've seen the stolen base maybe kind of make a little bit of a resurgence here in the past few years. Guys that can do that and how it leads to opportunities to score runs when picking up that 90 feet. I know he's studious enough to take advantage of opportunities and he's gifted enough to have the speed to do it."
While with the Twins for 11 games in June before a thumb injury sent him to the disabled list, Buxton was 1-for-3 on steal attempts, but swiping bases in the Majors involves much more than pure speed. The rookie found that out quickly and has spent a lot of time trying to improve his baserunning, according to his manager.
"It's something that we worked on even in his DL time. It was something that he was able to work on," Molitor said. "We got out there a lot and talked about leads and jumps and physically trying to get him in the best position to be successful. That body type is a little different. It's a little taller, a little leaner. He's got to find his base and learn how to accelerate from that position. He's fearless, which is a huge component, but it's just making sure that he understands what he needs to do physically as well as trying to pick the right pitch."
The Twins will continue to work with Buxton on the basepaths, seeking the technique that works best for his 6-foot-2, 190-pound frame. Molitor wasn't taking anything away from Buxton's success on the bases in the Minors, and even said he's seen only a couple of players with the ability to steal a lot based solely on speed.
"It's not that guys can't throw you out down there, but pitchers are a bit more susceptible," Molitor said. "Ben Revere had pretty good numbers in the Minor Leagues on speed more than he did technique."
Connor Smolensky is an associate reporter for MLB.com. This story was not subject to the approval of Major League Baseball or its clubs.