Return dates for Norris, Sanchez are unclear
Southpaw's oblique injury worse than expected, may miss remainder of season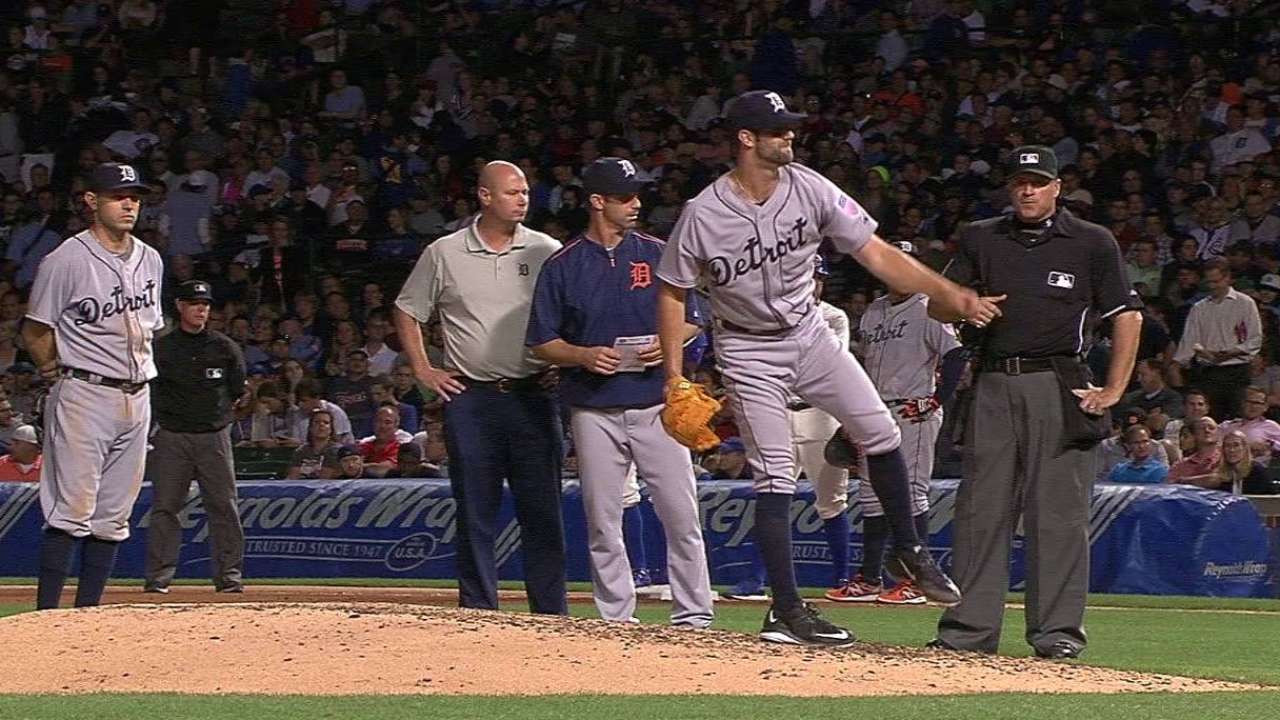 DETROIT -- Daniel Norris' right oblique strain will keep him out a little bit longer than originally hoped, possibly ending his season. Anibal Sanchez's timetable, meanwhile, remains unclear after his right rotator cuff strain.
Norris' injury was a slightly more severe of a strain than expected, right between Grades 1 and 2 from what Norris was told. Thus, what was originally tabbed as at least a two-week absence is now safely longer.
Norris said doctors told him he'll be out three to six weeks. Manager Brad Ausmus said he'll probably miss at least four weeks. That would leave just over two weeks left in the season, and likely leave the Tigers with a decision to make on whether to shut him down for the season.
"I'll say it's possible," Ausmus said Friday, "but we're not going to do that now."
For now, Norris is going to stay with the team, something he requested, and rehab for a potential return.
"As far as I'm concerned, I'm going to do everything I can off the field to prepare myself to come back," Norris said. "Whatever decision they make, their say is the final say. I have faith in their decision, but obviously I'm going to do everything I can."
Norris left his start on Wednesday after feeling the strain in the fifth inning while trying to throw a curveball. He said he did not feel it swinging at the plate, either on his home run or afterwards, and that he did not believe batting had any impact.
"I was starting to feel really good on the mound the past two starts," Norris said. "I finally got my stuff back the other night throwingwise. I was getting my swing-and-misses. I definitely thought I was turning a corner, feeling good on the mound and then that happens. It's frustrating."
As for Sanchez, both the veteran right-hander and the manager are hopeful he could be ready to return when he's eligible to come off the 15-day DL in two weeks, but neither have a firm timetable on that. Sanchez said all he felt was soreness, and that he did not seek a second opinion suggests no fear of anything more severe than a strain. But the fact that Sanchez reported the rotator cuff issue after feeling the secondary effect in his elbow was good reason for caution.
"I start feeling something in my elbow, and I never feel anything in my elbow since I had my surgery in there [in 2003]," Sanchez said. "And now I don't want to affect my elbow trying to protect my shoulder. So I just want to sit back a little and try to finish the season strong."
Sanchez has dealt with shoulder soreness in the past, most recently in Spring Training of 2014. That bout only cost him one Grapefruit League start, allowing him to start his regular season on time.
Jason Beck is a reporter for MLB.com. Read Beck's Blog, follow him on Twitter @beckjason and listen to his podcast. This story was not subject to the approval of Major League Baseball or its clubs.