2016 Latino HOF inductees express gratitude
This year's class represents six Latin American countries
SECAUCUS, New Jersey -- A catcher with 13 Gold Gloves under his belt, a four-time World Series champion right-hander known for his trademark high leg kick and the Major League record holder for career pitching appearances are among the newest members of the Latino Baseball Hall of Fame.
The 2016 induction class -- 11 players representing six Latin American countries -- was announced on Friday. As in previous years, the new class consists of players in two categories: modern era (post-1970) and veterans.
In the former category, the inductees are Ivan "Pudge" Rodriguez (Puerto Rico), Orlando "El Duque" Hernández (Cuba), Edgar Renteria (Colombia), Sammy Sosa (Dominican Republic), Omar Vizquel (Venezuela) and Jesse Orosco (Mexico).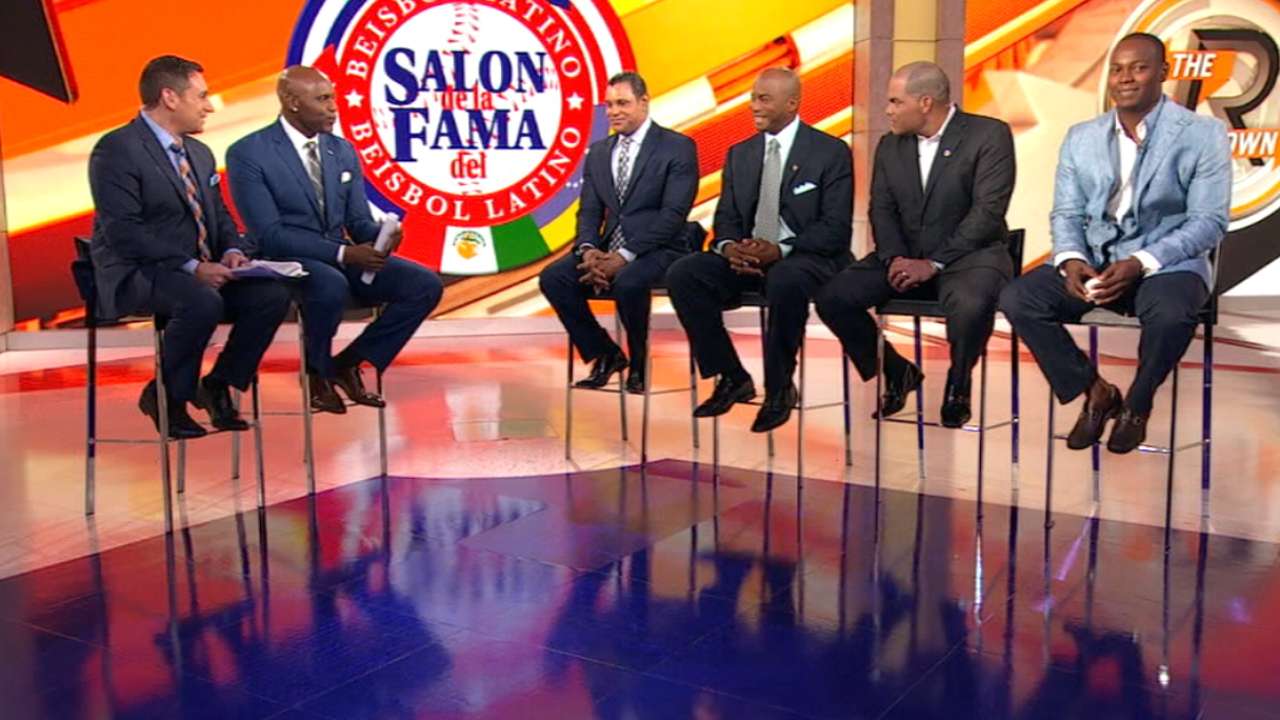 The veterans category consists of Hiram Bithorn, the first Puerto Rican player in the Major Leagues; along with Emilio Cueche (Venezuela), Conrado "Connie" Marreo (Cuba), Federico "Chi-Chi" Olivo (Dominican Republic) and Enrique Romo (Mexico).
For the third consecutive year, the inductees were revealed on MLB Network's The Rundown. Two Latino Hall of Fame inductees -- Dominican native Felipe Alou and former Puerto Rican outfielder Bernie Williams -- took part in the announcement. Rodríguez, Renteria, Hernandez and Sosa visited the studio for the program, while Vizquel and Orosco participated in the broadcast via satellite.
During his 20-year career as a backstop, Rodríguez was as feared for his bat -- he finished his career with 311 home runs and 1,332 RBIs -- as for his arm. He won 13 Gold Gloves.
"It's a great thing because the percentage of Latin American players in the Major Leagues is pretty high, and I think they've done a good job of recognizing us," said Rodríguez, the 1999 American League MVP with the Texas Rangers. "I think it's a good thing for baseball and for Latin America -- for players who are retired and those who are on the way -- to be recognized".
Renteria is the first player from Colombia inducted into the Latino Baseball Hall of Fame. The Barranquilla native retired in 2011 after compiling a .286 average in parts of 16 big league seasons as a shortstop. A two-time World Series Champion, he was named MVP of the 2010 Fall Classic with the San Francisco Giants.
"I think this lets the guys that are trying to make it know that they can do it, that they can achieve the goals they set for set for themselves," said Renteria of representing Colombia.
Hernandez, famous for his unconventional pitching motion, averaged a World Series ring every 2 1/2 years during his 10 years in the Majors from 1998 to 2007, during which he pitched for the Yankees, White Sox, Diamondbacks and Mets. He won his first three rings with the Bombers and his fourth with Chicago.
"I am proud that they've recognized my 10 years [in the Major Leagues], and also a bit more of my career, because it wasn't my fault that I arrived late. It was because of the system where I lived," said Hernández, who defected in 1997.
Also expressing gratitude for the honor was Sosa, the 1998 National League MVP with the Chicago Cubs, who had four consecutive seasons with 50 or more home runs from 1998 to 2001 on his way to finishing with 609 dingers.
Vizquel, currently the first base coach for the Detroit Tigers, is remembered for the spectacular defense that saw him win 11 Gold Gloves in 24 seasons, during which he played primarily as a shortstop.
From 1979 to 2003, Orosco, of Mexican descent, pitched in 1,252 games - a big league record - for nine big league teams.
The 2016 class will be honored during the Latino Baseball Hall of Fame Induction Week, scheduled for December 2-5 in La Romana, Dominican Republic, where the institution is based.
Inaugurated in 2010, the Latino Baseball Hall of Fame inducted its first class that same year. Past inductees include Roberto Clemente, Juan Marichal, Luis Aparicio, Pedro Martinez and Roberto Alomar.
Nathalie Alonso is a contributing writer to LasMayores.com, the Spanish-language Web site for MLB.com. This story was not subject to the approval of Major League Baseball or its clubs.