Farrell in uniform for photo day
Manager remains Fenway fixture as he undergoes chemo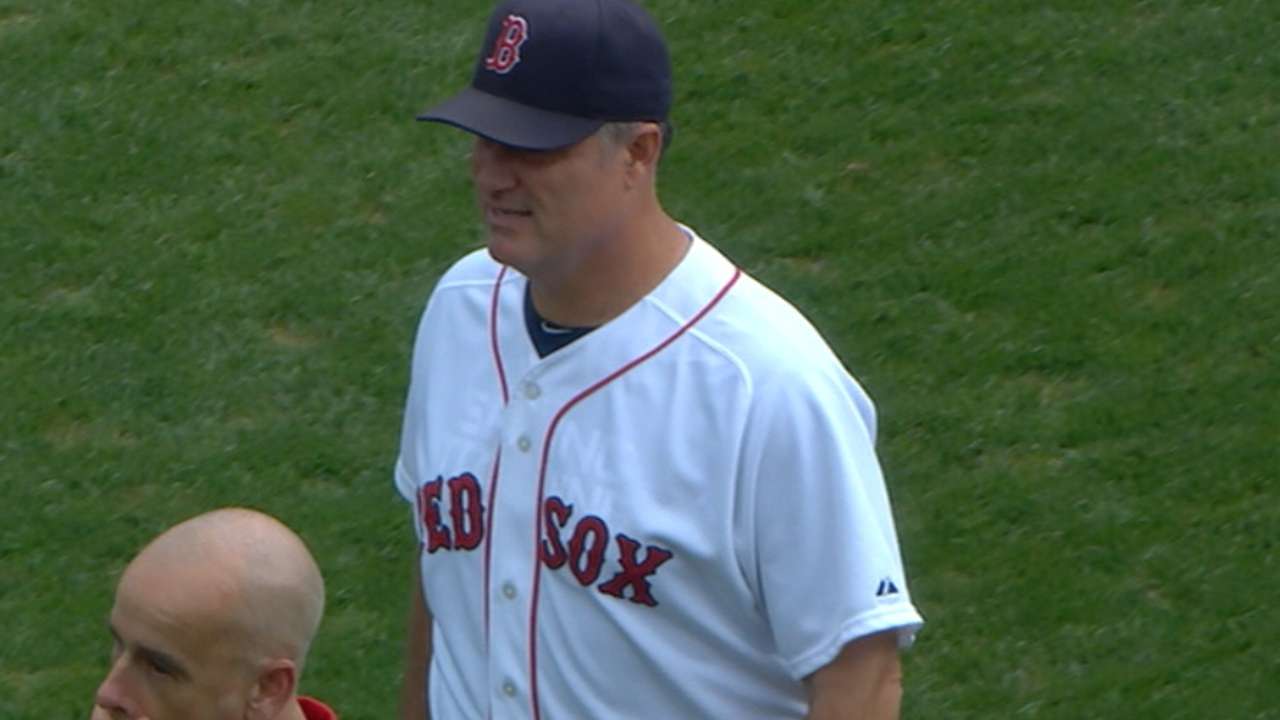 BOSTON -- A little before 3:30 p.m. ET on Friday, Red Sox manager John Farrell walked out to the Green Monster to pose along with the coaching staff and players for the annual team photo.
For Farrell, this was on the one-week anniversary of his revelation that he has Stage 1 lymphoma. Though Farrell started undergoing chemotherapy treatments on Tuesday, he has made an appearance at Fenway Park every day over the last week.
"He's doing well," said Red Sox interim manager Torey Lovullo. "Just obviously a little fatigued as we all expected. He's such a horse that he just wants to be around and be a part of this, despite that fatigue. It's great to see him. It's great to have him around. It's great to have baseball conversations with him. The best thing about it is that it's great to see him laugh and smile."
Farrell isn't simply around to provide moral support. He remains active in baseball discussions with Lovullo on a daily basis.
"We're the same type of guys that we are in every circumstance where we just talk baseball and go over different things," said Lovullo. "Every once in a while, it takes a little different turn. The 'How are you?' has different meaning now when I ask him."
On Wednesday, Lovullo and Farrell spoke together with new president of baseball operations Dave Dombrowski, expressing their evaluations to the new boss about certain players.
"Just normal baseball conversations about some of our young players," Lovullo said. "I think he's just trying to get a feel for our guys through our eyes. That's how it works in baseball. You sit down and try to get as familiar as you possibly can as quickly as you possibly can. It was nice to sit down and give our perspective. It was good baseball conversation. It was typical of what happens in those settings."
Ian Browne is a reporter for MLB.com. Read his blog, Brownie Points, follow him on Twitter @IanMBrowne and listen to his podcast. This story was not subject to the approval of Major League Baseball or its clubs.