Harrison returns, Mercer waits to rejoin Bucs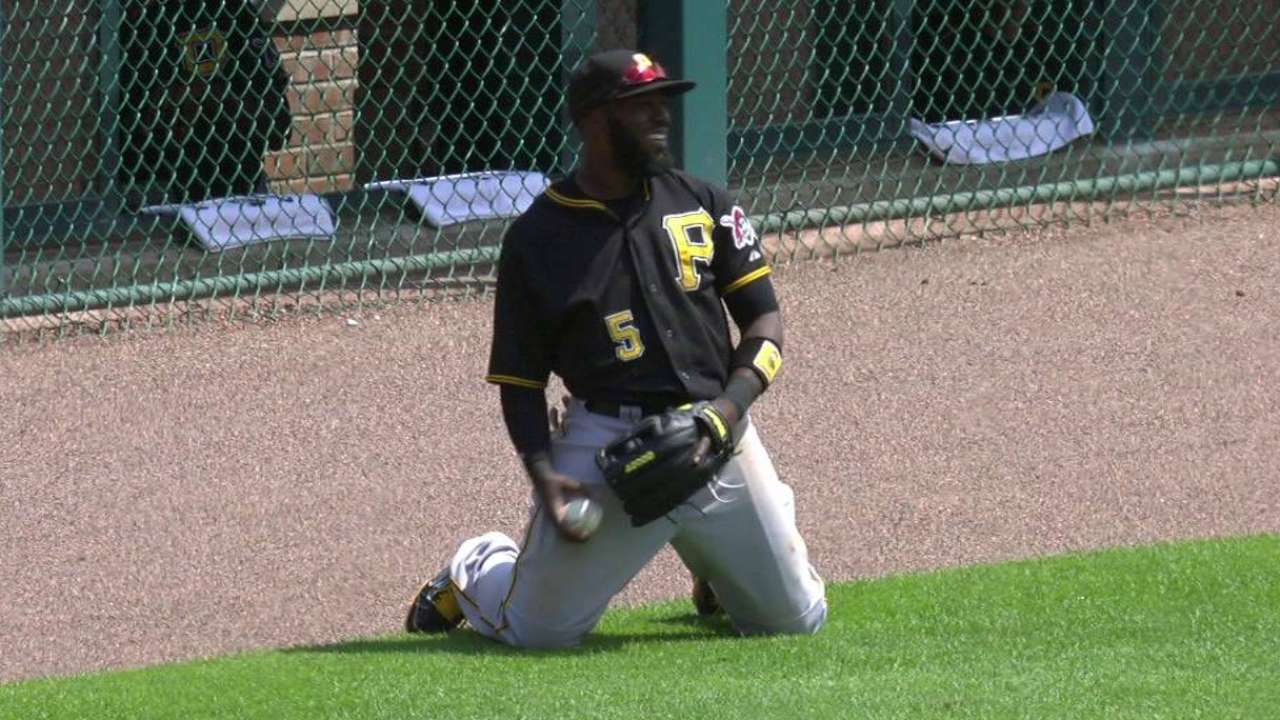 PITTSBURGH -- The Indianapolis Indians' rainout on Thursday night in Charlotte obviously did not detain Josh Harrison, activated by the Pirates prior to Friday night's game against the Giants, but it will keep Jordy Mercer with the Triple-A club for a couple more days.
Originally, the tentative plan was for the two of them to be recalled simultaneously from their injury rehab assignments. But manager Clint Hurdle acknowledged "the rainout complicated things a little bit" for Mercer.
Mercer was slated to play on Friday night and Saturday afternoon with the Indians and "we'll see where we go from there," Hurdle said.
From Charlotte, Mercer is most likely going to Pittsburgh, and be activated prior to Sunday night's nationally-televised game against the Giants.
That would be the expectation of Harrison, based on his chat with Mercer prior to rejoining the Bucs. While Harrison's main issue with recovering from surgery for a torn thumb ligament on his glove/left hand is comfort, Mercer has to deal with mobility in the sprained left knee.
"He's as eager to get up here as I was," Harrison said. "But we both wanted to make sure to take every proper step, so when we get back, we're not caught off-guard and are able to get back into the flow of the game. You're so focused on the physical things, making sure you feel all right, you tend to overlook the smaller things -- cutting off balls, relays, where to back up. That sort of thing.
"I can say he's close," Harrison added. "He's been back-and-forth with the training staff and with Clint, talking it out. In my eyes, I can see him joining us pretty soon."
When he does, Mercer can expect to be plugged right into the lineup, as was Harrison on Friday night.
"I'm mindful of getting these guys some traction," Hurdle said. "Players coming back from rehab say they are most challenged by the speed of the game when they are in the batter's box. It takes a while to get back into the flow."
Touching all the bases
• First: The Pirates face another roster move when Mercer returns, and the player affected most likely is a current member of the bench: Versatile Sean Rodriguez and backup catcher Chris Stewart are indispensable, so the watch is on Michael Morse and Travis Ishikawa.
• Second: Hurdle chatted with Travis Snider and portrayed him as "looking forward to being back." Snider, signed to a Minor League deal on Thursday, is getting his at-bats with Indianapolis.
• Third: As reported, Pirates relievers' 17 straight wins is MLB's best since 22 in a row by the 1909 Pirates. So it may surprise you to learn those '09 Bucs had a total of only 82 relief appearance; this season, the Pirates have already had 354 of those, typical for this era.
• Home: Hurdle, otherwise an admirer of Marlon Byrd, reflected on the last time the Pirates had seen him before Friday, during a benches-clearing incident in Cincinnati on Aug. 2.
"He's a very confident man. That day, he was an angry man," Hurdle said. "You talk about being mad, not sad. He was not sad that day."
Tom Singer is a reporter for MLB.com and writes an MLBlog Change for a Nickel. He can also be found on Twitter @Tom_Singer and on his podcast. This story was not subject to the approval of Major League Baseball or its clubs.