LaMarre relishing first taste of Major Leagues
Outfielder voted organization's top defender in Minors from 2010-13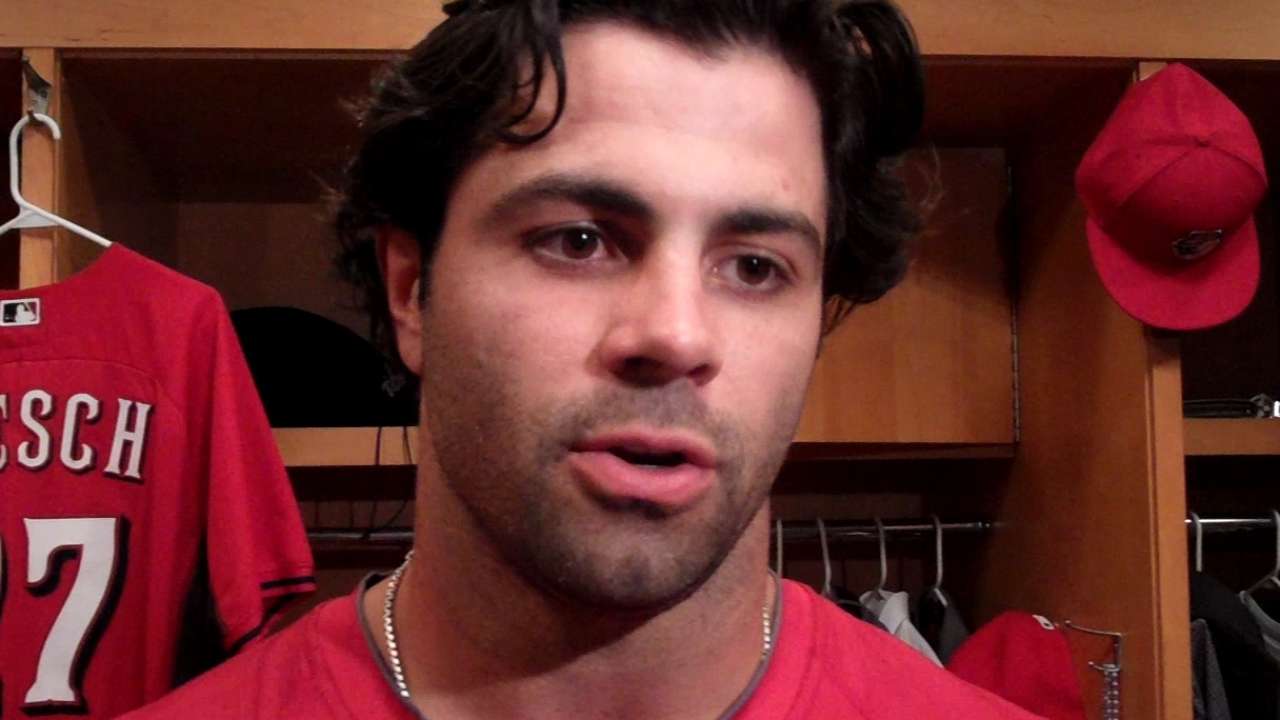 CINCINNATI -- The lengthy path that outfielder Ryan LaMarre traveled to finally reach the Major Leagues for the first time on Friday wasn't always paved smooth. It was also filled with few difficult obstacles. As he prepared to take a big league field for the first time and batting practice, LaMarre certainly realized it was entirely worth it.
"It has been a journey," LaMarre, 26, said. "I would have loved to have gotten here sooner, obviously. But I had quite a bit of injuries and some parts of my game that needed to develop a little bit. I couldn't be more excited to be here and try to help this team win now."
LaMarre, a second-round pick in the 2010 Draft, was called up from Triple-A Louisville on Thursday to take the roster spot of Marlon Byrd after his trade to the Giants. With his team playing in Gwinnett, he was unable to catch a flight in time to be at the Reds' series opener against Arizona.
LaMarre was batting .257/.307/.400 with eight homers and 18 RBIs in 91 games for Louisville.
"We know he can defend. The big thing was if he was going to hit and he's done some good things here, at least lately in Triple-A," Reds manager Bryan Price said "He's found his power a little bit, given them some really good at-bats."
The club also asked Louisville manager Delino DeShields and his coaches for their report on LaMarre.
"And their feedback was that Ryan was the most prepared and most ready to come in and help us out," Price said.
A speedster who was voted the best defensive player in the organization from 2010-13, LaMarre was a once a fast-rising prospect out of the Univ. of Michigan. Even though he went through some offensive struggles in 2013, he was added to the 40-man roster after the season. But everything went wrong in 2014, when he played just 17 games because of injuries and not at all after May.
LaMarre had shin splints and later discovered he had a stress fracture in his left leg. Also dealing with a groin issue, he needed to have sports hernia surgeries on both sides in June. The Reds released him on Aug. 12, 2014, but re-signed him to a two-year Minor League contract. But he was off of the 40-man roster, which made it a little harder for him to reach his goal. The club did invite him to big league camp as a non-roster player.
"Last year was one of the toughest years of my life, having those injuries and the surgeries," LaMarre said. "You hear about the opportunity to get to be on the 40-man. To really not be able to play was super frustrating. I knew coming in that this was the place I wanted to be. There was never really a second option I wanted to sign with. To get back here, get healthy and get the chance to come back here and help is a dream come true."
Mark Sheldon is a reporter for MLB.com. Read his blog, Mark My Word, follow him on Twitter @m_sheldon and Facebook and listen to his podcast. This story was not subject to the approval of Major League Baseball or its clubs.